Indian-occupied Kashmir under Omar Abdullah: Six years of disaster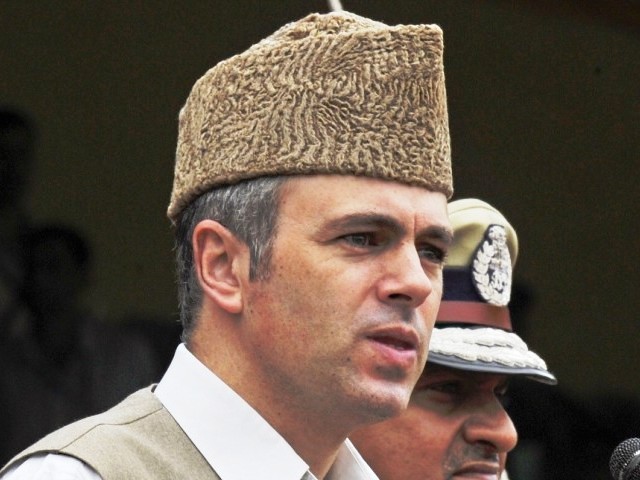 In Kashmir, politics has always been a game of possibilities, and it remains so even today. So long as the 'core issue' remains unattended, neither any change in the political leadership – in mainland India, in Pakistan or in Kashmir – nor any economic package or assistance really makes a difference. And today's politically-motivated relief camps stand in the row.
Deep inside their hearts, all political parties know the extent of their political acceptance. No politician, howsoever articulate and famous, has won an election in Kashmir unless the subtlety of his election campaign encompassed decisive elements of the freedom narrative. So the rules here are quite simple – to win an election, you need to gain political sympathy by belittling others.
In today's situation of crisis, while people continue to suffer due to massive floods, all pro-India political parties remain busy in scoring brownie points for the upcoming elections. In normal circumstances, political leaders invest money in extensive campaigning to motivating votes, most of the times garnering support for bijli (electricity), sarak (road) and pani (water), and not for India. There is a clear possibility that this conventional idea may no longer work, so the political parties are trying to gain public sympathy by distributing the relief.
This has been the legacy of Kashmir's pro-India political parties, especially the National Conference (NC). When Omar Abdullah became chief minister six years ago, Indian media created a cult personality out of him, declaring him as the face of the youth.
So let's assess what Abdullah achieved during his six year rule.
In 2009, soon after Abdullah was sworn in as the chief minister, Indian paramilitary troops committed the 'twin rape and murder' in South Kashmir's Shopain town. Outraged by the crime, people across Kashmir took to the streets demanding the culprits be brought to justice. The government forces, as usual, opened fire on protestors. Several people were killed and many other injured. Fearing public reaction, Abdullah imposed curfew – a welcomed reaction, indeed.
In 2010, the Machil fake encounter took place. Although such an incident was not a new phenomenon for Kashmir, it certainly was a test for Abdullah. And he failed. Army, as an 'occupational institution', has always been more powerful in Kashmir than any other state institution politicians brag about. So then what happened to those culprits involved in the killing?
2010 was a year of renewed tragedies for Kashmir. People were out on streets demonstrating peacefully for what they saw as their right. Abdullah reacted with the age old policy – the institutions that he represented for the common Kashmiri brutally killed more than 120 civilians while thousands of other civilians were injured. Kashmir was put under curfew for three months altogether. People starved, but Abdullah managed to save his throne.
During the coming years, a subtle shift guided the policies of NC. The state decided not to allow space for pro-freedom sentiment, so it started to detain youth, mostly school-going children, under the draconian Public Safety Act (PSA). The move ended up giving NC some short-term respite.
In September 2013, the state government decided to host Zubin Mehta's musical concert. A wider section of society expressed their displeasure against such a move. In a place when one's political identity is being butchered by state policies every day, people cease to believe in such musical concerts. But Abdullah still went ahead with the move. Lies upon lies upon lies; everything was brought in public domain but not the truth. Who did he want to please after all?
The performance report of Abdullah came in 2014 Lok Sabha elections; NC failed to win any seat. For a ruling party, there was nothing more embarrassing. Such public reactions inevitably forced Abdullah to rethink over several miscalculations he committed during the past six years but it was useless to cry over spilled milk.
Over the past three decades, India has always looked for an opportunity to manipulate Kashmir's sentiment of freedom; sometimes it is the lack of development, sometimes it is unemployment, sometimes it is Pakistan-sponsored terrorism, and sometimes the youth on streets are drug addicts and school drop-outs, and so on.
When you condense the space for peaceful resistance, people will certainly look for other alternatives. And six years later, you have the result. Abdullah curbed the political space of pro-freedom voices all through the six years of rule. Now Kashmir has an organised and politically motivated youth taking up arms. Six years later people are still shouting,
"Hum kya chahey… Azadi!"

(What do we want… freedom!)
And Abdullah has no Gandhi to fall back upon. The message is clear – where there is occupation there will be resistance.
It makes me think over certain common sense issues.
Mr Abdullah, why should a common Kashmiri expect you to understand his feelings when you and your family are disconnected from the ground reality that he is exposed to?
Why should a young boy, as young as your son, respect you when he is convicted under the PSA for raising azadi slogans? Is that not his right?
What should a student at Kashmir University admire you for when you ban their free thinking?
You did nothing to improve the political situation of Kashmir during your six year rule. If you still expect people to count on you, while your credibility stands at the brink of collapse, then that is your political immaturity.
Abdullah happens to be a hotel management graduate. But leadership, unlike hotel management, is not a profession; it is a responsibility. And Abdullah has failed to deliver on that responsibility.
Whom does he represent, anyway?