In Pakistan, 'It's On Us' to protect women from sexual harassment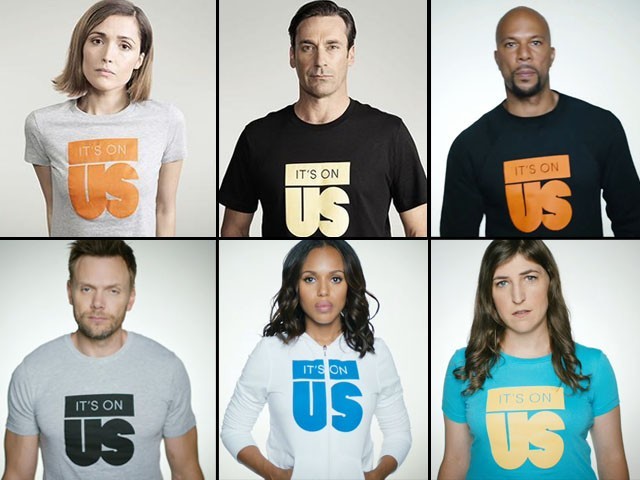 I remember a crowded market back in Karachi where we stood in a corner going through the merchandise. I was with one of my 'foreign-educated' aunts. Suddenly, I saw her face turn a shade of red. I dismissed it and we went back to sifting through the clothes.  A few moments later, it happened again. Her face turned red and her brows creased, but this time she turned around and before I knew it, she had grabbed a young boy by the collar. 
"Can't watch where you're going huh? This is the third time you've passed by this place and grabbed me. Do you want me to beat you up or do you want me to hand you to the guards?!" said my daring aunt as her voice rose by a few decibels.
A couple of men here and there began shouting at the boy in disgust. My aunt's husband, who was also with us, quickly realised that the matter could escalate and asked her to calm down. The boy was visibly fraught and wanted to leave as soon as possible. After a little more reprimand, he ran away on his tiny, skinny legs. We went back to shopping and soon forgot the incident.
I was 18 at the time and until then, I was always told that girls were to remain silent when someone 'touched them inappropriately'. If someone was ogling you or following you, the best thing to do was to sit back quietly or retreat to a place of safety. While I have always been a believer of this conventional wisdom, something about what my aunt did that evening made me question those age-old pieces of cautionary advice.
Until then, I had always thought that if you raised your voice or attacked someone who attacked you, it would only bring problems (dishonour to your own image and that of you family). Something about my aunt's loud rebuttal made me wonder what would happen had I had the courage to stare down at the creepy maulvi who used to stare at me instead of what he was teaching. Or the 'well-respected' family member who was famous for his inappropriate touching (yet no one did or ever said a thing against him). Or the awful driver who would verbally harass females when they were alone or the random creep who would deliberately walk into a shop and stand so horrifyingly close that you were forced to leave without completing the errand. The list was endless.
What would have happened indeed?
There is a lot of talk about rule of law and passing bills in Pakistan when it comes to sexual harassment and violence against women. There are plenty of NGOs and women's rights activists speaking out against crimes against women and offering them protection from sexual harassment.
The United States recently released a video showing various actors who have taken part in an initiative launched by President Barack Obama and Vice President Joe Biden titled It's On Us which addresses rapes on campus and how everyone must join hands to prevent it. They talk about how victim blaming is not the answer, nor is it helpful.
While it seems like a noble and just cause in the light of the recent Steubenville rape, it seems like a far cry in our society. Even though rapes and sexual assault cases are far more prevalent in Pakistan, the reportage is meagre. Despite having laws in place regarding sexual harassment, there is a social and cultural taboo regarding a woman speaking about harassment.
Whether it is at the workplace or at college, you will hear women 'hushing' up the stories, avoiding being named, avoiding public scrutiny or any kind of activism that can highlight the issue. On college campuses, you may also find powerful groups of young men using the guise of 'ragging' and 'horseplay' to corner women into humiliation and embarrassment. At work it can be a powerful employer or a supervisor against whom you can't lodge a complaint because it would mean just more problems.
You can't blame these women – you can bring them a thousand laws, a million lawyers and they still wouldn't open up or talk about being raped or molested.
The fault is not in the legal system alone (which, of course, also needs a lot of work) or the political fronts where this issue is not being highlighted as it should be.The fault lies in our social fabric where the onus of harassment and predation falls directly on the victim. The fault lies in the eyes of our own brothers and fathers and friends and sons who objectify women, who attack them for speaking out and who judge them for being strong and vocal about their rights.
The fault lies in the horde of people who treat sexual molestation as a crime different from theft or robbery or any other kind of assault. The fault lies, first and foremost, in the stigma that we have created for women which prevents them from feeling safe, independent and equal.