9 things I hate about Naya Pakistan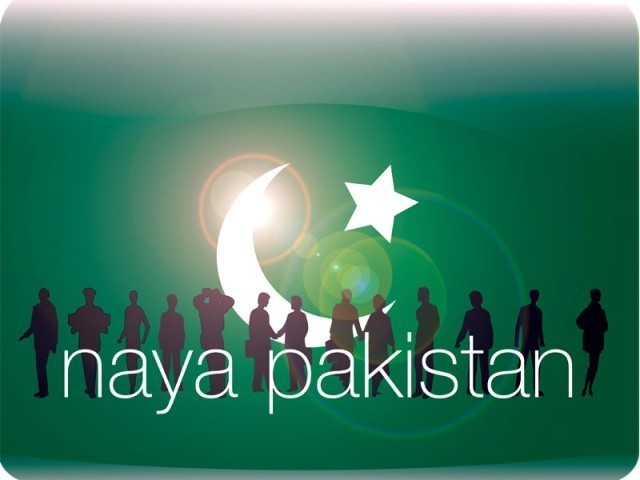 I cannot pinpoint any single incident that sparked off this piece of satire but one of the many triggers for me was the ludicrous vanity that has been displayed in full swing over the past one month.
At first, I was very optimistic about this so-called Naya Pakistan. But the kind of polarisation it has created in an already fragmented society is beyond disappointment. Now I fully understand what Aristotle meant when he said,
"Youth is easily deceived, because it is quick to hope".
So here are the nine things that I hate about Naya Pakistan and those who blindly follow this idea.
Inability to take criticism
Unlike any healthy society (Western or Scandinavian, as they are often used as reference and role models for Naya Pakistan), the space for debate has completely vanished from ours. Astonishingly, this quasi-educated, quintessential brigade has put religious zealots to shame (who previously had a monopoly in this case).
What's even more disturbing is that this brigade is led by an Oxford graduate, who instead of providing a logical rebuttal for an argument, often takes refuge in labelling you a dollar-khor, liberal fascist and what not and starts levelling allegations against all those who oppose him. Apparently, in Naya Pakistan, you get free hits 24/7 that can be utilised to gratify your own whims for any wild allegation against anyone without any proof whatsoever (excuse my cricketing metaphor – it's a trend these days).
One just wonders, does Khan Sahib remember his own case against Ian Botham and Alan Lamb? Because if he does, then he should know that people just cannot get away that easily for levelling baseless allegations in western countries.
Labels as medals
Liberal fascist, dollar-khor, patwaris (revenue department officials), ghadars (traitor) – these are just some of the many interesting fusions of different labels in Naya Pakistan. They are as unavoidable as death. This new school reserves the right to use any of these labels against anyone who does not share their same 'frog in a well' point of view.
To them, these labels are more like 'medals of shame' and proofs of you being sold out because you disagree. If you somehow manage to avoid all of the above, I doubt that you'll escape the lifafa journalist label.
Punjabi movies' dying scenes
These never ending sit-ins and marches are similar to a death scene in a Punjabi movie. No matter how much you want to get it over with, it just doesn't end – the dialogues/speeches just keep coming. Like in a Sultan Rahi movie where the mother is lying on her deathbed, these dharnas are filled with endless speeches and ultimatums, without anyone actually dying.
The fake accents
What is up with the fake accents? Watching these westernised (as Khan Sahib might say) youngsters trying to make an impression with their fake English accent is another trigger that has forced me to write this. Nothing puts one off more than a youngster who has no idea about politics or how a revolution works and still he/she adamantly fights for Naya Pakistan's ideology with their fake-American and fake-British accents.
"I am/know everything"
Strangely, this habit of reiterating ones importance is a very old one, and it started surfacing long before the dream of this Naya Pakistan came about. Does the 1992 World Cup post-match presentation ring any bells? Remember how one person took full credit for the World Cup victory, despite the fact that there were 10 other team players?
Not to mention, the never ending lessons of how Khan Sahib knows the western society better than anyone on the planet along with occasional sprinkles of Scandinavian welfare system. Khan Sahib knows best.
The habit of switching from Medina to the American Revolution, in a split second, confuses simple minded people like me. Even if Khan Sahib tells us he was witnessing an American Revolution right now, the likes of me will believe him blindly. He is just that good at selling these ideas. If there was a Nobel Prize for using the word "mien", I am sure no one would even come close to the glory of Khan Sahib.
I need nothing (wink wink)
Khan Sahib's trademark slogan of 'tabdeeli', along with his insistence that he doesn't need anything, makes one question his sincerity. Seriously sire, it has become quite obvious now.
Lore is that if you look in the mirror and say "I want to be the prime minister" three times, someone would appear behind you and say,
"Oye! You liberal fascist, dollar khor! I will be the next prime minister!"
Such is the conundrum of our Naya Pakistan.
Cricketing metaphors
As if Urdu's idioms and proverbs were not enough, these people have added cricketing metaphors to the list now. How a bouncer uproots a middle stump still remains a mystery to me. To make matters worse, these phrases are used 24/7 across the board, equally by super hyped up lifafa journalists.
There is just no escape from these cricketing metaphors. It makes one think if such idioms actually help in making a country stable. If it is so, then no wonder why America as a super power is messing up – they play baseball instead of cricket. Someone should suggest this crucial problem to them.
Fight against which status quo?
There are all these endless lessons of fighting against the status quo in almost all Naya Pakistan speeches. Voltaire's remark is most apt in identifying the status quo:
"To learn who rules over you, simply find out who you are not allowed to criticise".
In Pakistan, this censorship only applies to the establishment and the religious clergy, which are part and parcel of the status quo. Therefore, it is somewhat of a question mark why the Pakistan Tehreek-e-Insaf (PTI) is so comfortable with these groups.
On the other end, nothing can be more ironic than standing next to Jahangir Tareen and Shah Mahmood Qureshi while taking about the sugar mill mafia and land lords respectively. I am all mum about the salient features of the educational reforms announced by Khan Sahib and the occasional whispers from Khursheed Mahmood Kasuri (head of the Beaconhouse School System).
What about Junaid Jamshed joining Naya Pakistan movement to fight against expensive branded clothing mafia and much hyped up 'indecent and vulgar' designers lawn?
All this is very strange – and ironic.
Trolls
Every movement has a distinct feature; for Naya Pakistan, it is the hysteric, passionate and malfunctioning trolls who have zero sense of socialisation, politics or current affairs and are usually found on different social media forum. I don't have to explain much about these online PTI crusaders; the comment section below will be enough to understand them.
Being a Kashmiri, I often 'interact' with trolls from Naya India and Naya Pakistan and I've found one stark similarity between both these troll breeds: first, both judge your opinion about the entire country according to your views about their party leaders and second, they expect your blind devotion to their party leader – as if you are a sheep. However, this is not something new for me. We have always been considered as sheep, albeit the Simla agreement or the Pervez Musharraf-Manmohan Singh four-point formula. That's just how it goes.
PS: I solemnly swear that this article is not sponsored by the Illuminati.