First execution in 6 years: Government plays with Shoaib's life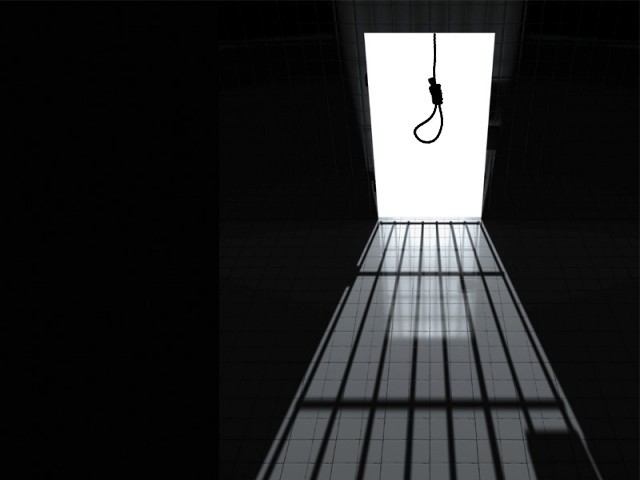 Pakistan ranks sixth in the total number of people it executes after China, Iran, Saudi Arabia, Iraq and the United States. According to Amnesty International estimates, there are more than 8,500 prisoners on death row in Pakistan. The only legal method of killing a condemned prisoner is hanging them till their neck breaks.  According to the International Commission of Jurists, Pakistan is 'part of a dwindling minority among states which have retained the death penalty and carry out executions'.
However, Prime Minister Nawaz Sharif's policy on the execution of death sentences is still at best – unclear.
An order issued by former president Asif Ali Zardari in 2008 had imposed a moratorium on the death penalty after which not a single civilian was hanged. The only execution carried out in six years was of a soldier, who was convicted by court martial, in 2008. The incumbent Pakistan Muslim League-Nawaz (PML-N) government had hinted to end the moratorium on execution after the expiration of presidential order.  However, upon Zardari's request to not implement the death penalties as long as he was in office, PM Nawaz directed the interior ministry to put the executions on hold.  Former spokesman of interior ministry Omar Hamid Khan said at the time,
"As a responsible state, Pakistan respects the commitments it made with the international community and is determined not to implement the death sentences".
It was, however, decided at one point that the moratorium would not be renewed after its expiry. When the EU cautioned Pakistan at one point that lifting the moratorium on the death penalty will be viewed as a major setback in the 28 member bloc and possibly adversely affect Islamabad's quest for duty-free access to EU markets, PM Nawaz directed the halt on executions just days ahead of presenting a formal request for seeking duty free access.
As a result, a Pakistani civilian is paying the price of the government's unclear and unvoiced policy on death sentences and it is indeed a heavy price to pay.
On July 22, 1998, 19-year-old Shoaib Sarwar was tried and convicted for murder. Various appeals were made highlighting his innocence but all were dismissed and mercy petitions rejected. But at one point, a note was issued on August 17, 2008 by the secretary to the PM expressing the desire of the prime minister to put execution of death sentence in abeyance until the discussion on the subject took place between the president and the prime minister. However, the stay on Sarwar's execution was challenged and on July 17, 2014, the Rawalpindi Bench of the Lahore High Court abruptly and very wrongly ordered the authorities to hang Sarwar saying that,
"The desire of the president to discuss the matter with the PM was not indicative of a pardon".
In what would have been a violation of international and domestic law, the doomful  sealing of the fate of 8,500 prisoners and an embarrassing act of barbarianism, Sarwar was ordered to be killed tomorrow while the government of Pakistan still remained mum on this issue. Luckily, in a last minute turn of events and all praise due to Justice Project Pakistan (JPP), an organisation which gives free legal aid to those on death row, the Rawalpindi Bench of the Lahore High Court of Justice Mahmood Maqbool Bajwa and Justice Aalia Neelum granted another stay on September 16, 2014 on the execution which would have been tomorrow.
Eighteen years have passed since the death sentence was given to Sarwar by the trial court, which he has spent in a filthy cell. Under precedent of our Federal Shariat Court (FSC), if you execute a prisoner after he has spent a long time on death row, this amounts to 'double punishment', cruel and inhuman treatment and  torture as per Article 14 of the Constitution of Pakistan. In Muhammad Aslam Khaki v Federation of Pakistan, it was stated:
"From the time the trial court awards the sentence of death, at the end of an agonising and protracted trial, up to the time of the acceptance or rejection of his mercy petition by the President of Pakistan… he has to pass through a distressing period of time awaiting confirmation of death sentence… The mercy petition is the last hope of a condemned prisoner. The conditions in which a condemned prisoner spends a trying period extending over a few years are simply deplorable, inhuman and unpardonable."
'Double punishment', which is execution of a prisoner after he has already spent a long time in jail on death row  is now seen as an violation of human rights in many tribunals around the world.
Under international law, US lawyers call it the 'death row phenomenon'. The FSC apparently simply calls it 'deplorable'.
Therefore, although it is illegal for Sarwar to be executed, our authorities play with his life by changing their minds about it every day, which could only be a crude form of torture.
How many more civilians in Pakistan need to go through this till Nawaz finally finalises a policy on the death penalty which is in line with his international commitments, our law set by the FSC and just basic human decencies.