Kashmir, a paradise no more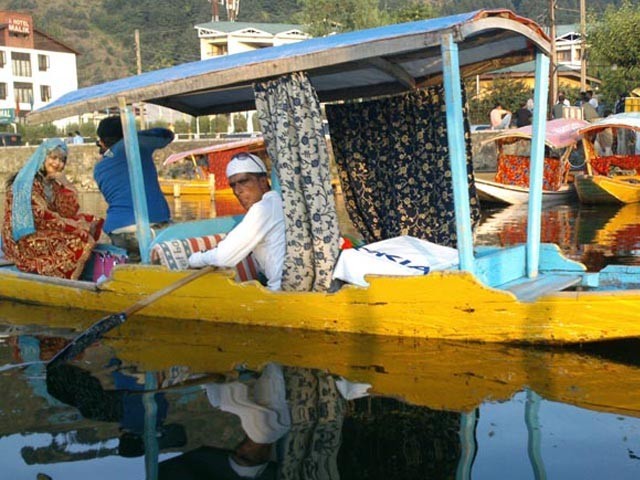 Chhapak…chhapak. The oarsman slowly rows his shikara, a wooden taxi houseboat, as I breathe fresh air and put my fingers into the cold water.
This is my first visit to Kashmir and I always wanted to visit it – to take a shikara ride alone on the splendiferous, enchanting Dal Lake in paradise, that is Kashmir. A unique experience indeed; every now and then I go into a state of trance, a psychological state induced as if by a magical incantation.
There is something intoxicating in this air. It puts me in a daze.
In a nearby mosque, a muazzin calls out the Azan (call for prayer), and cool breeze wafts the prayer across the lake. 'Allahu Akbar' (God is Great) he chants four times. The atmosphere is soothing and peaceful. They say the Azan, and not the sun, begins a new day in Kashmir.
It is at this point of time the rower, Suhail, chimes in.
 "Can you see over there? Yes, that is Pari Mahal, a terraced garden. A lot of Bollywood movies have been shot there. You must have watched the famous song from Sanjeev Kumar and Suchitra Sen starrer, Aandhi (1975), 'Tum aa gaye ho (now that you have come)', it was filmed here," Suhail asseverates, whilst pointing towards a mountain.
"Prithee, look at your left side. Not right, left side sahib (sir). Yes, here, in this very houseboat, Mission Kashmir was shot," he informs me, as he greets the houseboat owner in Kashmiri.
The Dal Lake is a world of its own. At some distance, a few hawkers on their shikaras approached us. One of them asks me if I would like to buy any souvenirs for someone special; another wants to know if I would like to get pictures clicked in traditional Kashmiri attire; another offers Kashmiri kebabs, kahwa, perfumes and flowers, but I politely decline all of them. I am too intoxicated by the surrounding spectacles that pulsate with life and vitality.
A group of five boys on a shikara pass us by. One of them quips with a smile on his visage,
"Bhaisahab, akele akele kyun ghoom rahe ho Kashmir? Kamal hai".

(Brother, why are you exploring Kashmir alone? This is extraordinary)

"Do not worry. I am sure next year he will not be alone in my shikara," Suhail butts in, making us all burst into peals of laughter.
After exchanging light banter, Suhail shows me the Nehru Park that is situated amidst the lake and the famous Floating Gardens, which are land masses used for vegetable cultivation. I am told there is not a single vegetable that is not grown here. He offers to take me to a few local handicraft shops on the lake as well, hoping I would buy something.
But I am more interested in having a conversation with him.
"Do Indian politicians also visit this place frequently?"

"There was a time when leaders like Jawaharlal Nehru and Indira Gandhi would regularly come here and the people were also very fond of them. But things are not the same. Just a few days ago, that minister from Gujarat had come here. What was his name? I cannot remember."

"Narendra Modi?" I ask.

"Yes, Modi. When he came here, the authorities had to impose a curfew for two days. Such is the current state of affairs," Suhail sighs.
I should change the topic, I thought to myself.
"Do you know Suhail bhai that you're one of the luckiest people in the world?"
He pauses for a second and then says,
"We do know, sahib. Hum sab yahan Musalman hai aur bahut khush hain"

(We all are Muslims here and are very happy)

"May God bestow more and more happiness upon the beautiful people of Kashmir, Suhail bhai. Mai Allah se yeh dua maangta hun (This is what I pray for). Ameen."
It is at this point of time, I recite the proverbial words,
"Iss duniya me agar kahin jannat hai, toh woh yahin hai, yahin hai, yahin hai."

(If there is paradise on earth, it is here, it is here, it is here)

"Ah, not like this," Suhail interrupts me.

"Agar firdous baroye zameen ast, hami asto, hami asto hami ast."

(If there is paradise on earth, it is here, it is here, it is here)

"Yes, hami asto, hami asto hami ast," I repeat.
Alas, so much has changed in the last two months. Kashmiris, on both sides of the border, are braving one of the worst floods that have occurred in a long time. Scores have been killed; thousands have been rendered homeless and marooned without food and drinking water. The beautiful Dal Lake, where I had spent the best time of my life, has been ravaged by the flood waters. It has caused many houseboats to sink, not to mention it has snatched the bread and butter of many Kashmiris.
I am very anxious about the well-being of my kind houseboat owner, Farooq bhai and his family. I stayed in 'Daffodil,' moored on the banks of river Jhelum for three days. I cannot stop thinking of my Kashmiri mai, his mother, who took care of me like her own son.
I am also worried about my dear shikara friend, Suhail. I hope he and his loved ones are safe. The other day I spoke to one of my Kashmiri friends in Delhi and he told me his family is stuck in the Bemina district of Srinagar. He has not been able to contact them for the last several days as phone lines are dead and there is no electricity to charge mobile phones.
"Everything is destroyed," my friend tells me as he breaks down over the phone.

"This too shall pass, brother. Have faith in God. Kashmir will once again become a paradise, insha'Allah."

"Insha'Allah," he echoes.