Noor Inayat Khan: The Muslim WWII heroine who helped Jews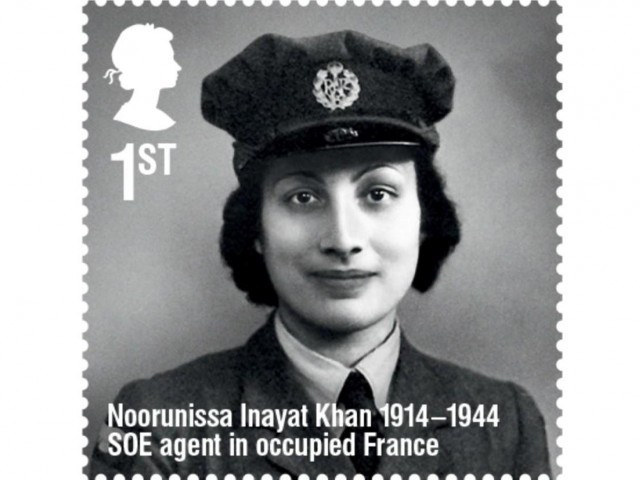 Noorunnisa Inayat Khan, also known as Madeleine or Nora Baker, a Muslim woman who is known for her valour and fearlessness during the World War II, was introduced to the world in the recent docudrama, Enemy of the Reich: The Noor Inayat Khan Story, played by an Indian-American actress, Grace Srinivasan.
It is based on the chronicles of Khan as a British secret spy in Nazi occupied Paris, France. The year 2014 has been chosen for the release because it marks Khan's 100th birthday and 70th anniversary of the D-Day.
Filmed in Baltimore, the 60-minutes-long biographical docudrama is produced by Alex Kronemer with Michael Wolfe and directed by three times Emmy award winner and an Academy Award Nominee, Robert H Gardner, whose prominent works include The Courage to Care, Egypt: Quest for Immortality and Arab and Jew: Wounded Spirits in a Promised Land.  It is narrated by an Academy award winning actress, Helen Mirren. The dramatised story gives detailed information about Khan's short but noteworthy life.
Khan was born on January 2, 1914, in Russia, to an Indian Sufi master and musician, Hazrat Inayat Khan and an American mother, Ora Ray Baker. Khan's father was a descendent of Tipu Sultan, the ruler of Mysore. Her family fled to England after the Nazis invaded France in 1940. There, she joined Britain's Women's Auxiliary Air Force as a wireless operator. In 1943, she was posted to Directorate of Air Intelligence, as a covert agent for Winston Churchill's Special Operations Executive (SOE) and was flown to France under the hidden identity of Jeanne-Marie Regnier, Assistant Section Officer and Ensign.
The work of the SOE was to help the French forces for preparations of D-Day invasion and Khan clandestinely transmitted vital information back to Britain. After the arrest of her entire network by Gestapo, she became the only connection between Britain and France – synchronising sensitive work and was labelled as the most wanted British agent. She was eventually arrested and interrogated by the Nazis but she never revealed her identity. She tried to escape from her captors but failed, and so she was sent to the notorious Dachau concentration camp in Germany as a result. On September 13, 1944, she was executed by a gunshot in her head. Her last word was 'liberte' (freedom).
Noor Inayat Khan was posthumously awarded by Britain and France; including a George Cross award and Croix de Guerre with a gold star. A plaque in her memory hangs at Dachau and a memorial statue was placed in her honour in London's Gordon Square in 2012.
WWII is considered to be the deadliest war in human history that left a profound impact on the international arena. It reshaped the map of the world, particularly the Arab world, resulting in the emergence of a Jew state – Israel. Millions of civilians lost their lives; power poles shifted and paved the way for the Cold War. The United Nations came into effect in 1945 to resolve disputes. And the US and western countries created the North Atlantic Treaty Organisation (NATO). During such turbulent times; there was an understanding between the Jews and the Muslims, an understanding we don't see today.
Very few people are aware of the role of Muslims in WWII; how they played a significant role by providing safety to Jews against Nazi oppression. The Grand Mosque in Paris gave protection to Jewish cabaret singer, Simon Halali and the Franco-Muslim Hospital provided shelter to people, irrespective of their faith. Likewise, Algerian Muslim immigrants fought along with French troops.
This docudrama, therefore, defies the allegations that Muslims are anti-Semitic. It demonstrates that Muslims and Jews can work together for a better cause. Khan's laudable anecdote gives a vital message to both Muslims and other communities to have a good understanding of what Islam really stands for. Amidst the on-going Israel-Palestine conflict, this movie makes one wonder whether this animosity is inherent. History shows us that Muslims helped the Jews in times of need and never really protested till their land was being taken over.
Moreover, the docudrama comprises of old pictures, views of her surviving nephews and a group of internationally acknowledged scholars discussing Khan's biography and WWII. It preserves and enlightens the masses about an untold story of a Muslim woman warrior who fell out of the historical chronicles. Noor Inayat Khan will remain a source of inspiration for females as her astonishing life tells us that a woman can be a war heroine; she can sacrifice her life in the line of duty. WWII is filled with stories of unsung heroics and magnificent adventures. But what remain unknown are the courageous actions of women in WWII that revealed what resilience, bravery and determination can achieve.
All in all, the beautifully shot Enemy of the Reich: The Noor Inayat Khan Story uncovers the audaciousness, vigour and sensitivity of Ms Khan as she risks her life to encounter Nazi tyranny. You will remain engrossed in it till the end to watch the inspirational tale that unquestionably needed to be told as majority is not aware of this brave Muslim woman.
I would rate it four on a scale of five – it is definitely a must-watch for history lovers.