Can Modi become a role-model for the children of India?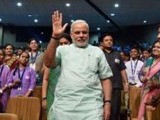 When we earn something hard, we flaunt it too often. This is exactly what has happened with Prime Minister Narendra Modi – he worked really hard to become the PM of the largest democracy in the world, and he doesn't leave any opportunity to flaunt his newly acclaimed status.
Delivering the Teachers' Day speech and making it compulsory for all students and teachers to listen to it was just another attempt to tell the world that he has arrived. The huge Manekshaw auditorium in New Delhi was chock-a-block with enthusiastic students who asked him some well-rehearsed questions. Donning the avatar of Chacha Nehru (as India's first Prime Minister Jawaharlal Nehru was fondly called by children for his connection with them), he answered the questions spontaneously. But the tone and tenor of his answers clearly exhibited his achievement as an individual and his complacency as the PM.
Newspaper reports from the next day stated that some of the students and teachers thoroughly enjoyed listening to him. But there were countless others who expressed their disappointment as they were forced to be a part of this mega event.
But one thing is clear – the reason behind organising a grand event like this was that he wanted the people of this country to know that the degrading education system of the country pains him. He wanted to tell one and all that he is here to change the face of the education system and script a new future for our present and future generations. But he could have looked into other methods for conveying his message. He should know that addressing a handful of children, who have open access to TVs, while sitting in an air-conditioned auditorium is far easier than addressing the real problems that have made the education system hollow. He should know that his real job is to reach children who are unable to go to school easily.
In order to carry out the aforementioned, he would need a reasonably long itinerary. He should start with his hometown Gujarat, where he served as a chief minister for more than 13 years, as it is a huge ordeal for most of the children to go to school. For example, in Chhota Udaipur in Gujarat, children of 16 villages swim across the Hiran River to reach their school in Utavadi village every morning because there is no bridge constructed over the river.
His next stop should be Rajasthan, another state ruled by his very own party, Bharatiya Janata Party (BJP). Upon visiting Dungarpur and Udaipur, the locals will apprise him of the on-going crisis of hundreds of children dropping out of schools and instead going to work in cotton fields as child labourers in neighbouring Gujarat. There are schools in these districts where teachers have been caught hand-in-gloves while packing kids off in trucks to work as bonded labourers. It's not that their parents are not aware of it, it is, in fact, the parents who send their children to work at an early age.
Another reason why parents convincingly pull their children out of school is because there are barely any teachers available in these village schools. There is no check system established by the government on why teachers never come to class even though they live close by.
The problem of missing teachers is also quite evident in another BJP-ruled state, Chhattisgarh. Teachers go missing from these schools fearing attacks from both the Maoists and security forces. There is no assurance from the government about making proper security arrangements in these areas where schools can run uninterruptedly. Children have to walk no less than 50 kilometres in both Dantewada and Bijapur districts of Bastar region to get to school. Textbooks reach these students only when they are nearing the end of the academic year. The headmasters of some of these schools and even heads of villages complain about how rebels often want to interact with students and interfere in the functioning of the schools of the areas.
But rebels are not the only ones who add to the woes of these students. Many ashram or residential schools in both Maoist-dominated districts (Dantewada and Bijapur) have been preoccupied by security forces. Owing to which, students have to stay in cramped barracks and their classes have been running in open fields. Ironic, isn't it.
The leaders of Salwa Judum or civil militia have made lives of these children studying in ashram schools all the more miserable as they force them to carry arms and participate in raids carried out in other villages. Children have been pushed by the leaders of Salwa Judum to go to jungles, track the trails and sniff out the enemy. The previous government couldn't do anything to make things better for these children of the conflict torn state. But for all the noise that Modi has created on good governance, children of this strife torn state have every reason to expect him to be their saviour.
Nonetheless, Modi's journey to schools doesn't end here. If he moves towards Manipur, he would know that children there cannot even attend school for days because of long strikes called by various groups. At present, the state government itself has ordered an indefinite closure of schools and colleges. This is the second time in less than two months that such an order has been issued by the government because some students have been injured in the on-going protest marches demanding the implementation of Inner Line Permit in the state. Even though this is entirely a political issue, the students are suffering immensely and no effort has been made by the central government to bring normalcy so far.
In 2009, all educational institutions were closed for four months in Manipur after Apunba Lup, an apex civil society group representing more than 20 different organisations who were demanding the resignation of Chief Minister Okram Ibobi Singh over the alleged extra judicial killing of a youth the same year. All that Prime Minister Modi can do is improve the law and order situation in Manipur to ensure education doesn't end up becoming the casualty.
Modi claims to be clever, ingenious and strong. Therefore, he should not resort to the easy job of delivering a speech on Teachers' Day and expect the children of his country to listen to his 'valuable' advice whilst seeing him as their role model. Instead, he should make an effort to go to the most remote places of the country and find out ways on how more and more children can make their way to school.
If he wants to be the darling of the children, his concentration should not be on the handful of students who he interacted with in the auditorium or via video conferencing. His real challenge is to win the hearts of 1.4 million unlettered children who are waiting to go to school. His real challenge is to retain the children in schools and bring the children who left school in search of work back to classrooms. His real challenge is to make education accessible to every child of this country.
It's about time the PM starts his legwork, simply for his self-proclaimed love for the children. So let's get going, Mr Modi, before the next Teachers' Day arrives.