Namkeen Mutton Karhai: A reminder of authentic Peshawari food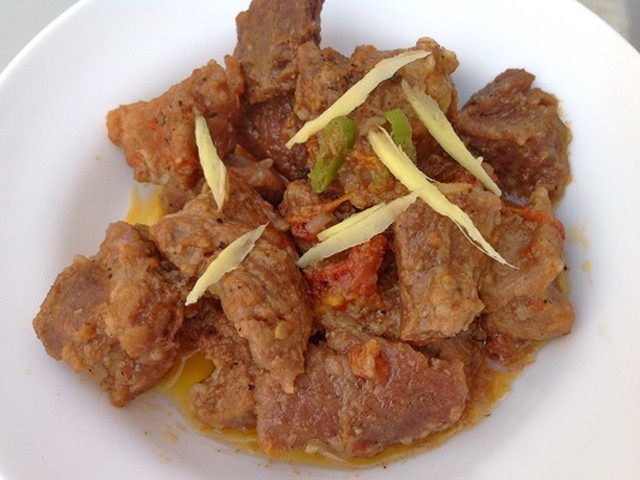 For those who don't know, Peshawar is famous for its Namakmandi. Contradictory to the name, it does not have anything to do with salt but is known for its cuisine, particularly its karhai and tikka. What sets their food apart from the rest is the lack of spices in it, without which they still manage to create scrumptious dishes for their customers. One such dish, their namkeen karhai, is a simple and special one.
A few days ago, my family and I decided to visit the Habibi Restaurant located in I-8, Islamabad. They offer some of the most delicious and authentic Peshawari and Afghani food. Even though the restaurant is not very spacious, the live barbeque adds immense flavour to its ambience, with the aromatic air increasing your appetite by the minute.
We ordered the namkeen karhai along with their barbeque platter. Some might think that the use of less spices might make the dish taste bland, but believe me, the simple, tender and mouth-watering karhai was nothing as its name suggests.
Since one cannot get enough of it, I decided to try and make it at home myself. And to my surprise, the result was very similar to the original dish. So here it is, my replica (as close as it can get) of Habibi's namkeen mutton karhai.
Ingredients:
Mutton/lamb with fat – ½ kilogram
Tomatoes – ½ kilogram (skin removed)
Salt – To taste
Ginger – 1 tbsp (chopped)
Green chillies – 3 to 4 or to taste (chopped)
Red chilli flakes – 1 tsp
Crushed black pepper – ½ tsp
Oil – 2 to 3 tbsp
Method:
1. Wash the meat and add into a pan with salt. Let it cook till it's half tender.
2. Add tomatoes and ginger, and cook on high flame till water from the tomatoes and meat evaporates.
3. Add oil and stir it while adding green chillies, black pepper and red chilli flakes. Keep stirring constantly on high flame.
4. Once the meat has been properly cooked and has absorbed all the flavour, turn off flame.
5. Garnish with coriander leaves, chopped green chillies and sliced ginger. Serve with Afghani or roghni naan.
You do not have to necessarily make it with lamb, as it can be substituted with chicken or beef as well.
What more can one want – a simple yet delicious karhai, ready in minutes without a vast variety of ingredients.
This post originally appeared here.