Welcoming Autumn with tamarind lamb cutlets and a spicy chickpea chat salad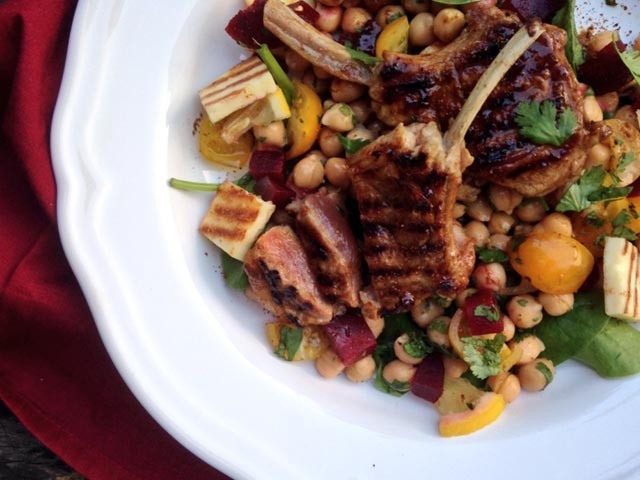 Chickpeas with spice, herbs and lemon are a street snack in Pakistan called chat, with bursts of chat masala, made up of piquant black salt, dried mango powder, cumin, coriander seeds and black pepper; it's a salivating heady mixture that entices all the senses.
Topped with lashings of sour tamarind chutney and coriander mint chutney, these are tantalising combinations that speak of a flavour of Pakistan. This salad of mine combines many attributes of my homeland, barbecue lamb is quintessentially Pakistani and I have combined it with an easy chickpea salad based on chat on the streets of Pakistan. I also combine some char-grilled paneer cheese for added texture. The combination is warming and speaks of the many colourful facets of autumn and memories of the authentic flavours of home.
Here are all the ingredients you would need for this recipe (serves two):
Time cooking and preparation: 25 minutes (if not left to marinate chops)
For the lamb:
Lamb cutlets – 4
Tamarind paste – 2 tbsp
Chat masala – 1 tsp (found in most South-Asian shops, or substitute by adding 1/2 tsp each of dry roasted ground cumin, coriander, brown sugar, salt and lemon juice to the tamarind paste)
Garlic puree – 1/4 tsp
Oil spray or a little oil to brush the pan
For the chickpeas:
Chickpeas – 1 tin
Dry, roasted and ground cumin and coriander seeds – 1 tsp each
Red chilli – 1 (dried)
Lemon – half
Chat masala – 2 tsp (substitute by adding a little more coriander, dried red chilli and cumin seeds in the salad)
Chopped mint and coriander leaves – 1 tbsp each
Pomodoro baby tomatoes, spinach, chopped cooked beetroot – handful each
Salt – to taste
Lemon – Thinly sliced pieces with its zest, to toss in salad
Paneer cheese – 2-3 slices, char-grilled with the lamb
Method:
1. Assemble salad by combine all the ingredients above, place on plate. For the dry roasted red chilli, coriander and cumin seeds, heat a dry pan and roast until light brown, then bash in a mortar and pestle.
2. Marinate the lamb by combining the ingredients for the lamb above, leave for few minutes. Brush or spray some oil on a grill-pan and char-grill the paneer followed by the lamb, until cooked to desired time. Serve on top of the chickpea chat salad topped with a sprinkling of any remaining chat masala.
This post originally appeared here.