Aitzaz Ahsan, I used to believe in you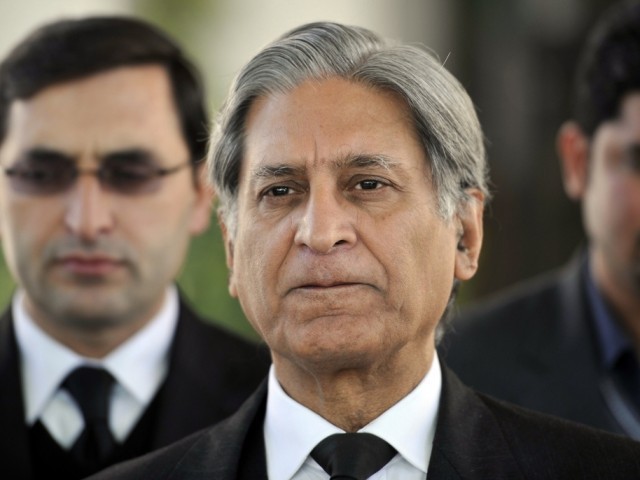 Dear Sir,
I am writing this letter to request you to reconsider your role in the current political crisis and to be on the right side of history.
I, being a member of the educated middle class of Pakistan, see you as a man who has always stood up against injustice. I see you as a man whose political life spanning half a century gives testimony that my country still has educated, brave and faithful fighters who would do whatever it takes to defend Pakistan.
I know that you were a college student like me when you campaigned against the dictatorship of Ayub Khan. I know that you stood first in the Civil Service Examination and could have entered the ruling bureaucratic class but you rebelled against joining the martial law regime of General Yahya Khan. I know that you refused to join as a minister in the brutal dictatorship of General Ziaul Haq.
We all know, and have seen, how you struggled against General Pervez Musharraf. It would not be wrong to say that you drilled the last nail in his political coffin. Whenever your name struck my mind, it flashbacked to a resolute man who, while standing in front of the Parliament House addressed the men in black, giving them ray of hope, with this poem:
"Riyaasat hogi maa kay jaisi, har shehri se pyaar karey gi."

(The republic will be like a mother, who'll love all her citizens)
I know that you played the role of a virtual opposition, even in your own government, due to your stance in favour of an independent judiciary at a time when you could easily have been an ideal prime ministerial candidate.
Sir, even though I staunchly oppose the political party you are affiliated with as I believe that many of the ills Pakistan is facing today are due to the mismanagement done during Pakistan Peoples Party's regimes, you, in your personal capacity, have been my role model. You inspired me because you instilled hope in people like me that one can not only enter, but also thrive in Pakistani politics based purely on one's intellectual credentials, and not on the other more 'popular ways'.
Having said that, I now come to my grievance.
You have disappointed me, and your educated support base, immensely by standing explicitly in favour of a government that has lost all moral ground to be in power. All your life you have struggled for a better democracy. But now, when my leader, and your Aitchisonian mate, Imran Khan, is leading a decisive movement for a free and fair electoral system in this country, you decided to be on the wrong side of history.
You have yourself investigated the constituency NA-124 (Lahore), from where your wife Bushra Aitzaz ran as a candidate of PPP. You revealed that all the bags you witnessed were full of bogus votes. Similarly, you know what comes out of the polling bags in NA-118 (Lahore) and NA-139 (Kasur) – trash. These are only three of more than 14 constituencies audited so far, which reveals no different result.
It was evident that there was something fishy going on when the government showed stiff resistance to Imran Khan when he requested that the government move the election commission to audit the four controversial constituencies.
And now when all has come out; the role of former chief justice Iftikhar Muhammad Chaudhry (keeping allegations of Imran on one side; even the president of your party, Makhdoom Amin Fahim, alleged that Iftikhar Chaudhry met the returning officers in his constituency, in private, for three hours), returning officers, Justice Khalilur Rehman Ramday, Najam Sethi, Justice Riyaz Kiyani, and other key players, there is not much left to say. I am in no way imposing my perception on you; these are all the facts which you have yourself wholeheartedly accepted on the media and other avenues.
Thus, you are supporting a government which, according to you as well, has been formed illegally through rigging.
Sir, on one hand, you hint that if Imran fails, Mian Sahib and the six member kitchen cabinet would become even more arrogant, and on the other hand, you stand by them to resist the fall of this arrogant dynasty. You (and now the judicial commission report) say that the responsibility of the Model Town massacre falls on the Punjab Government (provincial government in its legal definition consists of the chief minister and his cabinet), yet you stand in the front row, trying your best to save the Sharif brothers.
You have admitted that you pay more tax than any other parliamentarian. You are acknowledging that the others, including the prime minister, are tax thieves, yet you are willing to risk your politics and reputation to save his government?
All I can say is,
"Kia ye khula tazad nahin?"

(Is this not an open contradiction?)
Sir, I would like you to pay attention to the grievances of the PPP workers of Punjab, if not mine. I know that it is in your knowledge – as you have already pointed out on the floor of the parliament – that jiyalas are extremely angry and annoyed at your decision to stand by this 'elected' government.
Sir, I would like you to read the writing on the wall. The people of Pakistan have woken up. There is a clear divide between those who want this dwindling Pakistan and those who dare to stand up. Did anyone ever believe that the young and energetic men and women of this country would sustain a movement for such a long period, leaving all their chores and coming to peaceful sit ins all over Pakistan, to celebrate the dawn of revolution? Yet here we are.
I would like you to see that dawn and leave the side of those 'parliamentarians' who are labelling these dreamers mere lashkars (processions), dehshatgarhs (terrorists) and dandabardaars (hooligans).
Sir, you are a symbol of an educated and resourceful middle class of Pakistan, the very class which has now decided to rebel against this kleptocracy. The Sharif dynasty has not learnt from its mistakes and their fall is eminent. On the pretext of saving democracy, you are saving a dynasty; a dynasty that fails to resemble even a weak democracy.
After knowing all this, if you have decided to side with the corrupt and selfish, it is indeed sad.
Signing off,
Osama Sajid