State sponsored terrorism?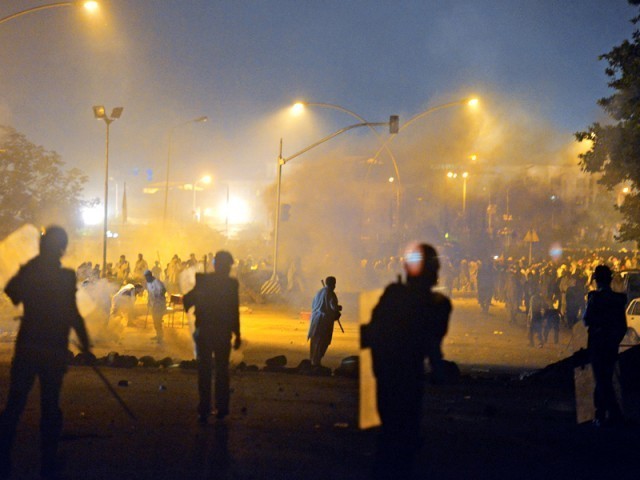 Loving Pakistan is a hard task. My grandmother would often blame our chronically chaotic predicament on the evil eye, and after the recent barbarity I find myself finding it easier and less emotionally exhausting to buy into her sentiments of our nation being cursed.
It takes a lot for a state to unfold chaotically by opening fire and injuring more than 300 protestors. One can only wonder why the forces that govern the workings of our universe seem to always give us their worst backhand.
They say history is the best teacher, but Pakistan is a hopeless pupil with no saviour to tutor her out of this dark abyss. We have suffered martial laws and criticised military dictatorships, yet many of us have found ourselves yearning for military intervention in the past week.
We snigger at social media activists and yet, criticised the common man that took our protests to the streets in the past two weeks. And it is, with this extreme dichotomy, that the violence of the last few days will forever be etched in our future (if we are lucky enough to have one) as a determining juncture that turned sour.
How did things turn out so badly?
How did we get here?
Pakistan Muslim League-Nawaz's (PML-N) leadership and our government lost all credibility on Saturday night, when along with opening fire on protesters it attacked journalists, bullied the media and is even reported to be coercing the Pakistan Institute of Medical Sciences (PIMS) management to hide the real number of casualties. Maryam Nawaz tweeted about how well her father, Prime Minister Nawaz Sharif, 'handled' the protests despite reports and video footages of men, women and children being attacked. Of course, in the Sharif world of canals and metros, they kept 'ensuring no one is fired at and women and children given safe exit'.
Pakistan or, dare I say, the Sharif's never learn. As if the debacle in Model Town (where 70 protesters were shot and 11 killed) was not enough to taint the reputation of our 'ghunda gardi' (hooligan) democracy. Saturday night saw a repeat viewing, just on a grander scale, as the police fired at peaceful protesters who were exercising their democratic right to protest outside the PM House.
Parliamentarian, Marvi Memon, and leading human rights lawyer, Asma Jahangir, came on TV to suggest that even if the White House was attacked their governments would react similarly. You know things are bad when your country's leading human rights lawyer takes such a blatantly flawed stance and indirectly supports state terrorism. Marvi Memon went on to laud Interior Minister, Chaudhry Nisar Ali Khan, for being out in the open, unlike Imran Khan, not absorbing the illogical comparison given that Nisar was walking in the midst of thousands of armed soldiers – what would he have to fear? This reflects how far our leaders are from political reality.
I am not an Insafian and nor am I an Azadi march supporter, but what kind of democratic government unleashes this sort of brutality on its unarmed denizens? Are these the true representatives of Pakistan? Are these the custodians of my constitution? Is this the meaning of democracy? How shameless can a government become that it, after committing this crime before and the general sentiment being that it would never again, attacks a helpless group of people.
But alas, one lesson you learn fast as a Pakistani is that there is no dark era in your nation's history that your leaders will not foolishly revisit. And then accusing Imran Khan of using his women and children as shields despite the fact that he told his female and minor supporters to stay behind and then trying to defame him by saying he is hiding in his container while ruthlessly shelling him. Well done PML-N, yehi tou hoti hain 'qanoon ki baladasti' (this is what is called rule of law).
Pakistan's politics are cyclical process of disarray, anarchy and chaos. The governments' lies are never-ending. The army is always watching. The masses are on the streets and here to stay. Saturday night's atrocity will become tomorrow's history. But let us pray we never have to relive this same script of state-sponsored terrorism ever again. Can we even dare to hope?