Can an older woman marry a younger man in Pakistan?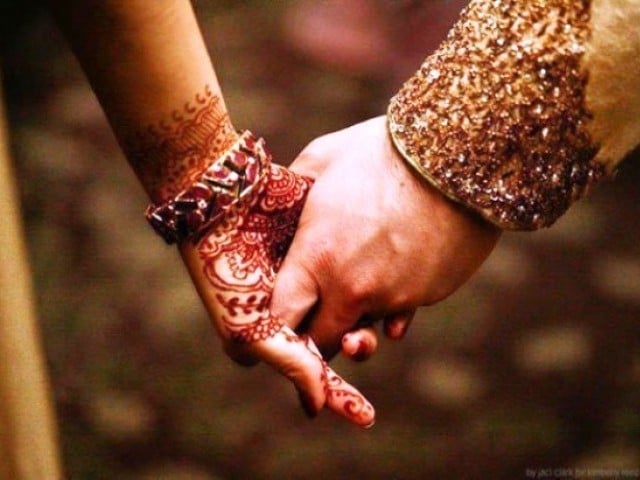 "I got a very nice proposal," said a friend who was at a stage in life where she wanted to settle down in marriage.

"But there is an issue. I am 31. And he is 26. I am five years older. I really like him but my mom says that in another five years mein uski maa lagoon gi (I will look like his mother). I will have to say no," she said with resigned acceptance.
But fate had other plans.
The "boy" liked the "woman" very seriously it seemed. He pursued her. Her heart relented. They got married and are now in the seventh year of their marriage. Her hair has begun to show scattered touches of salt and pepper and her husband recently asked what she would like to do on her 40th birthday so that he can start saving up. Remember, he is still just in his early 30s.
But it was not an easy ride for her. It is not an easy ride for anyone who wants to break any social stigma. The age difference issue is definitely almost a stigma. Most of us have an unsaid but set idea about how much the ideal age difference should be. But an attitude of categorically judging the prospect of partnership with someone years apart seems problematic to even the very broad-minded ones.
I had once asked a friend if the man she liked was someone we both knew; someone who was eight years older to her.
"Disgusting! How can you even ask me that?" was her response, her face showing she was genuinely disturbed at the idea.
When we like or choose someone as a life partner, what inevitably comes up is the social conditioning that we are subconsciously exposed to all our lives. Even people who are thought of as pragmatic and are led by their head, not heart, are influenced by a fantasy they nurse inside themselves. Conversations on family dining tables, Bollywood movies, observations, attending wedding ceremonies, things friends say…  it could be anything that carves an image in our head. We have already created a rough sketch of that person with a brief bio data in our heads.
But in isolated cases, the brave ones think outside the box and sometimes make exceptions, like the couple I mentioned. Sometimes these risks work out, otherwise not. With marriage one never knows. But it is important to realise that there is so much to a person that makes him or her "the" person, that in some areas one has to readjust one's fantasies.
I will on purpose avoid the word 'compromise' because that word has a negative ring to it. Maybe you are making an informed decision that this person works for you. Maybe you had a taller person in mind… or a person from the same profession as you… or from a certain ethnicity. But then someone special comes along and challenges everything you believed in and you are even willing to take chances you never thought you would because it… well… it just feels right. And this could be true for both arranged or love marriages.
"Marry someone four years older than you beta" is what an aunty was caught saying to a 17-year-old. "That is ideal age difference. He would have already completed his education and would have a job by the time you complete your undergrad. And bachi, you have a tendency to gain weight, so never marry someone your own age."
While those considerations are not entirely unfounded, they seem rather fickle when compared with more substantial things like chemistry, understanding and a shared vision.
It is also important to think and talk about this issue because in most cases, the brunt of the age difference is born by the woman. She feels guilty for no reason and the man whom she may be equal to or may be better than on many counts, becomes this hero because he gave the ultimate sacrifice of marrying "apnay se baray umar ki aurat" (a woman older than himself). If she is also divorced and widowed with children, then he is lauded for being azeem (great).
What actually matters in the end is what both of you are bringing to the table when it comes to the combination. We see perfect matches failing and we see the most unexpected relationships working out fabulously. Humans are beautiful and complex creatures. No one formula works for anyone.
The end hope is that two people planning to spend the rest of their lives together have a predominantly happy life. That they are attracted to each other, enjoy each other's company, have a strong connection, have similar values in life, are supportive and respectful, and have figured out a way to lovingly work out their differences.
It is shallow and fickle to ignore these bigger factors and focus on things like age, physical features or ethnicity. Society needs to take a back seat and stop with the endless commentaries, as these put an unnecessary pressure on a relationship. If miyaan biwi raazi, then others don't matter.