Bring back shows we want to watch, bring 'Ringer' back!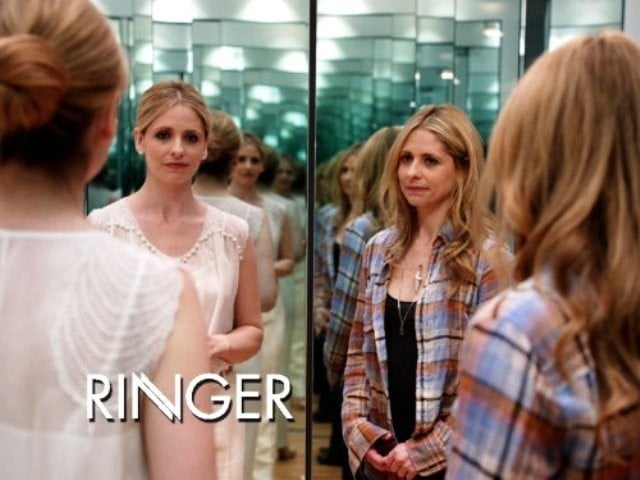 I am not a TV geek, there are only very few television shows that I follow. The kinds that I tend to keep an eye on are those with wicked, devious themes and those that are full of secrets.
Nowadays, it's all about shows like The Big Bang Theory or the Game of Thrones. But in all honesty, such shows have never enticed me as a viewer. They are quite overrated, if you ask me. The unfortunate thing, however, is that a show, such as the Ringer, was not appreciated or given any credit; despite the fact that it had a riveting storyline and great cast to go with it.
I have always adored Sarah Michelle Gellar, ever since I was seven-years-old. She is an inspiration to me when it comes to acting. When I heard about her initial return to television with Ringer, I was literally on cloud nine! What's better than a good television show that has your personal favourite actress in the lead?!
I saw Ringer back in 2011, when it originally aired on The CW. The show borrows some elements from the neo-noir film genre. It centres on the lives of two twin sisters, Bridget Kelly and Siobhan Martin (both portrayed by Gellar respectively), that have distinct characteristics. Gellar has done a fantastic job playing both the roles differently and powerfully.
Bridget is a recovering drug addict and a stripper. After she sees her boss commit a crime, the Federal Bureau of Investigation (FBI) put her under witness protection so that she can testify against him. But as soon as Bridget learns that her boss, and his gang, have murdered such witnesses before she decides to flee. And in her desperation, she goes to her estranged twin sister, Siobhan, for help.
Siobhan, on the other hand, is an affluent young woman, residing in New York City with her husband Andrew Martin (played by Ioan Gruffudd). It is shown that Bridget and Siobhan have a seemingly contentious relationship with each other. They have shared a rough past, which is not disclosed in the first-half of the initial season but, gradually, the audience get to learn more about the twins and their relationship.
After Siobhan's sudden and mysterious death, Bridget assumes her identity, thinking she could escape her old life and start all over again. But little does she know that Siobhan's life was just complex as hers. Bridget later learns that her sister had an affair with her best friend's husband, Henry Butler (played by Kristoffer Polaha).
But wait till you hear this, Siobhan is not really dead! She is conspiring against her own sister. Why, you wonder? Well, I won't spill all the details. You'll have to watch it to find out!
If you decide to watch Ringer, don't judge the show on the basis of its pilot episode, because even the pilot was not strong enough, if you compare it to the rest of the episodes. The show gets juicer and more intriguing as the story progresses.
But sadly, the show was cancelled by The CW in 2012. If you are assuming that ratings played a pivotal role in the cancellation process, you might want to think again. There was a poll launched in early 2012 that had listed Ringer, The Secret Circle and Gossip Girl as shows that fans would like fresh seasons for. Although, Gossip Girl had lower ratings than Ringer, the fans picked Gossip Girl as their primary choice and it was renewed for a sixth season. Ringer, on the other hand, was cancelled.
I personally believe this was a rather unfair decision made by The CW network. Maybe it should have been marketed to other networks, such as NBC or ABC family. Ringer provided a completely different storyline to the television landscape. It was a show that offered something new to the audience every week; it was riveting, fun and full of suspense. In addition, Gellar's acting was stellar. I still believe it should be given a second season. Ringer was a whole package over all.
What makes Ringer standout from shows, such as Gossip Girl or The Lying Game, is the pure creativity and innovation with which this show had been structured. The creators of the show, Nicole Snyder and Eric Charmelo, did a remarkable job with the plot and storylines. This is what is lacking in many TV shows that are currently on air; they don't bring anything original to us – instead we are shows tedious plots, repetitive themes and predictable drama. Not only does Ringer have just the right amount of drama and suspense that will keep you on the edge of your seat, it also has a glamour and fashion merged brilliantly with the theme of the show.
Moreover, Ringer managed to bring in a 'twin connection' on television and that was primarily why it was doing so well. This very factor lacks in a show such as Orphan Black, which also has a twin sister plot. But that show does not have the stimulation that Ringer had. Additionally, the creators of Orphan Black had borrowed a few elements from Ringer during the first season, reflecting on just how strong Ringer's storyline was.
The best thing about Ringer, I would say, is that it's unpredictable; full of twists and turns. Every episode ended with a shocking climax scene that even Gossip Girl and/or Orphan Black couldn't possibly engender. Every scene was full of mystery and your skin would tingle with curiosity.
I put all my bets on this show! It's worthy of every praise. The acting was brilliant; every character had their own uniqueness and strong screen presence. Additionally, I loved the way the director(s) of the show choreographed New York City in such a lavish, yet mysterious fashion.
Orphan Black, on the other hand, is a satisfactory television show with more of a sci-fi edge to it. While Ringer was about two twin sisters, Orphan Black is all about cloning (which is quite sad for a television show).
I saw some raving reviews about this show. Here is what some fans had to say about Ringer after watching it:
"It's smart, clever, fashionable and out of this world! Love it!" said Martha Eve, a blogger from California.

"Ringer is sassy and a fun ride for everyone!" quoted Will Arthur, a website host.

"My latest obsession! Gellar is so talented. I wonder why she's so underrated as an actress" said Timothy Harris, a writer for various newspapers.
There you go! I hope such reviews coax you into watching this amazing television series; it is clever yet smoky. Ringer will always remain one of my personal favourites and I hope you give it chance. Believe me, you won't be disappointed.