Umar Akmal: From child prodigy to cricketing enigma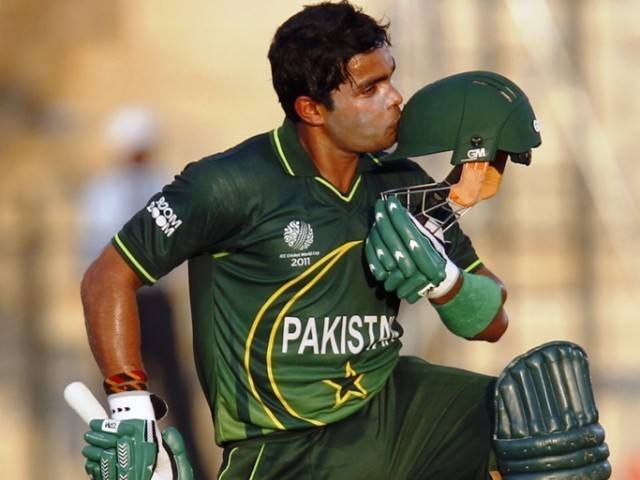 Umar Akmal came onto the international cricket scene when the national team was surrounded by catastrophe. Rebellions, groupings, match-fixing and a loathsome competition for captaincy were the highlights of the Pakistani side.
This was a mini flashback of the 90s, when the captaincy changed hands every time the team played badly and instability became the norm of the team.
Akmal forced his way into the debris of one of the most colossal batting orders in the history of Pakistan's cricket, on the back of the Australia A tour of June/July 2009.
He had a walloping start in international cricket; just in his third game, he butchered Muttiah Muralitharan and Lasith Malinga with an authority unseen from even the veterans at that time. In Test cricket, it was an even more awe-inspiring start of his debut innings; he slammed his way to a century against the red hot Shane Bond in a magnificent manner.
The second innings were dandier; the flashiness suddenly changed to prudent and judicious stroke-play which nearly pulled off a single-handed Test victory in an astonishing last innings chase. After that, however, it has all been downward barrels for him.
With the passage of time, the stroke play became more enterprising; the form jittered and the mental blackouts became more frequent which left critics irked and the fans flummoxed. Still, he remains to be Pakistan's most prodigious batting talent. Before Akmal, Imran Nazir was our most flashing batting talent (since Mohammad Yousuf). But even Imran Nazir will get a fair run for his money, in terms of matching his audacious range of shots with Akmal.
If anyone comes close to match AB de Villiers' illustrious range of stroke-play, it has to be Akmal. And certainly, he is the most gifted young batsman in the world. That statement might raise plenty of eyebrows; being naturally gifted is one thing but translating that talent to performances is another, and employing every bit of natural ability to runs like Virat Kohli has done in his stroke-play is a different entity entirely.
Amid the bummer ride, there have been flashes of brilliance. His turning up varies between bewilderingly magnificence to obnoxiously scrappy, depending on which side of the bed he got off. Obviously, he himself is responsible for his enigmatic career till now but batting too low in the order hasn't done much in his favour. In his whole career, Umar has batted just four times in the top four order and just once as number three– that too happened just because the opening partnership had batted 37 overs.
Especially in the last three years under Misbahul Haq, he has been bumped to number six, as if he is a paltry hitter who can just give brisk finishes. In the limited overs, number six is the most arduous position to bat in the order. Number six has to either hit out in the last few overs or has to rescue the innings with fours, in the chases. The task gets even more daunting to finish the games almost unerringly. That's the reason why only Michael Bevan and Mahendra Singh Dhoni have mastered the position so far; they are undoubtedly the all-time greats in ODIs. So invariably, the number six is always under the pump.
In Test cricket, Akmal did play a few horrendous strokes but since Waqar Younis left in 2011, he seemed to have lost his zeal. It is felt as if he has been dubbed as a limited-overs specialist; in simpler words, incurably infectious for the atmosphere of the longer form of the game (like young Shahid Afridi). In Pakistan's cricket, it is preferred to choose the more accessible option by putting a tag on players, rather than putting in hard yards for their development.
AB de Villiers is an apt example of the development of an immensely gifted batsman; the best thing that happened to him was that he started his career by opening the batting line-up. In South Africa, you can't go all out with guns blazing right in the start of the innings, unlike in the subcontinent. This made De Villiers realise the importance of getting in before revealing his array of shots and having a consistency in Test cricket.
Therefore, batting up in the top order in ODIs is the best thing that can happen to Akmal. That would take off the added pressure on him every time he goes out to bat at number six. By coming at number four, he will be settled at the crease most of the times before the slog overs and he can do wonders in them, like he did against Afghanistan in the last Asia Cup where he blazed his way from 50 to 100 in just six overs.
Most importantly, everyone has to be patient with him. In all his shots there are bound to be occasions when it might not pay off and he will look extremely incompetent but when he does get it right, it makes everyone jump in their seats. That's the risk attached to it.
It seems as if past managements have tried to curb his strokes and aggression, which is never right. The method that works for Misbah will not necessarily work for Akmal too. So it might be advisable to send Akmal at top of the order, giving him the freedom to express himself.
Recently, Waqar Younis came back into the mix again and straight away sanity prevailed; Akmal got back into the Test squad for the first time in nearly three years. In the first ODI, Akmal was slotted at number four as Waqar had repeatedly suggested in his commentary stints for a long time.
Surely, Waqar has started with steps in the right direction but he also must find a place to fit Akmal into the Test side. Surely, it would be ridiculous to halt the development of the brightest talent in the country for the sake of waiting for Misbah or Younis Khan to hang up their boots.