Tyrant: A 'modern day Arabian Game of Thrones'?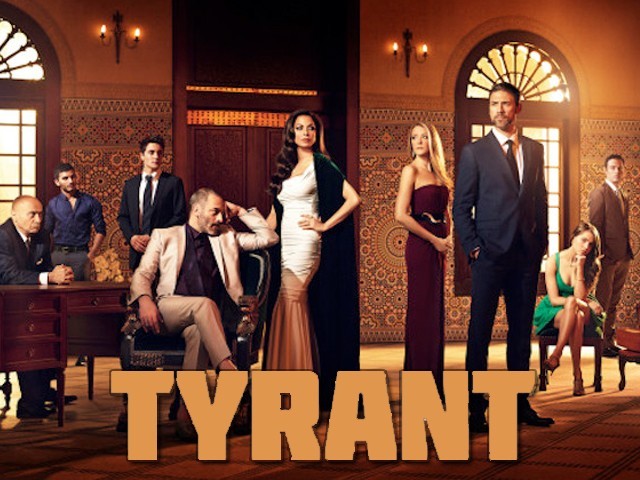 After Prisoners of War, upon which the much acclaimed TV series Homeland is based on, prominent screenwriter and director, Gideon Raff brings us Tyrant.
Set in present day civil-war-torn and fictional Middle Eastern country of Abbudin, it tells the story of the main protagonist Barry or Bassam Al Fayeed (Adam Rayner), son of the ruler of Abbudin. Because he never got along or agreed with the policies of his father, who ruled the country with an iron fist, he moved to the United States to pursue higher education in medicine and also to distance himself from the politics of his country and family.
Now, he is a doctor living a cliché suburban American life, is married to an American girl and has two children. But his quiet life turns eventful when his whole family has to go to his home country to attend a family wedding. During their course of stay in Abbudin, Barry's family is awestruck by the opulence and wealthy lifestyle of the Al Fayeed's. Barry, however, is unfazed as he has witnessed how it all has been achieved. All he wants to do is return to his quiet life in the US but due to certain inevitable circumstances, he gets drawn in and has no choice but to help his brother, Jamal Al Fayeed (Ashraf Barhoom), who is the current president, run the country. That's where the whole premise of the series starts off.
Jamal's character is loosely based upon the real life character of Uday Hussein, Saddam Hussein's son. His malevolence and hot headedness is clearly apparent from the first episode of the series and nearly costs him his life; the consequences of living in excess coupled with a wicked demeanour.
The two brothers couldn't be any more poles apart – while Barry is tactful, cool minded, proactive and knows how to tread lightly on a combustible situation, Jamal believes in inculcating his rule through sheer brute force and with the barrel of a gun.
Some early episodes show how Barry ends up undoing the damage done by Jamal and tries to calm down the situation at hand. Somehow, Barry manages to convince his elder brother to be more democratic in his approach and be a statesman rather than being known as a brutal dictator or tyrant by the rest of the world. He also warns him that if he doesn't rectify his ways, his fate wouldn't be that different from the likes of Saddam, Gaddafi, Hosni Mubarak and rest of the rulers who ruled their respective Middle Eastern countries and become causalities of the Arab Spring.
The series has excellent production values as the sets and the locations feel real and authentic; clearly a lot of thought and effort has been invested in its planning and execution. The cinematography is par excellence and the music is befitting for a series entrenched in Arab settings and values.
The show has received its fair share of criticism from critics (mostly Middle Eastern) who criticise the series for portraying a stereotypical dictatorial and draconian regime as sheer propaganda. But in all fairness, the series has borrowed elements from real life scenarios, whether it is from Iraq, Syria and Libya's current and former ruling regimes.
Tyrant can be called a 'modern day Arabian Game of Thrones', with family drama, feuding clans, mischievous uncles, scorned and conniving wives; it has all that is needed to whet the appetite of its audience and leave them craving more.