After 67 year, we are still unprepared for rain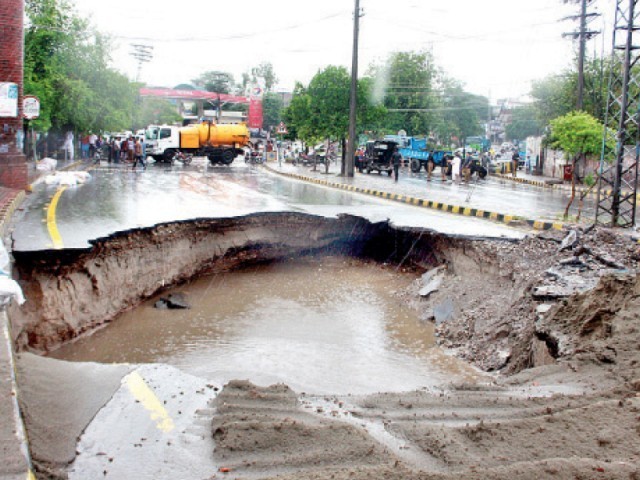 When it rains in Pakistan, the words of Ardeshir Cowasjee seem very pertinent:
"Gutter tou bana nahi saktay, atom bomb banatay hain".

(They cannot even make a gutter but are making atom bombs).
Rain, a blessing of nature (or should I say curse in disguise), has wreaked havoc in parts of Punjab and Kashmir. It has not only cost lives and casualties, but also led to the spread of water-borne diseases. These torrential rains have flooded areas where lands have been cleared, people have been displaced and livestock has been harmed. One wonders then whether authorities, such as the Water and Power Development Authority (WAPDA), Water and Sanitation Agency (WASA), Capital Development Authority (CDA) and the provincial government, are doing their jobs genuinely.
These rains have created a war-like situation in our cities; as we witness black outs, embargo of water supply, collapse of infrastructure and loss of lives. Considering the situation has become worse even in metropolitan cities, it isn't difficult to imagine what must've happened in the rural areas.
The question arises then: who is to be blamed for the plight of the affected? No institution is ready to take responsibility for this inefficiency; the provincial government blames the federal and the federal government blames the previous governments. Do our authorities have no level of transparency? How difficult is it to learn and devise a strategy for what happens almost every year?
This reminds me of the words of a poet,
"Mein kis ke haath pe apna lahu talash karoon?"

(Who is involved in my murder?)
These rains expose the weaknesses we possess, and perhaps own as a nation. It reflects that we have a reactive approach in our lives, rather than being proactive; which is mirrored in the overflowing of our drainage system. It also shows our inconsistency, as the fragility of our roads is demonstrated by the downpour. Perhaps the inappropriateness of our priorities is also made apparent, as billions are spent on our defence; while posh areas (like Defence) succumb to rain. Our complacency is made evident; because even though water scarcity is frequent in our country, we'd rather wait for the floods to come and go than build dams.
The bitter truth is that none of our political parties, whether in government or opposition, are raising the issue of dams and disaster management. We have been conditioned to complain during a calamity and conveniently forget till the next time we are affected, rather than come up with a solution. As a result, there are rarely any noticeable improvements to abate our woes. While India has 3200 dams and barrages (with numerous in the pipeline), Pakistan has a measly 154. It is like comparing the runs scored by Virat Kohli and Umar Akmal.
All this is due to lack of an effective disaster management plan, seen from the performance after the consecutive floods post-2010. These floods can be avoided or at least mitigated if:
(i) Serious efforts are made for building dams,
(ii) A robust drainage system is ensured,
(iii) Bunds are built to prevent the rivers from overflowing,
(iv) Flood diversion areas are created to prevent the loss of material and human lives,
(v) Houses are built in a way which allows free flow of water and,
(vi) People are encouraged to indulge in vegetation as it helps to break the power of moving flood water.
Conclusively, I would like to recall the words of Ahmed Faraz to summarise how I see rain now:
'Inn barishon say dosti achi nahi Faraz, kacha taira makaan hai kuch to khayaal kar.'

(It is not useful to have friendship with rains when your house is fragile.)