What's an Eid feast without some Nargasi Koftas?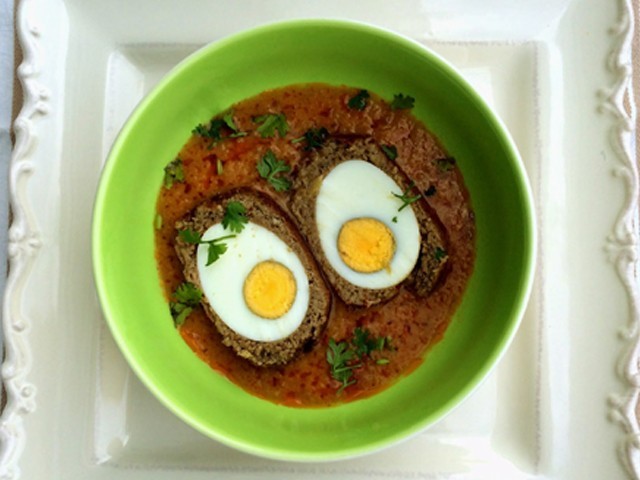 Ramazan is finally over! And here we are celebrating Eidul Fitr in the Far East on Monday. Fasting during the peak summer is a real test of one's faith and endurance. My inquisitive non-Muslim friends often ask me how we, Muslims, survive the long testing hours of fasting without food and water in soaring temperatures. I am not sure they believe me when I tell them that it's a mix of practice and unconditional faith that makes us get through the tough days of fasting and sleep deprivation.
It's that time of the year when we feast (read: over eat). Eid menus are planned out days in advance, and tons of sweet and savoury delicacies line up the dinner tables and tea trollies. At Ammi's house, there always was a set menu for Eidul Fitr. For breakfast, we have boiled vermicelli served with hot milk, which Abbu likes having before heading for Eid prayers. Dessert would include either sheer khurma or a dense milky kheer (rice pudding). The tea trolley is decked with savoury spicy chana chaat, which is made every day and served with lemonade or tea, and some gulab jamans. All the guests visiting us on Eid get to enjoy all of these delicacies, meaning Ammi would prepare them in large quantities.
For lunch, there would be pulao, kofta curry (nargasi kofta), some special chicken dish of Ammi's and haleem, which has always been a non-negotiable dish for lunch and is prepared a day ahead of Eid. I don't remember eating nargasi koftas much at home since they were only prepared on special occasions or for some special guests. And so, today, I will be sharing my recipe of nargisi koftas that fits the occasion of Eid perfectly and makes your feast whole.
Ingredients:
Koftas: To be made a day before
Minced beef – ½ kilogram
Chickpea lentil (channa daal) – ½ cup (soaked overnight)
Garlic – 5 to 6 cloves
Ginger – 1 (2 inches)
Onion – 1 medium-sized (chopped)
Green chillies – 2 medium-sized (chopped)
Water – 1½ cup
Salt – 1 tsp
Eggs – 11 (8 hard boiled and 1 for coating)
Oil – 1 cup (for deep frying)
Dry spices:
Whole cloves – 8
Whole black peppercorn – 10
Cinnamon stick – 1
Black cardamom – 2
Cumin seeds – 1 tsp heaped
Coriander seeds – 1 tsp heaped
Whole dried red chillies – 3
Curry:
Onions – 3 large (diced)
Tomatoes – 2 medium-sized (diced)
Ginger/garlic paste – 1 tsp
Water – 3½ cups
Yogurt – 1/3 cup
Oil – 6 tbsp
Dry Spices:
Cumin seeds – 1 tsp heaped and crushed
Coriander seeds – 1 tsp heaped and crushed
Whole black peppercorn – 6
Cloves – 5
Black cardamom – 1
Green cardamom pods – 3
Cinnamon stick – 1
Method for koftas: 
1. Dry roast all the dry spices and grind them in a spice mill.
2. Add minced beef, chickpea lentil, garlic, ginger, onion, one green chilli, grounded spices, salt and water in a pan. Cook it over medium heat for 45 minutes till the water dries up and the lentil is fully cooked. Set aside and let it cool down completely.
3. Add the cooked minced meat into a food processor. Add two uncooked eggs and one medium green chilli, and grind everything finely. Store the mixture in a sealed container and leave it in the fridge overnight.
4. Next day, wrap eight hard boiled eggs in the minced meat mixture.
5. Coat the koftas with a lightly beaten egg and deep fry on high heat.
6. Brown the koftas carefully. While frying, do not touch them unless needed as they can crumble and break. Once fried, remove pan and lay them onto some kitchen paper.
Method for curry:
1. Heat three tablespoons of oil in a pan and fry diced onions till translucent. Add ginger/garlic paste and cook for one minute.
2. Add diced tomatoes and cook for two minutes on high heat. Add a cup of water and let it come to a boil.
3. Blend the onion and tomatoes mixture into a fine paste in a liquidiser.
4. Heat the remaining three tablespoons of oil in the same pan and fry the dry spices.
5. Add the liquidised mixture into the pan. Cook until all the water dries up and oil comes out on the sides. Cover the pan as the water starts to vaporise.
6. Add yogurt and cook till the water from the yogurt dries up.
7. Add two and a half cups of water and let it come to a boil. Lower the heat and let it simmer till oil floats on the top.
Ladle the hot curry in a serving dish. Cut the fried koftas in half and arrange them in the curry. Garnish with fresh coriander and serve with homemade flat bread – chappati or naan.
Eid Mubarak to everyone back home! Please don't forget to include the less fortunate ones in our festivities and in particular, remember the displaced people of North Waziristan as Pakistan fights the battle for its survival. Let's hope that tomorrow will be a better day!
This post originally appeared here.