Eid away from home isn't that bad at all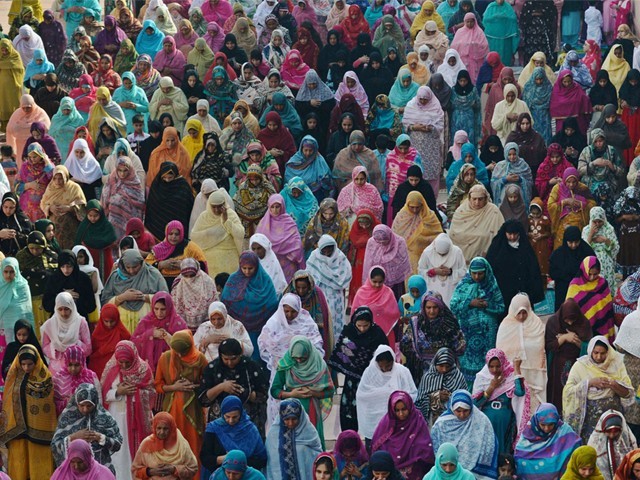 I received a beautiful gift from a complete stranger. I don't even know her name. It was the last Friday of Ramazan, so I decided to attend the Dua and khatam-e-Quran at my local mosque. Growing up in Lahore, I had never seen the inside of a mosque in my entire life. So, even after more than a decade of living in America, I have rarely gone to my local mosque as I, perhaps, feel that the mosque is a place where men gather. But that Friday, on my birthday no less, I went.
As I prayed jammat with women of all colour and creed, I felt a strange sense of belonging. My heart felt more at peace than it had in a long time. After the first rakat had finished, the woman next to me tapped my elbow and said,
"Sister, can I say something to you?"
I, who had only just begun to not feel like a misfit, became conscious of what I might have done wrong during my prayer for her to call me out. She motioned towards my right arm, which was not completely covered from my dupatta as I wore a half sleeved dress. Pulling my dupatta to cover my arm, I said sheepishly,
"I know…I know."
But before I could say anything else, she began to pull something out from her full sleeved abaya and gave me a pair of arm stockings, if I may call them that.
"I got these from Jordan," she said, as she caressed them fondly.
I thanked her profusely and told her I will return these to her as soon as we finish the prayers. An hour later, after the prayer finished, I looked around for her but couldn't find her anywhere. Another young woman waved at me, walked up and told me that her friend had said to keep the arm covers. I begged her friend to take them back, for I knew they had meant something special to that woman. But her friend insisted that she had been instructed to tell me that I have to keep them. I walked out of the mosque thinking, this is the best birthday gift I have received in a long time.
For the last 10 years, I have missed Eid in Pakistan in all its glory. I have missed how the roads are empty every day at iftar for an entire month and then suddenly on chand raat, the whole world seems to spill out onto the streets in celebration. Everywhere you turn there are people, lights, sounds and joy. The shops are open all night, the mehndi stalls and bangles sales are on at full throttle.
I miss Eid day, with all its hurried chaos in the morning as the men of the family gather and go for Eid prayers. I miss the celebrations that follow, from breakfast till late night, when one relative after another, one neighbour after another comes to wish you Eid mubarak.
I miss the fuss over Eid dresses, which starts even before Ramazan begins. I miss getting Eidi from the elders, I miss putting mehndi on my hands with my sisters and cousins. I miss the fact that everyone knows its Eid. I don't have to tell anyone,
"It is my religious holiday today."
I don't have to go to my children's school and explain that,
"Today is our version of Christmas, so the kids will be missing school."
I don't have to Google the expected Eid date.
But even though I haven't received Eidi for the last 10 years and I haven't put mehndi on my hands since my kids were born, I have come to realise over the years that Eid in a strange country is not that bad after all. Gathering on Eid day with my fellow Muslims from all over the world, in local mosques, convention centres or national stadiums, despite it not being a national holiday, is an immensely uplifting experience. The idea of Eid is not only to rejoice the end of Ramazan and spend time with those who are exactly like you, but also to come together as believers, forgetting our differences and embracing our humanity, our oneness.
I prayed next to a woman from Kohat tonight, wearing the sleeves of a woman from Jordan, as the woman praying in front of me started crying when the imam prayed for Syria where her mother resides. My kids played with other Muslim kids of varying colours and nationalities, as young Muslim women volunteers' baby sat them. In the first few weeks of Ramazan, all the kids had helped the volunteers prepare free goody bags which were to be distributed after Eid namaz at the celebration that follows, complete with a bounce house, food stalls and women in glittering dresses at eight in the morning.
So sitting in a mosque in Southern California, I realised that even though I desperately want to take my kids to Pakistan for Eid one year so they can experience what 'real' Eid feels like, maybe I have been experiencing another version of the essence of Eid here all along.