Humpty Sharma ki Dulhania, another DDLJ in the making?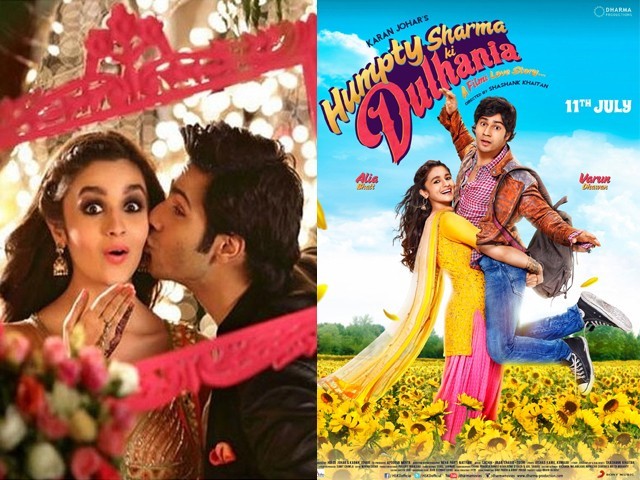 Young at heart and seasoned with emotions is how one would best describe the ingredients of the movie Humpty Sharma Ki Dulhania. There are films that cine-fans want to watch over and over again, and this is one such movie for sure.
Needless to say, the movie is the outcome of the hard work of a great production house, promising debutante director Shashank Khaitan, and actors Varun Dhawan, Alia Bhatt and Siddharth Shukla. What else could one expect from such an attempt?
This is the typical story of a soon-to-be-wed girl, Kavya (Alia Bhatt), trying to live her life to the fullest before marriage. She makes a trip to Delhi to buy her Kareena Kapoor style designer lehenga for her big day and to live life on her own terms for a while. In Delhi, she meets Humpty (Varun Dhawan), becomes really good friends with him and unknowingly falls in love with him.
As all good things must come to an end, so does her vacation and she sets back towards her home in Ambala. Humpty, realising how much he loves her, follows her with his friends in an attempt to convince her strict and stubborn father that he is the man for his daughter. After listening to Humpty's plea, Kavya's father, Singh Sir (Ashutosh Rana), gives him a chance to compete with Kavya's fiancé Angad Bedi (Siddharth Shukla) and prove himself to be the perfect match for his daughter. The rest is an amazing series of events that follow.
Varun and Alia debuted together in 2012's block buster Student of the Year. It is evident from their new production that they have great on-screen chemistry and complement each other perfectly and naturally.
Varun portrays the typical sweet boy's and oozes out charm. He knows his forte and can easily turn any dialogue to his favour, impressing the audience with his performance. Girls loved him and guys applauded his acting skills.
Alia is sizzling, sweet and her dialogue in the movie – "main paida hi hot hui thi" (I was born hot) – describes her character the best. After her intense role in Highway, she is back with a more comfortable, power-packed, carefree and emotional role in this film.
Siddharth is not a new name but is an established actor in Bollywood. He is confident, comfortable and always gives an incredibly heartfelt performance. In some of the sequences in this movie, he really looks like 'Mr Perfect'; in my opinion, given that he makes the right choices, I see a great future in acting for him.
It is a treat to watch Ashutosh in a light role with a dash of intensity when the moment calls for it. He is enacts both, the friendly and angry, roles perfectly.
Both the actors casted for the roles of Varun's friends Shonty (Gaurav Pandey) and Poplu (Sahil Vaid) give an exceptional performance. Pandey, however, has what it takes to be a main lead one day – voice, personality, attitude and a notable screen presence.
Performance wise, the movie had the perfect casted; not a single actor seemed out of place in the role he or she was playing. Some of the scenes worth watching include Humpty's birthday, when Humpty snaps at Singh Sir and calls him Poplu, and when Kavya and Humpty blackmail the cool hunk who happens to be the principal's son.
The music falls between average and good. The three songs that stand out in particular are "Main Tenu Samjhawan", "Saturday Saturday" and "Emotional Fool".
Humpty Sharma Ki Dulhania is a must watch for all those who have fallen in love at one point or the other in their lives. It's cute, romantic, light-hearted and one emotional ride. Remember Dilwale Dulhania Le Jayenge and Mere Yaar Ki Shaadi Hai? Well, this is a reel back and one you wouldn't mind watching again and again.
On the basis of performances, script and direction, it deserves a good four out of five rating.
A heartfelt and absolute entertainer!