With Transformers 4 has Micheal Bay reached his Age of Extinction?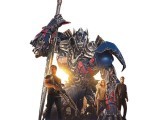 Having lowered the bar of expectation to such an extent that it disappeared from my own eyesight, I felt vaguely prepared for another venture into the Hasbro franchise's latest offering – Transformers: Age of Extinction. I'll get to the irony of the title a little later on in this piece.
First off, I am a huge transformers fan. From the cartoon movie, to the comic books, TV series and the action figures, I've been through all the different stages of growing up with this franchise… and then in walked Michael Bay.
He had a mandate – an all out assault on our senses. I believe the military term is 'shock and awe'. Bay does not disappoint us, as each wave is longer, louder and shockingly more awful than the previous venture.
The basic plot goes something like this: Autobots are being hunted by humans. Humans want to make their own transformers. For this, they use a poor man's mimic of Steve Jobs. Decepticons manipulate humans and Autobots come to the rescue, as usual, with their human sidekicks.
Chief villain: Kelsey Grammar, an actor I rated fairly high till I saw this movie.
Human hero: Mark Wahlberg – if he doesn't unanimously win a Razzie for this performance, I'd be gobsmacked.
Eye candy: Nicola Peltz who plays Wahlberg's daughter, has stolen a page out of Harry Potter for the magical shrinking shorts spell. Seriously, each time you see them, there's less of them.
New Transformers: The Dinobots. Grimlock looks pretty cool in dino-form, but really, from the time they enter the frame it's just pure metal clanking carnage till the end. There are a couple more new ones which I won't reveal, to keep that 0.1% surprise factor for the true Transformers fans out there.
I have to say that, if I revealed every last bit of the story line, and that resulted in people not paying money to watch this movie, rather than being termed as a 'spoiler' it would be more accurately portrayed as a service to all mankind.
Let's face it. We don't watch these franchises for the brilliant storylines, fantastic acting topped with that twist in the end you never saw coming. We go for popcorn munching and the no-need-to-think-for-a-couple-of-hours fun. In order to make that possible, Bay has a couple of (admittedly not simple) mandates – make it look cool and keep it funny. Some of the visuals actually do look the part.
I left this movie missing Megan Fox and even the currently self-destructing Shia Labeouf would've added something to the head splitting emptiness that was this movie.
The fact of the matter is that while expectations of cinematic brilliance are never really sky high for such ventures, Marvel and DC Comics have changed the game. The avengers and their by-products as well as Chris Nolan's take on the Dark Knight, gave us a reason to expect more from characters that have their fan bases rooted in comic strips and cartoons. Michael Bay was once a great action movie director. But something has changed – whether it's our expectations or the quality of his work, that's yet to be understood. The end result is simple: this was a terrible movie.
Age Of Extinction – this really is an apt title, as it should be Bay's last venture in this franchise. However, with all projections set to hit $1 billion worldwide and not forgetting the absurd – if not downright shameless – amount of product placement that made us want to chug a keg of Budweiser while subscribing to Microsoft, it seems that we might not have heard the last of Michael Bay.
Next up, he is all set to ruin Teenage Mutant Ninja Turtles for all of us.