I am happy being single, don't force me to mingle!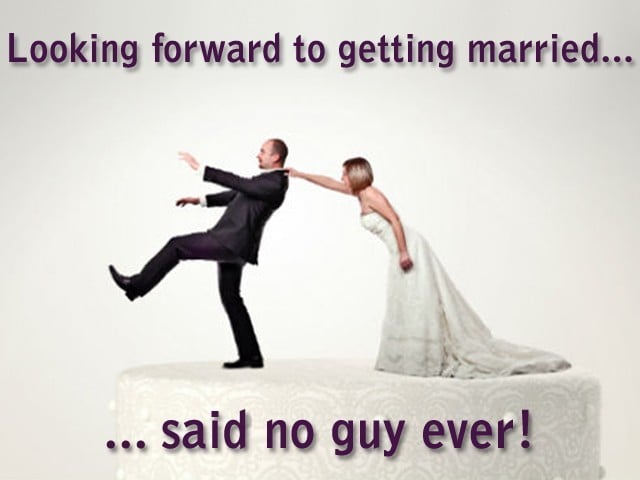 If you live in Pakistan, have completed your studies and gotten a job, then you may be one of those victims who are constantly pinched with that one hot question day and night,
"When are you getting married?"
Everyone wants to know the answer to this million dollar question, whether it's your parents, siblings, grandparents or relatives. It looks as if everyone's happiness depends on your marriage. Your 100-year-old granny will advise you,
"Beta, jaldi se shaadi kar lo take main apni zindagi main tumhare sar pe sehra saja dekh sakun."

(Son, get married quickly so that I can see you getting married while I'm still alive.)
Your mother will inform you that she has planned everything for your wedding while your father will brief you about the benefits of marriage. When you try to defy everyone's advice is when you'll come to know of your 'real' value.
You will realise that not getting married is the root cause of all evils in the entire world. You will find out that your grandparents, who have completed nearly a century of their lives, are getting sick because of you not getting married, and the constant quarrels between your parents are also due to you. Your siblings' sad faces and their bad grades are also because of you.
Majority of your relatives and neighbours, who never liked you during your childhood because of your wicked behaviour and always tried to keep their daughters away from your shadow so that you cannot influence their blossoming pubescence, would have their eyes intact on you as the 'Raj Kumar' for their 'Raj Kumaris'. Those who were hell-bent upon proving that their daughters are like your sisters will make you realise that those sisters can now be the best life partner for you. You might have observed some unknown people walking in to your home, with artificial smiles on their faces, in quest to win you over for their daughters.
Your parents will bombard you with pictures and profiles of potential girls. And if you try to tell them that you're not in the position to get married right now as you think you aren't stable enough and cannot support another individual, you will be told that,
"Beta aanay wali apna muqaddar sath laye gi"

(Son, your wife will bring her own luck)
They will tell you that, in their times, people used to get married soon after getting a job. Even though you want to tell them that during their time, marriage was the only entertainment available for people, trust me, just don't and keep it tucked away as a silent thought in your head!
You might have also observed that upon meeting an old school friend of yours after a decade, the first question they ask you,
"Dude, when are you getting married?"
Sometimes you will also end up being the butt of the joke as some of your close friends might mock you by advising you to get yourself checked and provide you with a list of hakims they consulted before getting married.
After countless follow ups and questions, you start wondering if the sole purpose of your life is getting married. Everything in your life has been nothing but a ploy to get you to tie the proverbial knot. And in the end, you have no other option but to surrender to the pressure built upon you.
Dear parents, grandparents and relatives, your son/grandson/nephew totally understands that the nexus of your happiness lies in him getting married, but please also understand that he has some expectations and plans of his own too. As soon as he thinks he's ready to get married, you are the first people he'll let know. And if you are worried about him getting old, then you should remember the famous quote,
"Real men never get old!"
Now please concentrate on other life and death matters.
Sincerely yours,
A Happy Single