Pakistan needs a revolution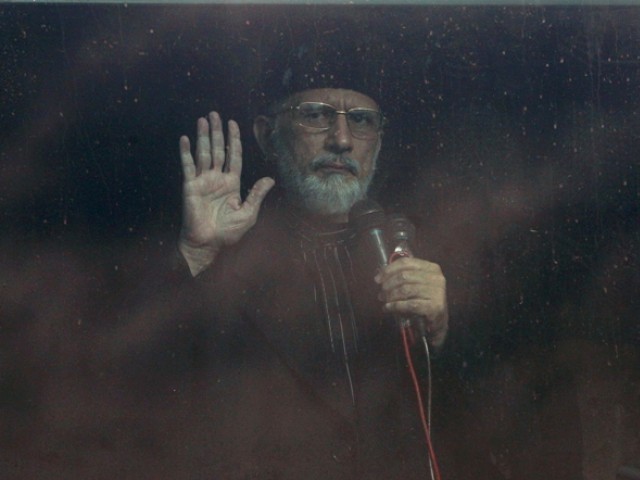 'Allama doctor Tahirul Qadri Canadian'
For many, the word 'Canadian' might seem unpleasant here, but I am sure no one will object to the word 'Allama'. That is how Pakistanis are; they only see what they like. However, who am I to conceal that fact? Everyone knows that Qadri has a dual nationality. Therefore, the word Canadian does not sting as much.
Two years ago, 50% of Pakistanis – nay, 80% of Pakistanis – were not familiar with the term 'Revolution Baba'. But suddenly, on the bright and sunny morning of January 14, 2013, Qadri became famous; not only in Pakistan but across the world. Even though his claim, 'come thunder or storm we will not leave Islamabad till revolution is achieved', was new and appealing to the masses, he was right… well to a certain extent; there was no thunder but it rained and D-Chowk was 'stormed' by his supporters.
For four days continuously, from January 14 to January 17, 2013, day in and day out, from every nook and corner, all we heard was the echo of 'Revolution Baba'. There came a point at which I could hear the chants in my dreams! Finally, on January 17, 2013, after negotiating with a 10-member government team, Qadri finally came out from his bulletproof container and ended his protest.
In my opinion, unless a politician actually sits amongst the people and feels the pain and torture, he cannot understand their feelings or sorrows. On D-Chowk, the way older people, men, women and even babies were being tortured day and night, any man with a heart would have felt their pain. People were shivering in the rain and sitting under the scorching sun, just to respond to the voice of their leader. This leader, on the other hand, was not only resting, day and night, in a comfortable container but was also preparing to turn D-Chowk into a war-zone through his provocative speeches.
At this point, I would thank the government because, somehow, they managed to settle matters with him. Had the negotiation not taken place, this would have gone down in history as the 'D-Chowk incident', just like the 'Lahore incident' that took place a few days ago.
I don't think much is needed to be said about the Lahore incident; be it the dead or injured people, Gullu Butt, Shahbaz Sharif's statements, Rana Sanaullah's resignation, political analysis or the judicial commission; everything has been said and done. Everyone knows what happened, who said what and what the end result was. Even the verdict of the Minhajul Quran workers going against their leader – who never wanted them to fight (apparently) is known to and has been witnessed by all.
Eventually, after much hue and cry, Dr Qadri finally made it to Pakistan. For the past three days, our media has been glorifying his name, day and night. It is quite evident that the 'biggest' problem our country faces at the moment is its infatuation with a 'revolution'. I don't know why people are complaining and crying over electricity, load shedding, gas, poverty, unemployment, education and health problems when that really isn't the 'biggest' problem. I don't even understand why our politicians create mountains of molehills when they talk about things like election rigging, corruption and fair distribution of resources. We have been listening to these problems for a few years now, but today I realised that the 'dire need' for a revolution is Pakistan's biggest problem.
During this media coverage that Qadri received, the one thing that was missing was the tag of paid content on the corner of the screen. The way he was being advertised, one would think that Qadri had bought slots on these media channels for coverage.
For the majority part of the day, all that was being shown on TV was the situation from inside the plane, one which Qadri had refused to exit due to fear for his life, and frankly speaking, I am quite sick and tired of the entire façade. Our nation has never invested so much time and effort on the timing of flights as they have done so in the past few hours.
Pervaiz Rashid was right when he said that the Pakistan Awami Tehreek (PAT) activists have hijacked the plane. It is the government's responsibility to take Qadri home safely and explain to him that the plane was diverted because of Qadri's security. He further said that Qadri is a civilian, just an ordinary man like Sheikh Rasheed and Imran Khan, and therefore, he is free to go anywhere.
Instead, Dr Qadri turned this into a hostage situation and forced by circumstances, Emirates had no choice but to request the authorities to evacuate the plane and let it continue with its scheduled flight plan.
Qadri, meanwhile had distastefully, and rather immaturely, demanded that he will not exit the aircraft until an Army office escorted him out. Really, Dr Qadri? Is this the importance you give to soldiers of our Army? This may come as a surprise to you, and I am sorry to burst your bubble, but our Army was not built to move around as security protocol for politicians! With an operation underway, you would think he would have been sensitive to the situation. Unfortunately, I think I expected too much of him.
Sir, allow me to clarify, chanting 'revolution, revolution' a multiple amount of times will not bring about a revolution. To become a good leader, you have to put in years of honest work, live a life of hardships (in the country, might I add) to understand your people first.
Read the original Urdu version of this blog here.