Fruity summers and mango treats: Desi mango lassi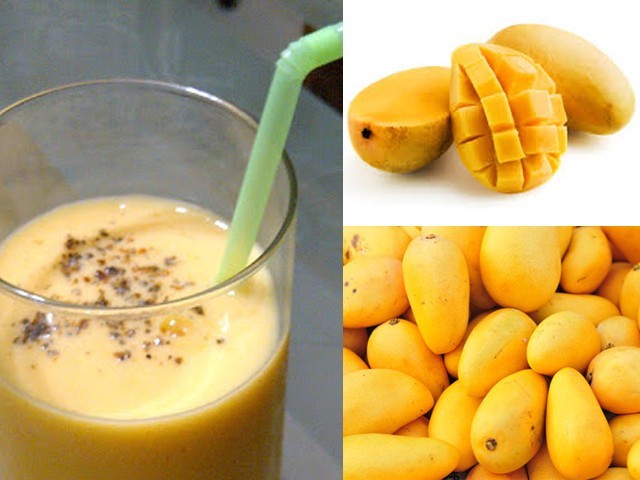 Even though the temperature is rising every day, the best part about summers is the amazing variety of mouth-watering fruits in season, mangoes being the most favourite of them all.
So, I decided to beat the heat with a simple yet refreshing mango and yogurt drink. Not only does it taste delicious, with the sweetness of the mango and the tart flavour from the yogurt, it's immensely refreshing and super healthy.
Mangoes are enriched with vitamins A, B and C, which when combined with protein packed yogurt or milk, turns into a delicious nourishing beverage that will keep you energised the entire day.
It's a great drink for Ramazan, which will soon be upon us. In this heat, it provides you with all the necessary vitamins to keep you vitalised and is the perfect energy booster. You can also substitute mangoes with other fruits like peaches, or add a combo of fruits based on your preference.
Ingredients: (Serves two to three people)
Mangoes – 2 (about 1½ cups – peeled and coarsely chopped)
Thick yogurt or Greek yoghurt – 1 cup (to make thick yoghurt, hang it in a muslin cloth for a few hours till the water drains)
Milk – ¼ cup
Sugar or honey (upon preference) – 1 tbsp
Ice – 4 – 5 cubes
Pinch of salt
Freshly grounded cardamom (optional) – ⅛ tsp and a pinch for garnish
Method:
1. Blend the mango, yogurt, milk, sugar or honey, salt, cardamom (if using) and ice cubes together until smooth. Taste and adjust with extra sugar/honey or salt.
2. Garnish with a pinch of ground cardamom.
This recipe is like a smoothie and you can add or adjust flavours according to your personal preferences. Here are a few ideas for experimentation purposes.
1. Saffron – Pinch of saffron dissolved in a little bit of milk. Saffron has a strong taste, but for those who like it will enjoy how it compliments mangoes perfectly. Divine.
2. Pistachios – Roughly crushed pistachios added in the lassi or sprinkled as garnish
3. Toasted coconut – Toast unsweetened coconut for five to 10 minutes until light brown. It can be added in the lassi or sprinkled as garnish.
Summers in Pakistan are the fruitiest – enjoy them as much as you can!
This post originally appeared here.