It's our own damn fault!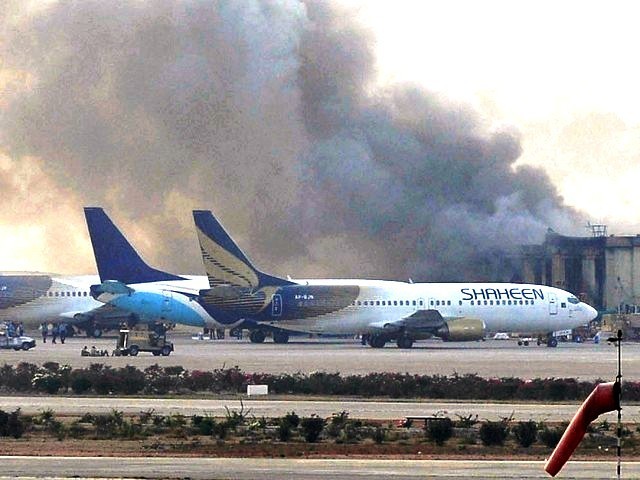 After an attack on Jinnah International Airport just two days ago, you would think we have some practice in dealing with the situation. We don't; in fact, we just keep getting better at failure.
The second attack takes place at the ASF training camp, which is in close proximity to the high-alert, already bruised airport. The events that followed post breaking the news were something to see, perhaps as a training manual for What-Not-To-Do-In-An-Emergency-For-The-Second-Time.
Within minutes you felt like you were actually there as reporters tried to take us foot by foot with the commandos holding weapons. It began with a few ASF officers taking positions with their guns behind rocks, on what seemed to be a vast plot, leading to the Pehlwan Goth slum. You could hear gunfire provide background to the voice of the reporter, as the cameraman accompanied him in the danger zone.
Not only was the entire country getting a good view of an on-going operation, the assailants would be daft to refuse such a steady stream of sensitive information. During the coverage, each reporter tried to give extra information, as one reporter on a private news channel said,
"The troops are moving ahead towards the colony to find the culprits."
I couldn't help but wonder what they would do in case a bullet hit a soldier during live coverage, or even worse if it hit the reporter. As a journalist, albeit not a field reporter, this is neither an example of heroic nor sane reporting. Journalists, media vans and excited onlookers should be cleared from sensitive areas to a safer place. Additionally, media houses need signs placed around the newsroom,
"Do not shove a mic in the face of a commando during at attack, EVER" for obvious reasons.
WHAT THE HELL RT @hassanchoudary Look at this. Just look at this. pic.twitter.com/RbF8E9Mpii

— Shaheryar Popalzai (@spopalzai) June 10, 2014
As combat action stood as backdrop, inevitable confusion ensued as each agency's statement battled with another's at ironic speed. While ASF claimed their academy had been attacked, DG Rangers telephoned Chaudhry Nisar to refute the claims and call it a,
"Ghalat fehmi"

(Misunderstanding)
Sindh information minister Sharjeel Memon said it was not a major accident but that terrorists opened "aerial fire". ASF spokesperson, Colonel Tahir Ali, stated two terrorists attempted the attack, whereas channels reported anywhere between four to eight assailants. And so, you can understand my confusion when I learnt of the subsequent arrests made. If the attacks didn't happen, who and what are these arrests?
We didn't learn the right procedure for shutting down and reopening an international airport. The airport was once again sealed when the combat began, only to resume activity with the hour. Last night's premature decision to resume activity at the airport while seven employees burned in a cold storage building has taught us nothing. While the federal government should immediately take responsibility for the unnecessary loss of life, recovery after an operation must be a priority. If we are to assume it was a case of terrorist aerial firing (a new style of theirs perhaps), how could the residents of Pehlwan Goth be ignored? With a thunderous round of crossfire, it's a miracle no one appears to be hurt. Maybe we'll find out 26 hours later.
If I am to move past to our glorious record of failure, there are at least two things that weren't repeated post attack number two which need to be given credit and a slow-clap for.
1) Journalist heroes with mass following did not blow more buildings using their imagination, as Dr Shahid Masood's eight-plane idea last night. Thanks to @Fauji_Tweets, the world was soon in on the (now deleted) journalistic horror.
I dont know why @Shahidmasooddr tweeted this last night. Earning 100s of RTs at cost of credibility? Twitter Ratings? pic.twitter.com/VK9yUXQJaA

— Ground Reality (@fauji_tweets) June 9, 2014
2) Civilian journalists at least tried to minimise the damage by not tweeting live from Pehlwan Goth, mid-action, as some did yesterday. Perhaps it was due to the lack of Twitterati in the area, but it was nice not to see people giving up-to-date pointers on the latest security strategy.
Last night's gem:
So we are going to off load in some minutes. SSG commandos are in our plane – feeling safe now ! My Pak Army zindabad

— Syed Saim A. Rizvi (@saim_riz) June 8, 2014
I asked someone who he was to blame for the last two days of mania if he had the chance, for which he asked three minutes. Maybe it was an attempt to gather courage for the words or for the time it takes for conspiracy to settle in, either way, "security forces" came the reply. To my relief, it was not directly for the attacks but for the negligence in predicting such an attack was to take place. Some said the government is to blame, while others twisted it in strange ways to link it with Imran Khan. Though some like me see it straight,
"It's our own damn fault."