Real Madrid's La Decima: The dream is now a reality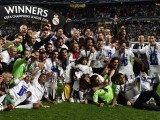 I've been following Real Madrid for the past four years and I endured a number of heartbreaks at the most crucial stages of the season. For three consecutive years, the team withstood painful defeats throughout the semi-finals of the most important club tournament, the UEFA Champions League.
Since the past 12 years, the dream to achieve La Decima always seemed to come to an abrupt halt. The last two editions of the tournament were miserable but this year, Real Madrid did what was always expected of them. They won it and they won it the Real Madrid style; 'fight till the end'.
Real Madrid began this season with a lot of new faces. They did, however, sell some key players like Mesut Ozil, Ricardo Kaka, Gonzalo Higuain, Jose Callejon and Raul Albiol. So, the new youngsters in the team like Isco, Asier Illaramendi, Jese Ruiz and the 91 million Euro signing of Gareth Bale, had to live up to the expectations of Madridistas and they sure didn't disappoint. Even their new coach, Carlo Ancelotti, had to reshape the team and their game plan to land this victory.
The Champions League began brilliantly for Real Madrid where they set a record of most points in the group stage by beating big clubs like Juventus and Galatasaray and then progressed towards the knockout stage where they beat three German clubs in row. German clubs had been Madrid's kryptonite but amazingly enough they beat Schalke 04, Borrusia Dortmund and Bayern Munich by 4-0.
This season has been more than extraordinary for Cristiano Ronaldo as well. He managed to acquire new records; the European Golden Boot, the Pichichi trophy, most number of goals in a Champions League edition and Player of the Year award are all Ronaldo's accolades now. I just hope he performs this brilliantly in the 2014 World Cup as well and maybe win another Ballon d'Or. But the achievement that tops these honours is how he helped Madrid achieve their objective of winning La Decima, the tenth Champions League title. Amassing 17 goals with a brace in the semi-final, Ronaldo has lived up to his reputation.
My experience of watching Real Madrid win La Decima has been one of the best sports spectacles of my life. A bunch of my friends and cousins had planned to see the final at a screening arranged by the city's local cinema, Cine Moosh in Hyderabad, where I provided them with jerseys to show our support for the team. Say what you want but people who follow football as enthusiastically as I do are very passionate about it. We were seated in the hall at 12am, a few minutes after the match had begun. I prayed for Real Madrid's win like a nervous mother. I kept thinking out loud,
"Don't choke! Please don't choke on this one!"
Atletico Madrid looked incredibly threatening with their offensive mind-set. The first half looked as if Real Madrid were getting bullied by Diego Simeone's men. When they got the initial breakthrough from Real's defensive blunder by Iker Casillas, I felt my heart in my throat. For the next hour, I kept shivering and praying. A number of Barcelona fans and Real Madrid haters sitting behind us were getting on our nerves. The players looked disturbed as Atletico's defence was questioning Real Madrid's possible victory.
Real Madrid did try to penetrate Atletico's defence and the last 30 minutes were all about their series of attacks. Injury time started and as luck would have it, none other than Sergio Ramos scored the much needed equaliser. Chants and slogans of 'Hala Madrid' filled the hall and the noise was deafening. I got up on my feet slowly, looked back at the Real Madrid haters and smiled, pointing to the logo on my shirt. It was then that I was filled with the belief that it was still not too late and Real Madrid would come back soaring into the game.
After that, it was all Real Madrid.
With the momentum of the late equaliser, Real Madrid managed to score three more goals during extra time and the noise in the hall grew louder and louder with every goal. My cousins who had never seen a football match before were jumping on their seats, dancing at the sheer brilliance of the team.
When the team finally lifted the trophy, my cousins, and Real Madrid haters alike, turned around and said,
"Yaar maan gaye teri team ko Zain!"

(Now we believe your team has mettle, Zain!)
It felt unreal and dreamlike. This final was everything a Real Madrid fan could ask for. The obsession of achieving La Decima had finally become a reality.
Hala Madrid!