I want my daughter back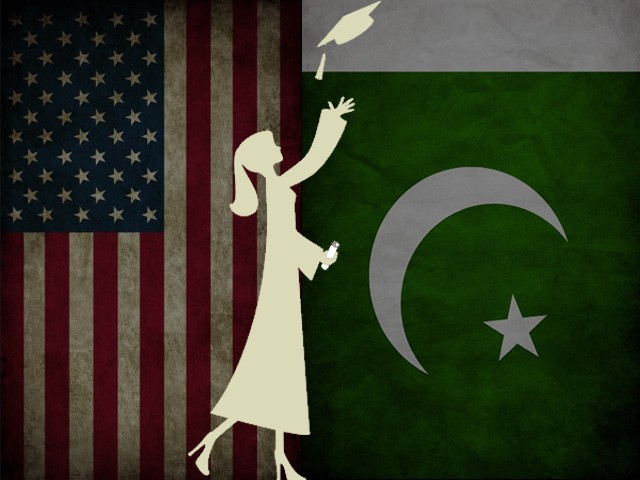 August 20, 2001 – Islamabad airport:
I said 'Khuda Hafiz' to my 17-year-old daughter, my only child; she was on her way to college in the US. She had the honour of being accepted at Yale University on a full scholarship and like always she had done us proud once again.
Tearfully, I hugged her and whispered in her ear,
"Don't come back."
Quick on the uptake, she smiled that sweet endearing smile of hers and shot back,
"Abba, you have brought me up with the lesson to have a mind of my own."
She defied me continuously for four years; came back twice a year during the holidays, refused to take up an internship in the US, always travelled by PIA and took genuine pride in her Pakistani origins and citizenship.
May 23, 2005 was the proudest and happiest day of my life. I saw my daughter graduate with honours from Yale. She got job offers from some of the top companies and institutions in the US but decided to come back home. She was hugely optimistic about the future of her country.
When she came back, she held two jobs, was always energised and optimistic. She was full of hope and ideas for the future; she was convinced she could make a difference in the lives of the people of Pakistan. She spent the next two years working and teaching young girls in Islamabad. During these two years, she witnessed bloodshed, carnage, chaos, misery and horror on a monumental scale. The Lal Masjid conundrum took place in which clerics of the mosque demanded the imposition of Shariah, around 200 burqa-clad female students of the madrassah occupied government property and a spate of suicide bombings took place across the length and breadth of the country.
During the same time period, the National Assembly meekly endorsed the Nizam-e-Adl Regulation and very quietly gave full constitutional guarantees for turning Pakistan into a theocracy to be ruled by illiterate mullahs with a self-proclaimed divine mission. Women were flogged and beaten in the Taliban administered areas of Pakistan. Girls were not allowed to attend schools. Men were forced to grow beards. TV and the internet were banned. The so-called champions of Islam led by bloodthirsty clerics such as Sufi Muhammad and his son-in-law silenced all voices of dissent with a bullet to the head.
Hope, optimism, security, justice, progress and culture became pipe dreams. We witnessed a number of gory attacks that took place on our army soldiers including the attack on GHQ, the targeting of innocent Sri Lankan cricket players in Lahore and countless suicide attacks in mosques, shrines and imambargahs.
Throughout this period, I continued to beg and plead my daughter to go back. Finally, in 2008 she agreed to go back to the US for graduate school. This time, she decided to attend Princeton University, again on a full scholarship. In June 2010, I again had the joy and honour of seeing my daughter graduate with honours from Princeton with a Masters degree in public policy.
During this period, a red-capped master of conspiracy theories ruled the airwaves with his sermons of hate and prejudice against all other faiths and beliefs. The Governor of Punjab was gunned down in broad daylight in Islamabad by his own security guard and then we witnessed the disgusting and revolting spectacle of his killer being showered with rose petals. The federal minister for minority affairs was gunned down next; his crime being, standing up to the forces of bigotry and religious fanaticism and to have the moral courage to show sympathy for the poor Christian woman languishing in jail on a trumped up charge of blasphemy. The former minister for information and a legislator of the Pakistan Peoples Party (PPP), Sherry Rehman, had the courage to table a private members bill in the National Assembly to amend the draconian, unjust and cruel blasphemy laws, but such is the fear, horror and dread of the religious forces in the country that this bill was withdrawn by the ruling party.
I have a dream that one day all the provinces of Pakistan will rise up collectively and overthrow the forces of religious fanaticism and this land, sweltering in the heat of oppression, will be transformed into an oasis of freedom and justice.
I dream that my only child will one day live in a nation where she will not be judged by her religious belief but by the content of her character.
I dream that future generations of girls in Pakistan will not have their dress code dictated by self-appointed guardians of their morals.
I hope I live to see the day in which religion will have nothing to do with the matters of state.
Idealism, patriotism and all the lofty ideals of love for your country is on one side but concern for my only child, my pride and joy, compels me to beg her; beg her to leave this country. I know I am banging my head against a wall and yet, this is the anguished cry of a loving and doting father. I want to see her settled in some part of the world where she is safe and respected for her talents and achievements. I want to bring my daughter back to the place I once knew as safe and secure.