Copy culture: Degree holders who can't read or write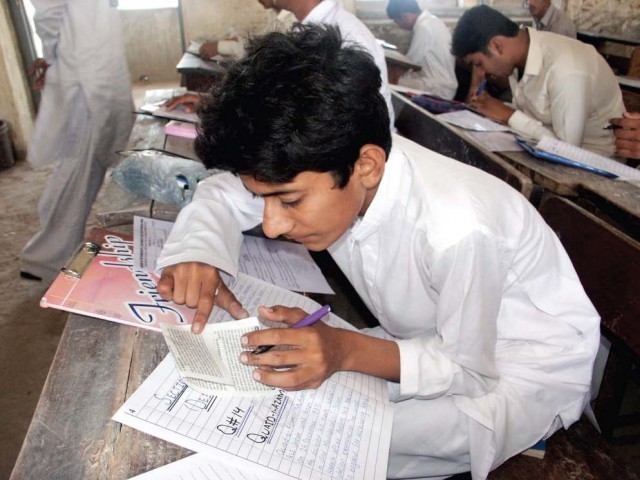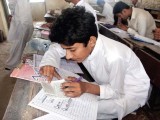 The youth, of any country, is always considered its greatest strength and an educated youth is an even stronger pillar for the state. However, these pillars cannot remain strong if young students start looking for shortcuts in their educational life. If such a situation does occur, a decline in a nation's progress will be the inevitable result. Sadly, this process of decline is already in motion in Pakistan.
Cheating culture is increasingly prevalent in our education system and it has become a pervasive phenomenon over here. Despite high claims and solemn promises, respective authorities have failed to curb the rampant and blatant cheating culture that is thriving day by day. With the government's sloppy arrangements and failed tactics, one cannot expect them to maintain a tight leash on this menace.
Prior to the current examinations, Sindh Education Minister Nisar Khoro had made a statement that he wouldn't let anyone cheat; as brief and unconvincing his statement was, the result of it was no different. Students blatantly ignored his warnings and used unfair means to excel during their examinations. This just further proves how exams have now become nothing but a total farce for these students.
In Pakistan, the worst place affected by this curse is the province of Sindh. Where urban Sindh has been suffering at the hands of this menace for quite some time now, the educational standard of rural Sindh has also started diminishing slowly and gradually.
It has recently been reported that matriculation students, in interior Sindh, could not even read Urdu and Sindhi text books; yet they managed to pass their primary classes and reach the final years of their matriculation. It makes one question how they managed to pass these classes considering, their lack of literacy.
After assessing Pakistan's literacy rate, it is perceived that Sindh is the most literate province in the country, beating the odds with Khyber Pakhtunkhwa (K-P) and Punjab. But the questions remain the same: does Sindh really impart higher quality education than the rest of the provinces or is it just a scam to show improved numbers? In our country, where the façade of fake degrees prevails, one must decide what they want more – abundant degree holders or qualified ones.
Pakistan and its provinces
According to the survey report of the Pakistan Social and Living Standards Measurement, male literacy rate is 72 per cent while female literacy rate stands at 47 per cent. Also, it is seen that Punjab dominates the race when it comes to the female population, as Punjab's female literacy rate is 51 per cent.
Sindh's literacy rate
Male literacy rate is 58 per cent in rural Sindh while female literacy rate is just 23 per cent. Regrettably, there are many reasons as to why such discrepancies exist. One major reason is feudalism, where females do not receive proper education due to prevalence of the wadera culture.
Another aspect worth noticing is that most of the men in this 58 per cent bracket procure their degrees by cheating. Many a times, these individuals do not even bother to show up for their exams, yet they somehow magically pass and end up getting good marks.
Rural Sindh's literacy rate
If we observe the trend of male literacy in Punjab and K-P, we will see that the statistics of these two provinces dominate those of Sindh.
If we evaluate the literacy rate of rural Sindh only, we will discover that Balochistan's rate is far better, as the male literacy rate over there is 65 per cent while rural Sindh's is 58 per cent. Balochistan and Sindh are equal when it comes to female literacy rates. This just reiterates that interior Sindh is infamous for fostering the copy culture massively.
If we analyse the same situation via the political eye, a majority of the Sindh assembly members belong to rural Sindh; this perhaps answers why education is not given much preference.
Urban Sindh's literacy rate
Unfortunately, urban cities in Sindh are also facing similar problems during examinations as respective authorities have failed in attempting to restrain this copy culture.
Here I would like to question our beloved democratic rulers that why have they not been able to control these evil malpractices?
Aren't politicians interested in eradicating copy culture?
Instead of issuing empty statements, should they not take necessary steps to bring an end to this menace?
We have witnessed some counteractive measures being taken by the media, higher authorities and law enforcing agencies in urban Sindh, but in rural Sindh, the situation is highly lamentable. Recruitment processes are conducted on favouritism instead of the candidate's educational background. Such professional misconduct has ruined the scope of education in Sindh, especially in rural areas.
Both, students and teachers, are benefiting from this corrupt culture and in the long run, we shall find this culture destroying our future generations and their prospects. Students don't go to schools or colleges to study and teachers take full advantage of this. The outcome is that the majority of these graduates cannot even write their names correctly, especially students in rural Sindh. Even if they do end up with a job, it is usually based on favouritism and not on their educational merit.
Last year, Pir Mazharul Haq, former education minister for Sindh, opposed setting up a public university in Hyderabad. This is the eminence of our democratic leaders; instead of doing their job, they help make the society even worse.
Karachi's leading political party, the Muttahida Qaumi Movement (MQM) should have also taken the responsibility of upholding urban Sindh's education system and obliterating the cheating culture.
I wish to see the day when our country will be known for its commendable education system and not for its tendency to find shortcuts. We will have to decimate this dishonourable culture very soon, otherwise there will be no hope for our future generations to have a brighter tomorrow.
This post originally appeared here.