A New York state of mind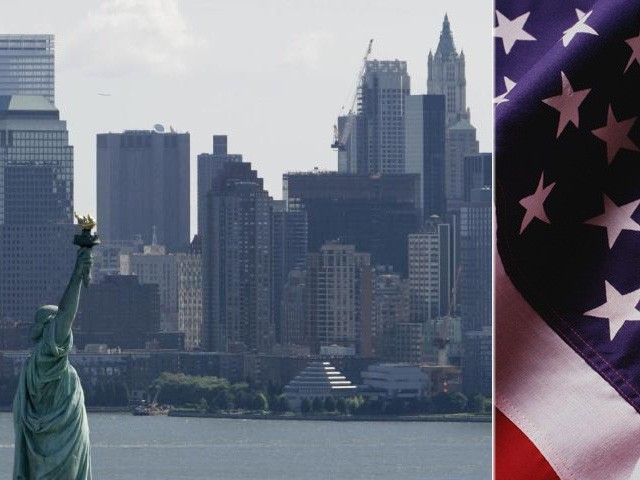 Walking along Fifth Avenue in Manhattan, New York City, can be an exhilarating experience. Imposing architectural wonders staring down at you on all sides, the throbbing, pulsating and electrifying pace of city life can be, overwhelming to say the least. Yet one cannot help falling in love with this impossibly grand monument to human achievement and skill.
The grandeur of the city hits you even before you land on the historic JFK Airport as you get the bird's eye view of this extremely modern city from the plane window. Once out of the plane, you encounter the thoroughly organised discipline of the airport staff and you begin to harbour an element of respect for the nation you are dealing with. Even though the immigration officer rummaged through my luggage, smiled apologetically and said ruefully,
"For that one person who blows himself up, we put decent people like you through this!"
Apology accepted and no damage sustained to the ego.
I had my reservations when I first landed in the US because there was the sadness of leaving my home, friends and family, and beloved Lahore and I was sure that nothing could ever take its place.
I was wrong, of course.
New York City has a personality of its own.
Slowly, it nestles into a corner of your heart and grows on you. You feel it and sense its presence all around you – in its boroughs, buildings, parks, museums, theatres, crowds, taxis, food, cafes and even seasons.
The achingly beautiful autumn is poetic to say the least, the trees all over the city change colour becoming various shades of orange, rust, lime, red, magenta, ochre, and yellow. It enthrals and captivates you. The red ones seem to bleed from the heartache of impending winter.
Central Park is the place to be during this time, as I was lucky enough to be. My workplace was very close to the south side of the park so often on my way home I'd grab a cup of coffee and a double chocolate brownie from a nearby Starbucks, and steal an hour or so of profound peace and beauty near the famous Bethesda Terrace Lake.
A horse-drawn carriage ride around the park while you eat is definitely a worthwhile experience. Numerous roadside cafes and restaurants romantically tucked away into obscure corners cater to every palate and pocket, be it from any corner of the world.
The racial and cultural diversity complimented by a high tolerance level is almost endearing.
When the owner of a gift shop on Seventh Avenue lets you go without charging anything (because you work in the building nearby and bought postcards worth less than the amount required for a card payment) with a sweet smile and insists,
"You can take it as a gift, Hon'!"
You are charmed.
Even when the Indian student in your class brings you Bombay Biryani, just because you are a Pakistani and shares the same culinary background as you, it brings a smile to your lips. Or how about when you are at a party, the only other guy looking for vegetarian and fruit servings apart from yourself, is your handsome colleague and upon enquiry as to why he shares this pastime with you, he replies innocently,
You are stumped.
Or when the man behind the counter at a restaurant tells you that whatever you've chosen is not 'halal' even though you never mentioned you were a Muslim (he assumed I was an Arab), you feel touched.
I think I fell in love with the city and its people there and then.