Easy as… Thai? Rice paper mini-logs with peanut sauce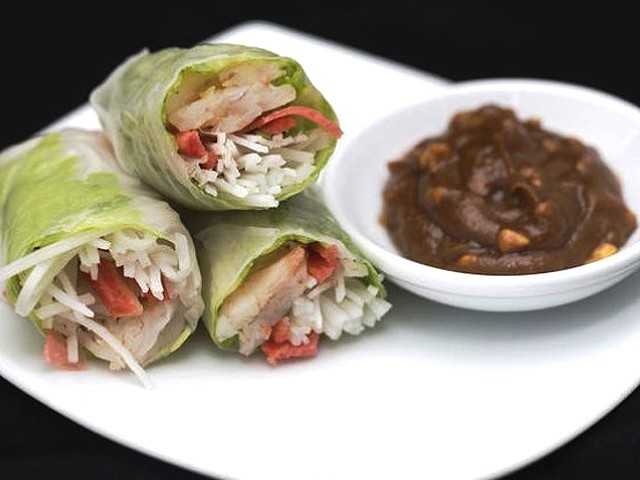 'Thigh Land' seems to be sinking and shrinking due to global fashion warning. Temperatures and expectations are running high and crossing the acceptable limits!
Whether it is achieving the vital statistics of 36-24-36, fitting into size zero skinny jeans, opting for a six-hour regimen at the gym or a four-day crash diet, it is all done in an often deep-rooted desire to fit the endorsements laid by the ever changing requirements of the fashion world. The desire to fit into the moulds that are modelled on ramps, slapped across newspapers and paraded on television is alarmingly on the rise.
And one of the most recent and alarming endorsements is the 'Thigh Gap'. The age-old hourglass figure requirement now also includes shapely contoured thighs which are not allowed to touch each other. These perfect thighs are then adorned by fitted clothing (or not) so that the elongated almond shaped gap between them is even more evident.
The Thigh Gap Facebook page, thigh selfies on Instagram and thigh tweets on Twitter have certainly done well for social media as a whole.
I wish people would stop whispering about my #thighgap

— issme doe (@drewcy_couture) May 1, 2014
Need these thighs please, mine are whales in themselves. #thinspo #thighgap pic.twitter.com/XJI2AK9V7N

— Think Thin (@Auntie_Snix21) April 30, 2014
However, such horrific trivialities have also led to an increase in eating disorders, psychological diseases and last but not the least, low ebbs of self-esteem.
As for all those who find this absurd, they can let the fashionista-world stamp this out in their self-created, insidiously cruel world and we can certainly take a hop over to good, old Thailand.
So, here I am showcasing these little delicacies that are gentle on the thighs, incredibly simple to make, seductively easy to impress someone with and are called Rice Paper Mini Logs with Peanut Sauce.
The soft rice paper is filled with a collection of colourful, crunchy vegetables and meat (optional), sealed together and served with a tantalising salty peanut dip, laced with mellow, sweet and sour flavours.
Sounds complicated? It really isn't.
This is what you will need:
Ingredients for rice paper logs:
(Makes three logs)
Shrimp – 100 grams (12-15 small sized)
Rice noodles – 40 grams
Carrots – 20 grams (finely chopped)
Lettuce – 3 leaves
Rice paper – 3 (16 cm)
(Note: you can also add chicken instead of shrimps and/or thinly sliced cucumbers, bean sprouts and avocados)
Ingredients for peanut dip:
Peanut butter – 1 ½ tbsp (I used crunchy)
Honey – 1 tbsp
Soy sauce – 2 tsp
Rice vinegar – 2 tsp
Warm water – 2 tbsp
Method:
1. Steam the shrimps or plunge them in boiling water for 3-4 minutes. Take them out and dunk them in cold water immediately to prevent them from further cooking. Drain the water and set aside.
2. Follow the instructions on the packet to cook the rice noodles and set aside. With your lettuce leaves, chopped carrots and cooked shrimps at hand, you can now start preparing the rolls.
3. Carefully dip the rice paper in water, dunk it several times until it is soft but not squishy. With great care, lay the paper out on a board, line it with a lettuce leaf, lay the shrimp (or chicken) horizontally across the paper and do the same with the carrots.
4. Lift the edge of the paper closer to you and gently roll the logs away from you, ensuring at the same time that the filling is neatly folding in.
5. Seal the edges by lining them with slightly wet fingers. These rolls can be made ahead and covered with damp cloth until ready to serve. Slit sideways and serve with the peanut dip.
6. To make the peanut sauce, combine all the ingredients in a small bowl, give it a thorough stir and it's ready to serve!
Didn't I say it was simple?
This sauce can also be made ahead. However, be warned that it will thicken in the refrigerator so warm it slightly before serving to make it more supple and dunkable.
Not only are these logs are easy to make, they are easy on the thighs too. Try them and I'm sure you'll think so too!