Will Sindh's first female SHO Ghazala be able to survive in a man's world?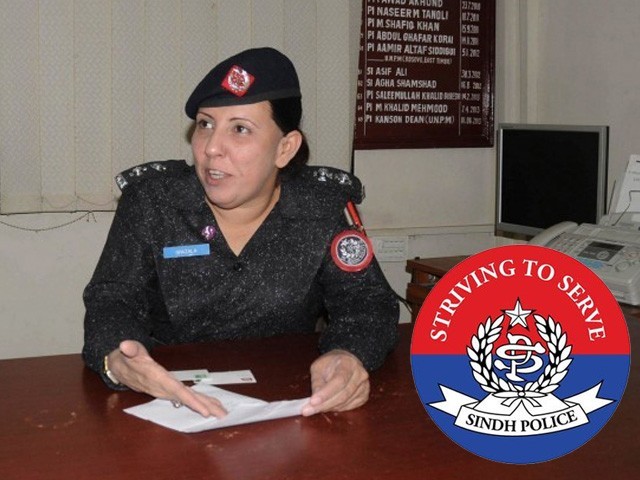 It was encouraging to read the news of appointment of Officer Syeda Ghazala as Sindh's first female Station House Officer (SHO) of Clifton Police Station, Karachi.
This is definitely a step in the right direction, both in terms of policing and in domains of social justice, equality and women's rights. The decision to appoint a female commander is nothing short of an informal declaration of the beginning of women's emancipation in Pakistan at the grass roots level (where it is needed the most).
To set the stage, let me relate my experience from early this year with Pakistan Telecommunication Company Limited (PTCL) One Stop Shop (OSS) at II Chundrigar Road opposite National Bank Head Office a month back. My internet device had been malfunctioning and I brought it in for a quick check.
The manager of OSS was a lady in her mid-40's. Needless to say, the manager's control over the affairs was evident. The staff was reluctant to address my problem even when they were explicitly instructed by the manager to do so. Instead, one of them commented,
"Madam, mere paas hee kyun bhej raheen hain kaheen aur bhejein"

(Madam, why do you keep directing complaints to me, direct someone else to attend to the complaint)
I was astonished at the reply.
Evidently, the tone was missing the word 'please'. Perhaps, the subordinate forgot that he was addressing his superior. But here was a junior officer actually subverting the orders of his boss.
Would he have done the same if the senior officer was male?
I can't answer that in certainty, but in our patriarchal society, I wouldn't be surprised if the manager was male that the subordinate would quietly do as he was asked.
The men in our society harbour a non-professional attitude towards professional women in the public sector. Women may not necessarily be visibly detested and opposed from holding a seat of influence, but they are certainly taken non-seriously by many of their subordinates. The misogynistic attitude becomes visibly pronounced in the public sector.
In the event narrated above, the manager also seemed reluctant to exert authority and clearly lacked the confidence. Her feeble smile gave away the unease and lack of confidence that she felt when her subordinates refused to obey her orders. Such is the state of affairs that Officer Ghazala is also likely to face once she has had time to settle in.
My advice to her is to be firm, even a bit discourteous if the situation so warrants, and proactively challenge subtle or outrageous sexism. Take a stand and hold ground. Meet criticism with strong rebuttals. The sooner she establishes her authority the better because otherwise she will just run the risk of being made redundant with the senior most male officer calling the shots.
Her immediate assignment may be to oversee the affairs of police stations under her control; however, she has a bigger job – that of eradicating the subtle discrimination between women and men in all spheres of Pakistani life. All her decisions must reflect the spirit of the bigger goal in the larger interests of establishing a just civil society where justice is not secondary to gender.
SHO is an administrative and tactical position. Pursued with determination and honest vigour, SHOs can act as efficient liaisons between the community and law enforcement. They are traditionally the main point of official contact between the public and the police. Unfortunately, the role of an SHO has been relegated to that of a constabulary supervisor in Pakistan. Women are often more empathetic; empathy being a key ingredient visibly absent from local policing, especially in Karachi.
Administratively, women have been found to be more responsible than men. They are just as professional as their male counterparts and just as passionate about their work and careers. However, the public sector, especially policing, is another ball game altogether.
Discrimination against women with roles in law enforcement is still prevalent even in some agencies in the United States. As recently as 2012, there were reports of a federal lawsuit in the US filed against the State of Texas for discriminating against women during hiring.
It is a historically established and research corroborated fact is that male peer groups in policing still oppose women even in the West. Admittedly, sexism in law enforcement is a universal phenomenon and the problem is compounded in Pakistan due to a patriarchal mental inclination. Therefore, the government has indeed taken a bold step in appointing Officer Ghazala as the commanding officer.
This step, however, will only yield beneficial results if the government ensures that the chain of command is not violated by the police officers under SHO Ghazala's command on the pretext of her being a woman. Such behaviour does exist in Pakistani society and the government must take stringent measures to combat it. The officer must be taken as seriously as her male counterparts.
I believe that one of the many barriers to women attaining full rights in our society has been the segregation of men and women at all levels – from public transport to reserved seats for women in the legislatures.
In the larger context, I believe that segregation on any pretext is a recipe for inequality. Women, in my opinion, would never be able to command the same influence as men do unless these socially and legally sanctioned segregated zones are gradually abolished.
Officer Ghazala's appointment also provides her a chance to prove the average Pakistanis that women are equal to men in all spheres of life. In no way are they beings of lesser intellect or miniscule cognition. Women can be just as brawny and just as brainy as their male colleagues.
They deserve the same chances, if not more, to excel in life and make their mark in the world.