Barclays Premier League: Which team will take home the title this season?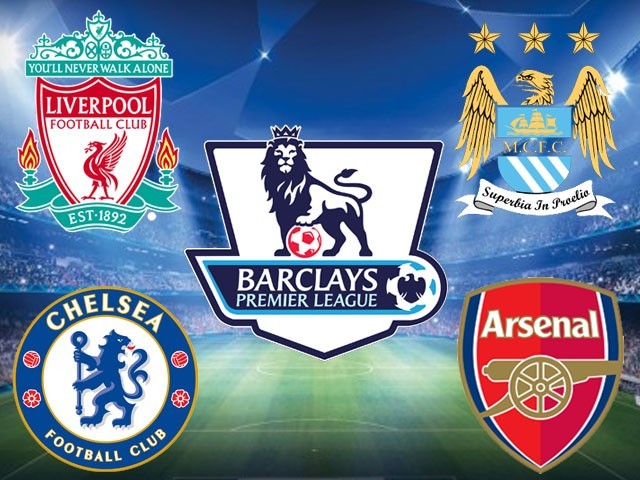 May 11, 2014 will mark the end of the Barclays Premier League and one team will be crowned as champion of the season. But the astonishing nature of the league this season is such that not many can say who will win the title this time.
Sheer, unadulterated unpredictability is the league's defining feature this season.
Past decades have shown us, what was known in football circles as the Big Four's hegemony – Manchester United FC, Arsenal FC, Chelsea FC and Manchester City FC – each club wielding and strengthening its grip on victories and titles.
We saw Arsenal become invincible and dominate the league in the early years of the last decade. Then, there was the monster-club in the form of José Mourinho's Chelsea which secured back-to-back titles. And after their era ended, the Cristiano Ronaldo-led Manchester United surfaced and proceeded to win three consecutive titles.
During the last three years of the previous decade, we saw Chelsea, United and City fight one another to bring the trophies home.
The common thread in all these title chases is that towards the end it usually becomes a one-horse or two-horse race. That is, eventually only two teams or at times even a single team is seen emerging victorious towards the end of the season. And the winning team can usually be predicted beforehand because the statistics are able to suggest so.
However, this year's statistics have not been able to give a clear picture as to who might win. This time, the Premier League has exceeded all expectations and has truly kept football fans at the edge of their seats, week in and week out.
For the first time in a decade, the title chase is between four strong competitors and all four of them including Arsenal, Chelsea, Liverpool and Manchester City, are vying for the title.
Let's take a look at all four of these football clubs individually in order to do justice to their assessment.
Arsenal FC: 32 games played, 62 points
The Gunners have been on the edge of winning titles in Premier League challenges for the past eight years or so but haven't been able to achieve it in recent years. Many Arsenal fans were hopeful that perhaps this season was going to be the year when Arsene 'Le Professeur' Wenger would finally have a crack at it.
Arsenal had made a record signing in Mesut Ozil during the summer and for the better part of this season, the team lived up to the challenge. However, while facing a truly brutal run-in, their charge has faltered in recent weeks.
Although they still have a chance of winning the title, it will only happen if the other three rivals suffer a serious run of bad form.
Chelsea FC: 32 games played, 69 points
The return of 'The Special One' had been much talked about. English media was abuzz all year with the news of Jose Mourinho coming back home. Under his expert and seasoned tutorage, Chelsea was starting to look like its former self – the monster of old – winning games left, right and centre, until their recent defeats kicked in.
They looked invincible with Eden Hazard giving nightmares to Premier League defenders throughout. I even laughed when the self-proclaimed 'Happy One' told everyone that Chelsea might not win this year. He was back at his old mind-games and everyone thought he was bluffing. Chelsea's comeback was inevitable or so the fans thought.
However, the seemingly unstoppable Chelsea has taken a sudden halt with two recent losses.
Maybe Mourinho was right all along and this year really isn't Chelsea's after all. Yet, the statistics can't help but make one hopeful for a Chelsea victory.
Liverpool FC: 32 games played, 71 points
Liverpool, the one perennial English powerhouse, has begun to drift into mediocrity in the last decade or two. While Sir Alex Ferguson was at Manchester United, he had successfully knocked Liverpool off their perch. However, when the Scotsman retired after 27 years this summer, it seemed like we were back right where we left off with Liverpool on top of the table.
Brendan Rodgers' men have swept away anyone and everyone who tried to challenge them during the current league. No defence in the championship has been able to withstand the attacking force of Luis Suarez and Daniel Sturridge (SAS). Sturridge has been in such amazing form that winning leagues and toppling records seems like his primary goal this season.
Liverpool too could be a possible champion this season. I for one, have my fingers crossed.
Manchester City FC: 30 games played, 67 points
"Manchester is blue."
This has been the chant of City fans throughout this season and from the current state of affairs, they might actually be right. While their neighbours have struggled to say the least, under the new manager David Moyes, Manchester City has enthralled and captivated fans and critics alike, with their free flowing football and surge towards the title.
If it hadn't been for their early run of bad form, City would have clearly been at the top of the table right now. Nevertheless, the sky blues are being led towards the title by powerhouse Yaya Toure who epitomises City's raw and brute force this season.
If they keep winning matches, Manuel Pellegrini's team might just bag their second title in three years.
The title chase is truly mind boggling this year and given the unpredictable nature of the competition, each of the top four teams have a fair chance of winning the league. But as things stand, looking at the remaining fixtures it seems like Anfield's game will decide who will be the champions this time.