FCB vs Atletico: The outstanding, the mediocre and the ugly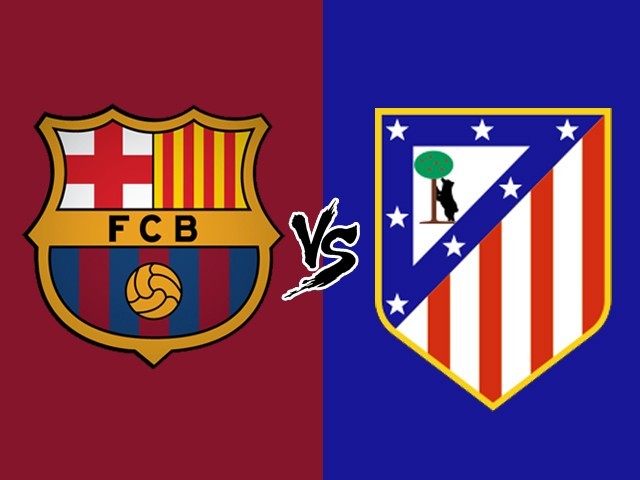 The 2013-14 UEFA Champions League quarterfinals clash between FC Barcelona and FC Atletico Madrid ended in a gruelling 1-1 draw. The end result was somewhat of a surprise; Barca played with the same intensity as they do at home but the relentless defending from Atletico proved to be an equal match.
Although both sides put in a solid team effort, there were certainly some outstanding individual contributions.
Atletico Madrid's defenders: Juan Francisco Torres (Juanfran), Diego Godin and Filipe Luís Kasmirski
As the match progressed, they were quite rightly being quoted as the yellow wall. They blocked, intercepted and cleared ambitious runs-ins from Lionel Messi, Daniel Alves and Neymar time and time again.
Godin's effort in preventing an absolute goal from Andrés Iniesta as he lunged onto a magnificent cross from Messi is especially worth mentioning.
Andres Iniesta
The Barca veteran has been in good shape lately and his performance in this game was simply exquisite. He worked the hardest in the Barca midfield and was the biggest threat to Atletico's backline, as he created a number of chances and was efficient in the final third.
Although his superb assistance to Neymar might be seen as his main contribution, his blistering strike, which produced the save of the match from Thibaut Courtois, was something I really enjoyed. Furthermore, he shared Barca's playmaking burden more than a rarely jaded Messi.
Diego Ribas da Cunha
Diego had a memorable night as he scored, in my opinion, one of the best goals in the tournament thus far. It had the conviction of a prolific striker, much like his namesake.
Apart from that, he made good contributions in defence as well as post equaliser.
Marc Bartra
Instead of showing nerves in replacing a key defender in Gerard Piqué, the young La Masia graduate made most of the opportunity presented to him. He was solid at the back with immaculate ball-handling when left as the last defender, and also made impressive and clean challenges with his defence against Diego Costa. Furthermore, he used his height to good advantage and posed the most genuine threat in poking a header whenever Barca took a corner.
Let's take a look at some mediocrity as well.
Cesc Fabregas
The Spaniard didn't do much harm but then he didn't do much good either. His contribution remained slim, despite getting a decent amount of ball, resulting in a rather off game on his behalf. Any Champions League game is a big game, let alone being a quarterfinal. A lacklustre performance isn't quite acceptable.
Neymar
Even though he scored a good goal with a splendid first touch, it was still rather wasteful. His numerous runs ended up in smoke; he preferred flaunting his dribbling skills over making any key passes. His theatrical dives might win Barca free kicks but, in my opinion, it is affecting his image as well as Barca's. In addition to this, he has a really weak header for which he has been presented with many opportunities that he missed.
Joao Miranda
Had he made a full blooded challenge on Neymar when he went to score the goal he would have been up there with his defender team-mates, but his casual stroll, as Neymar scored a telling goal, cost Atletico what could have been a famous win.
Lionel Messi
This Argentinean is the best player on the planet, hands down!
He can never give a mediocre performance, let alone a bad performance. But in contrast to his truly sky high standards, he appeared to have a rare off evening. Although he made a super cross to Iniesta in the first half, his free kick efforts left a lot to be desired; for example, at one point he hit the wall and the second time around it deflected off the post. Furthermore, Atletico's backline dispossessed him on many occasions as well.
Alexis Sanchez
Introduced in the pivotal last 20 minutes, he went pretty unnoticed, and when he did finally get a good chance in the box, he made a real muddle of it.
David Villa
This might seem very harsh and surprising to some, but he missed an absolute sitter in the first six minutes. Considering that he has played with Barca for a good number of years, he should have known that his team would only get a few chances. Yet, he made a lousy strike, as if he was playing a Liga game with a low ranked team.
His attempt to get back later was also not up to the mark and hence wasn't able to find the net.
José Manuel Pinto
One never expects him to put performances of the same calibre as Victor Valdes but his clearance kicks were constantly woeful and misguided, each time finding members of the Atletico side. His was easily the worst performance of the game.
This was my take on FC Barcelona and FC Atletico Madrid's performance during their recent Champions League quarterfinal match. Although both teams contain some pretty amazing players, for many it just wasn't their day!