Women in sports: What Lala might not know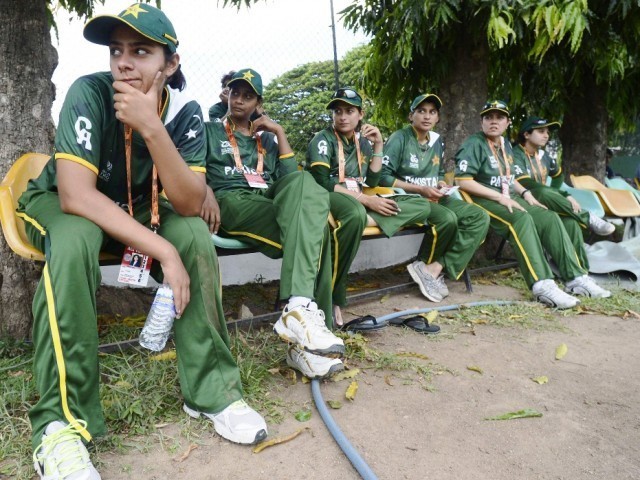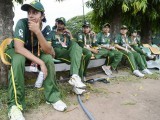 A friend of mine shared a clip on Facebook of a journalist asking Shahid Afridi his views on the development of a girls' cricket camp in Peshawar (something the journalist said he felt proud of) and Afridi replied that Pathan girls are best at cooking food and should stick to that. This statement did not come as a shock to me.
Other than being aware of Afridi's record of having passed ludicrous remarks about us, Indian Hindus, not being large-hearted enough, which was slammed by many rational Pakistanis, it reminded me of a scene from the Bollywood movie Chak de India starring Shahrukh Khan. It showed officials from India's hockey federation talking of the quintessential Bhartiya nari (Indian woman) being fit to cook but not being fit to compete in sports tournaments at the international level.
Other movies portraying similar challenges a girl has to face in an Indian social framework are Dil Bole Hadippa and Bend It Like Beckham, in the context of cricket and football respectively. And indeed, these movies mirror the social reality, not only in India but other countries in South Asia too, and to an extent, across the globe.
Male chauvinism bases itself primarily on the assumption that physical exertion (even if not mental exertion) is something beyond women; hence, the strong aversion to women's sports, as though women are not entitled to the sort of exercise and recreation they may desire. And it is this male chauvinism that makes men think that crimes against women are justified.
As psychologist Chris Kilmartin points out,
"The worst thing we say to a boy in sports is that he throws 'like a girl'. We teach boys to disrespect the feminine and disrespect women. That's the cultural undercurrent of rape."
Afridi claims that this interview was five months old, that the concerned excerpt was taken out of context and that he has been a great supporter of women's cricket, a claim testified by some female Pakistani cricket stars. If he has genuinely rendered help to female cricketers, it is indeed appreciable.
In any case, the focal point of this article is not Afridi; it's actually gender discrimination in the field of sport, and we've seen other such sexist comments too.
In December 2013, Zlatan Ibrahimovic, the Swedish football team captain, defended the discrimination meted out by their football association. They awarded a brand new Volvo to male midfielder Anders Svensson for breaking a record, but not one to female midfielder Therese Sjogran, who had broken a similar record.
Len Hutton, a great English male cricketer of the 1940s and 1950s, once said,
"Ladies playing cricket is like a man trying to knit."
In the early 20th century United States, a journalist wrote about the female athlete Mildred Didrikson saying,
"It would be much better if she and her ilk stayed at home, got themselves prettied up and waited for the phone to ring."

However, when Didrikson, who was accomplished in just about every sport – basketball, track, golf, baseball, tennis, swimming, diving, boxing, volleyball, handball, bowling, billiards, skating and cycling – was asked if there was anything she didn't play, her reply was clear,
"Yeah, dolls!"
At the outset, let me state some facts that would make those who endorse the views attributed to Afridi's feel uncomfortable.
Elysse Perry, an Australian cricketer and footballer, represents her country in both sports and played Sydney grade men's cricket and even took a few wickets in the match she played.
In 2010, the Baroda Cricket Association pitted its senior women's team against under-14 boys' teams in the under-14 DK Gaekwad Tournament for the first time and in the first match, the girls played against the under-14 boys' team of the Kiran More International Cricket Academy, where the girls emerged victorious.
In fact, they won three of the six matches they played in the tournament. It's true that the boys were much younger, but still, many male chauvinists would find this hard to believe.
An interesting fact is that, in the first such match, the girls' team included Taslim Shaikh, daughter of Mehendi Shaikh, coach of the famous Indian male cricketers, the Pathan brothers – Irfan and Yusuf. The captain of the girls' team was Tarannum Pathan, another Pathan hailing from the same Indian province of Gujarat where Irfan and Yusuf hail from.
Again, in 2012, the under-19 girls' team managed to win four of the six matches against the boys' teams, missing the semi-final only by a whisker.
Then, there's Laleh Seddigh from Iran, a female car racer who has been a national champion competing against men and is known as the 'Schumacher of the East'. Danica Patrick, from the United States, came fourth at a Las Vegas speedway event competing against men. Alisha Abdullah in India, has excelled at both car-racing and bike-racing, competing with men.
Also, many women, including a 73-year-old Japanese national, have even climbed Mount Everest.
In the context of Pakistan, it may well be relevant to point out examples from Islamic history, like Prophet Muhammad's (PBUH) wife Hazrat Ayesha (RA), who was a direct participant of the war and Hazrat Nusaybah bint Ka'ab (RA), a woman who fought in Prophet Muhammad's (PBUH) army. The Prophet (PBUH) believed that children (he did not specify only boys) must be taught archery, horse-riding and swimming.
Muslim warrior-queens like Razia Sultan and Chand Bibi remain etched in the historical memory of our subcontinent, as do their Hindu counterparts like Rani Lakshmibai and Rani Durgavati. It was certainly heartening for me to read these write-ups about women being inducted in the Pakistan Air Force and about the first female paratroopers in Pakistan.
Indeed, I am fully cognisant of the fact that Pakistan has produced several legendary female sportspersons, including Kiran Baluch in the context of cricket.
As a female sportsperson, Lucy Smith points out,
"Women, like me, who are athletic and who like to wear mascara off the playing field, are just that; women who like sports among a whole host of other passions. I also like reading and writing and cooking and looking after my kids."
An interesting fact in this connection is that Mithali Raj, captain of the Indian women's cricket team, has been an accomplished classical dancer and she maintains that dance too was something she enjoyed very much.
As female Pakistani cricketer Roha Nadeem mentions,
"As a beginner, I felt under-confident at times. I was constantly doubting my place in the team and questioning, if I was able to play up to their expectations. But they had always been motivating and encouraging.

'Do you play as well as men?'

'Doesn't playing cricket make you look masculine?'

These are some of the most frequently asked questions that I encounter, when I tell people I am a female cricketer. They seem pretty amazed at the idea of 'female cricketers' and their level of amazement is doubled when they realise that I don't adorn the 'tomboy' look that majority of female athletes do.

A major misinterpretation people hold about female cricketers is that they lose their feminine charm. I usually get that as well, as to how can I carry my 'girly' looks and play cricket at the same time? To which, I have no answers. I reckon it's all about how one carries oneself.

On a lighter note, female cricketers can be good-looking too."
If we are to ensure that women enjoy rights at par with men, then sport is an area that we need to focus on. As a United Nations document states,
"The relationship between gender equality and sport is not solely about achieving equality in women's participation and treatment within sports, but it is also about promoting 'sport for gender equality', or harnessing the potential of sport for social empowerment of women and girls."
This can be very well substantiated by a statement made by Susan B Anthony, an American suffragist, back in 1896,
"Bicycling has done more to emancipate women than any one thing in the world."
This would mean more media coverage to women's sports teams rather than only individual sports for the glamour quotient (sadly, when the Women's Cricket World Cup was hosted in India last year, it hardly got much media attention), equal prize money for men and women's championships and most importantly, equality of access to sports infrastructure, which may even require legislative intervention, as Title IX in the United States has amply demonstrated.
Quite late in the day, India's sports ministry came out with a National Sports Bill that, among other things, addressed the issue of gender, and Pakistan could do well to follow suit.
Advertisements by the government promoting women's sports, dispelling the myth of their adverse effect on reproductive health and chapters in school textbooks about leading female sportspersons would also be initiatives in the right direction.