Shhh… my kids are sleeping… I killed them both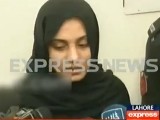 As I write this, my little boy sits next to me with a mango juice box in one hand and the iPad in another. I glance at him and think of how wonderful childhood is.
Cartoons of five monkeys jumping on a bed drive you into a fit of laughter. Hugs and kisses are aplenty. He sleeps on a warm, comfortable bed every night. When he's sick, his mother wastes no time in giving him the medication he needs. When his father comes home from work, he hugs his little boy and kisses his booboos.
He's a lucky, lucky kid.
He's lucky because he's a Pakistani and yet not a part of 60% of the country's population that subsist on less than $2 per day. Children who are innocent, equally appreciative of food, clothes and medicine, are either dying the moment they are born or are being sold to military conflicts, victims of child labour or get struck by natural disasters, famine, child marriage, female infanticide and terrorist attacks.
As if all of that isn't enough to remind us that Pakistan is not equipped to take care of its children, a horrifying story has been unfolding in the past week.
A mother murdered her eight-month-old baby boy and two-year-old girl. The father did not stop her as she strangled the infant and drowned the toddler in the bathtub. The bodies were recovered when the parents sat and cried together over the children's dead bodies and the neighbours overheard the parents' wails.
The parents, Sunny and Bisma, claim that they did this out of poverty and that the children had no food to eat since the past three days. However, once the police investigated further, they saw that the couple lived in an expensive double-story house, had a car in the garage and the children had expensive toys. Something just didn't add up to couple's claim of poverty. So what drove the parents to end their children's lives?
The couple has been taken into police custody and the woman seems to be having what can be called a psychological breakdown. She is having episodes of laughter and tears, asking inmates to keep quiet as to not disturb her sleeping children.
As the story continues to present more and more murky details, there are plenty of factors that show alarm. The mother claims that the father is a drug addict and wanted her to start working as a sex worker in Dubai, whereas the father claims that the mother was a 'psychopath' and he did not kill his children.
It is a cocktail of psychological ills, it seems. Combined with the father's pressure of prostitution to the mother's own history of depression, a tragedy was produced.
Postpartum depression/psychosis is a psychopathology where a woman experiences a range of symptoms ranging from mania (elevated symptoms such as euphoria, over-activity, irritability) to depression (mutism, lack of sleep requirement or low mood) as well as hallucinations and delusions and violent fits of anger and aggression.
Mothers who kill are a critical subject matter in criminal psychology. Motherhood is directly associated with care, love and positivity. Yet, the perverse nature of human beings witnesses these breaks from normality.
Individuals with mental health issues need help and must consider counselling before even considering having children. It is painful and detrimental that our society does not place an onus regarding having children. There are simply no prerequisites. In fact, the opposite mentality seems to hold even more plausibly, 'once you get married and have kids, things will be okay'.
Marriage and children are not simple matters and they require hard work, dedication and focus. Someone with mental health problems cannot deal with the stress of this job and if someone is already struggling with their day to day life, adding the responsibility and work of a helpless child who looks at you to survive, is just a recipe for disaster.
Perhaps it's all a moot point now.
Two very innocent lives are lost.
Perhaps it does not matter what the truth really is or when or how it is uncovered. The only truth that stares at the observers in the face is that individuals with mental health issues, clearly unfit for a job as demanding as parenting, might go under screening for getting a job at a big multinational company but will not go through any assessment before they decide to have children.