International Women's Day: My induction into the Pakistan Air Force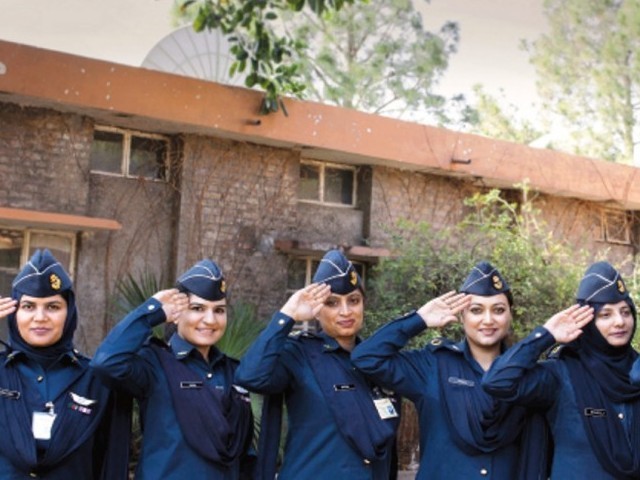 It was August 7, 2000 when a group of 40 girls entered the Pakistan Air Force (PAF) Academy for the first time, in such a large number, as lady cadets or female cadets. And it changed the course of our armed forces forever.
Until only a few years ago, females could not think of joining the coveted PAF as anything more than a doctor. The first opportunity for women to work in a ground based job came when the post of commissioned officer was opened for admissions, at one of PAF's many ground support branches.
However, they were still not ready to take female pilots; we had to become their first test-course batch and prove that women are worthy of being inducted in every branch of the PAF.
From the craziness of the Inter Services Selection Board (ISSB) in Kohat to the Central Medical Board in Karachi, the 40 of us were finally admitted into the PAF Academy in Risalpur.
The academy is located near Nowshera in Khyber Pakhtunkhwa (K-P), where women come from as far as Balochistan.
Strangers meet in the academy guardroom for the first time and forge a bond that lasts forever. The same was the case with us. Since women will always be women, most of us came loaded with fancy bags and unnecessary luggage. As the time approached to leave for the academy premises, we were given the first dose of the 'equality regime' that was to be practiced in the academy.
We were asked to carry our luggage ourselves to the residential block, which was a good 20 minute walk away. That was when I knew that we had officially become cadets.
Dragging our luggage we arrived, sweating and swearing occasionally, at our designated rooms – each room was to be shared by four girls. We were asked to wear white clothes, tie our pretty locks in a hairnet and take off all our jewellery.
We were divided into groups and given a conducting officer each. This is the time we realised that cadets are not called simply by their names but are accompanied with flowery titles – almost fit for Mughal kings – such as 'Senior Aviation Cadet, Sir ABC'.
During the first few days, all sorts of complaints could be heard around the academy, from having no mineral water to lack of bedding and the likes, much to the perplexity of the male conducting cadets. However, this soon stopped since we were put into a rigorous routine that started at 4am with the morning exercise and ended at 10pm with lights off.
The entire academy, which had been all-boys until now, was still confused about our place there. The males, who used to wait impatiently for the weekend to ogle women, now had 40 female cadets among them.
However, the discipline of the academy and the strict watch by our female Course Commander, Madam Shakira, who happened to be a psychologist and an iconic lady, were stronger than the urges of any male.
The authorities were in a dilemma as how to manage the introduction of females into the male-oriented academy. And so, they came up with a rule of 'no communication with boys', except our own course mates.
It was the funniest regime ever.
Whenever they were addressed by women, the boys would jokingly say,
"We are not supposed to talk to you."
This regime of 'no communication' ended by the final term but it was clear evidence that we were truly symbolic of the process of change and everyone from top to bottom was confused about inducting women into the PAF.
However, the success of female induction was evident throughout PAF. In different parts of the academy, women were treated with understanding and there was no discrimination by the male cadets towards their female counterparts.
In any case, we looked horrible in our 'whites' – since our cadet uniforms were only provided to us after the saluting test was passed.
We learnt the proper way of eating chicken legs, called 'ostrich legs' and meat balls called 'grenades', in the cadet language.
Women were equal to men – perhaps even a little more than equal since we were spared from the rigorous punishments such as the tough 'rolling over' punishment we would often see them doing.
For almost a month after joining the academy, I yearned to run away but I couldn't due to the shame of quitting and because I couldn't find a way to do it. Such thoughts were common among almost all the female cadets but no one left and we all stayed to weep, laugh, live and finally, wear our ranks together.
'Lady cadets' had become the manifestation of the process of change.
Women who had been secure and pampered in their households were venturing into the purely male dominated world. Some of us, like me, were living away from home and travelling in local buses for the first time. On some Saturdays, a female cadet would be the only female passenger on the bus, accompanied by hoards of local Pathan labourers and these buses were the hub of cloth and hashish smuggling.
Once, a driver changed the route just to pick up his cloth-smuggling girlfriend but no one really cared since it was an accepted custom.
Soon enough, we became accustomed to the academy and were in line with the routine of morning jerks, academic classes, Rooh Afza sherbet in mid-break, lunches of 'ostrich' legs and 'grenades', evening games, milkshakes, horse riding, squash and personal training.
We began to love it all.
Finally, we passed the landmark saluting test and were awarded our first-term single tapes and the cadet's blue uniform.
But this was just the beginning. It was the first step in a long journey towards more and more induction of women in the armed forces. There was no makeup, no TV and no coloured clothes but it was worth the sacrifice.
When I look back at how our journey began and how a woman is now a fighter pilot in Pakistan, I realise that it all comes down to opportunities. We were given the opportunity and we worked hard.
We proved that a woman's will can move mountains and reach the sky.