Working women do not make better moms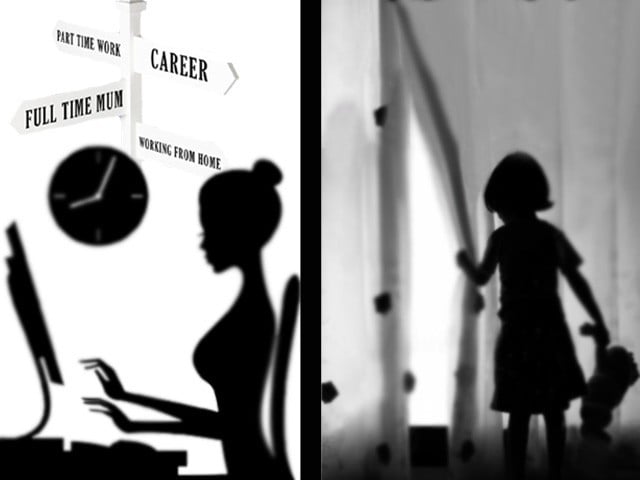 "Working women do not make better moms," I told an audience comprising of my teachers and fellow students in my primary school where my own mother was working as a teacher.
I had the audacity to look her in the eye as I completed my argument in the speech competition. She looked back with a smile and I looked away.
I had a good reason for the argument.
Ever since my mother started working I saw a change in my family life. She often brought work home and then struggled with house chores. I got lesser treats at home. There were no more homemade doughnuts on the table and she was often too tired to take me out on weekdays. My friends' stay-at-home moms seemed much more 'motherly' than mine.
Back at home, after the competition, she pretended as if my words had not hurt her. When I tried to talk to her about the speech competition she told me I had full rights to hold my opinion and express it publically. In the democratic system of our family, everyone had a voice. I wonder if she knew back then that my views about her job and choices in life will change with time.
As I grew up, my mother's struggle became more evident. In our society, working women, and particularly working mothers, are always faced with a dilemma. They are brought up in a system where being just a woman is not good enough. One has to be a good wife and a good mother first and a good wife and a good mother equal a good homemaker. She is taught from a very young age that her house and family should be her priority. So careers almost always take a back seat.
My mother tried her best not to neglect her house. It was as if she had made a silent pact with the rest of the family, particularly my father,
"I will only work as long as the family doesn't get adversely affected by my job."
And that is where I have a problem.
We, the women give in too easily. My best friend took a break from work after getting married to settle down into her married life. When she decided to go back to work a year later, her husband told her,
"Of course you should have a career dear, as long as it doesn't affect your household responsibilities."
She complied like many more good wives out there. I wish, we the women could answer back to such a suggestion by a simple 'no'.
"No dear, I am afraid the house will be affected and I will be thrilled if you took on some responsibilities from me and stopped complaining about not getting garam phulkas straight from the tawa."
In my family, my father never asked for garam phulkas but my mother made them anyway. It was almost as if she was trying to prove something. She could keep the job because she could manage the house really well along with it. She wanted to keep the job because added income aside, it gave her confidence with a sense of independence, which made her tremendously happy.
It is this pursued happiness that matters.
We are often stuck in tedious arguments about whether women, especially mothers, should or should not work, that we often forget that it is the happiness of a woman we should really be talking about. Happier women are better women, happier wives are better wives and happier mothers are better mothers, period.
My mother worked tirelessly through my school and college life and hasn't stopped working even now that I am married. As a child, I could not understand her but quite strangely I am following in her footsteps.
Just yesterday, when I was about to leave home to attend a professional conference, I looked at myself in the mirror and hastily fixed my kajal. The reflection was that of my mother, staring back at me, but this time around, we both smiled at each other.
Loading ...