Afridi: Back with a Boom Boom!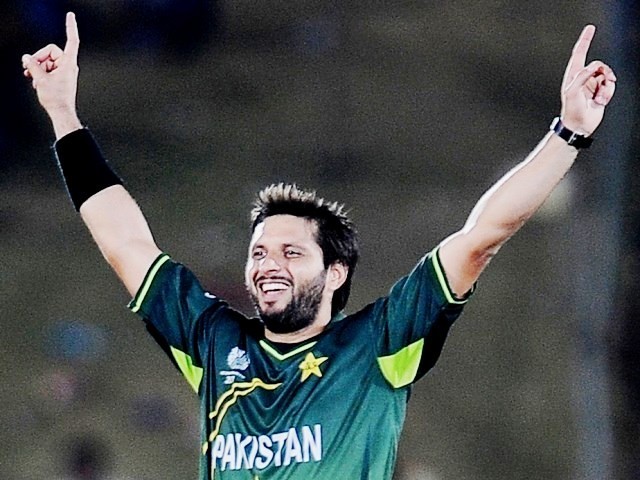 We have all seen, admired and enjoyed the likes of Gilchrist, Jayasuriya, Gayle and Sehwag destroying bowlers with their powerful shots which could ruin the careers of bowlers and change the scenario of any match.
And we all revere the player who literally makes our hearts skip a beat, for whom any ground in the world is not big enough, who still has the maximum fan following even among fans of rival teams and for whom the stadium erupts with chants of 'Boom Boom' when he comes to bat.
A few years ago former England cricketer, Geoffery Boycott, said,
"Shahid Afridi is fantastic, I love watching him play the game of cricket and undoubtedly he is the best entertainer in world cricket."
Yes, it's the Pathan from the Khyber Agency region of Pakistan who made his electrifying entry in international cricket at the age of 16 by scoring a century in his debut match off just 37 balls against Sri Lanka. It was the second fastest One Day International (ODI) century, followed by another record of the second fastest 50 in ODIs off just 18 balls.
He is a compulsive basher, literally unable to control his urges to swing every ball out of the park. His strike-rates are nearly unmatched and that is why he also holds the record of hitting maximum sixes in international cricket.
He also has the record of hitting the longest six in international cricket when he smashed South Africa's Tsotsobe out of wanderers for a mammoth 158 metres, after which the England player Ravi Bopara tweeted
Afridi started his career as a bowler but it took time for him to settle in and his ability as an all-rounder became clear. Soon he developed into one of the most lethal and famous leg-spinners. He offers so many varieties including the traditional leg break, the googly and the lethal fast one, causing a lot of trouble to the batsmen. And this is probably why he has 370 plus ODI wickets.
He has played very little in the longer format of the game for Pakistan due to his inconsistency and lack of self-control since he always tries to transfer the same aggression to Test cricket where his strike rate was almost touching 90%.
And with the introduction of T20 cricket, Afridi has become even more brutal as it gives him the license to strike whatever comes in his way. He was awarded Player of the Tournament in the inaugural edition of the T20 World Cup, which Pakistan lost, but he made up for this loss when he took Pakistan to the T20 World Cup victory in 2009 with his all-round performances, especially his winning knock in the final.
Immaturity and inconsistency have often threatened his game and have raised a lot of eyebrows even within the team, the management and his country. This is why after a short stint with captaincy when he took Pakistan to the semi-finals in the 2011 World Cup, he was relieved from his duties as a captain. However, Afridi has always managed to hold his place in the Pakistan cricket team, for his all-round skills.
When the old-guard celebrated his 34th birthday on March 1, 2014, a day before Pakistan was due to play their crucial match against, arch rivals, India in the Asia Cup, many assumed that this would probably be the last leg of his career – the Asia Cup now and the World Cup next year. With his poor performances in the opening two matches, this assumption became even more vivid.
When Pakistan played against India, the match seemed to be over for the Pakistani side as their batsmen faltered and the team kept losing wickets. But then came this man and scored 34 runs from 18 balls which culminated with two consecutive sixes in the last over off Ashwin and sealed the famous win for Pakistan.
Even his die-hard fans doubted whether Afridi, suffering the worst batting slump of his career, would go on to become the team's saviour. But Afridi's heroics were compared to those of Miandad who achieved a similar feat in the 1986 AustralAsia Cup final, when he hit Chetan Sharma for a winning six on the last ball.
Although Pakistan had virtually qualified for the finals, it still needed to defeat Bangladesh two days later on March 4. Putting the tigers to bat first, Bangladesh blasted Pakistani bowlers and scored their highest ODI score of 326 runs – a seemingly impossible target for Pakistan – made possible due to contributions from Shehzad, Hafeez, Fawad Alam and of course 'Boom Boom Afridi'. Afridi, despite being injured, played like a warrior and equalled his own record of second-fastest half century off 18 balls and confidently led Pakistan into the finals.
Afridi proved that age is no bar for him and showed his critics his ability of being a match winner. His approach to batting changes the tempo of the game and inspires the mood of the audience, evidenced by the mass exodus of Pakistani spectators who went crazy after the win against Bangladesh.
He has blasted, smashed, pummelled and slashed every bowler out of the park and as an Indian fan, and more importantly a cricket fan, I can easily say that he is one of the most loved Pakistani cricketers in India as well. With this I would like to repeat Boycott's words,
"Undoubtedly he is the best entertainer in world cricket."
Hats off to you Afridi! I, for one, would love to see you doing this for many more years to come.