Transgenders in Pakistan: An identity card hasn't accomplished anything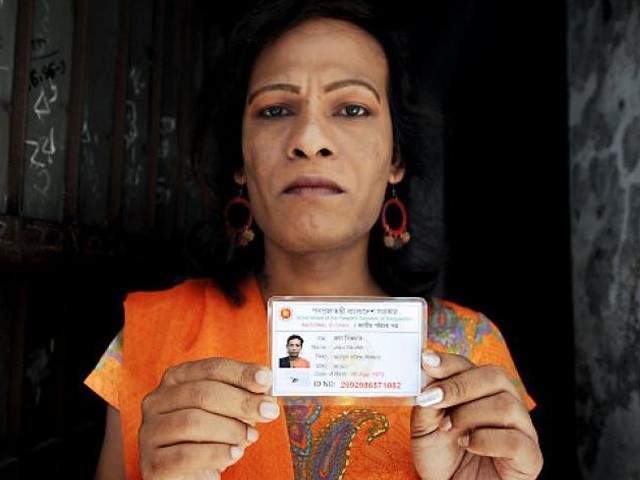 We, as Pakistanis, have a profound lack of empathy for individuals that suffer from a Gender Identity Disorder (GID). These individuals have, perhaps, faced the severest form of discrimination from among all the minorities in Pakistan since ages, and unless a change from within emanates, would continue to be harassed for years to come.
Though I am not a writer by profession, a recent incident in the shacks of Rawalpindi forced me to write this article. While purchasing groceries with a relative, I came across Aashi and Heer, two transgender people living in a hut nearby. As they entered the store, they were frowned upon by other customers and shunned by the management there. Later, I saw them by a butcher's shop, purchasing the feet of chickens that had been slaughtered during the day. Upon questioning them about why they wouldn't buy a chicken instead, Heer answered;
"Even after roaming the entire day on the streets, we are still ridiculed and laughed at. People do not usually like to give money to us as much as they would choose to help an underprivileged child or a homeless mendicant. We often have to resort to other means of making money, even if that means letting go of our morals. There are times when we aren't able to enjoy a good night's meal, even after an entire day of dancing on wet floors."
Granted, the Supreme Court ruling in 2011 has given transgender people the right to vote and to attain a National Identity Card (NIC) of their own, a right that had been denied to them for the past 64 years. However, this is only a small fraction of what is essentially needed in our society at the moment. A mere identity card has not been able to provide these individuals with the rights they deserve. Such individuals are often abandoned by their relatives and immediate families at a very early age. The ones, who aren't, wilfully leave their houses in search for a place that would actually own them, a place they could refer to as home.
Just because these individuals fail to conform to the stereotypical norms of our culture, we have reduced them down to such a level, where the only two occupations accessible to them are begging and prostitution. They are entirely helpless because of our attitude towards them. Such individuals are not even seen as waiters at restaurants or workers in construction industries, due to their ambiguous genitalia. Basic necessities such as educational institutes, job opportunities as well as medical facilities are not provided to them on the basis of them being transgender or hijras, as they are most commonly referred.
During the elections of 2013, Bindiya Rani, the President of the Gender Interactive Alliance (GIA), an organisation working for the rights as well as social justice for the transgender community in Pakistan, fought from PS-115 in Karachi. I was appalled to see that even the news of a person from the transgender community running in the elections was greeted with general ridicule and mockery. Our society has instilled this belief in our citizens that these individuals are not capable of anything beyond beggary, dancing and prostitution.
As Pakistanis, we need to realise that this is not merely a war that these individuals have to fight for themselves; they are human beings, just like us, and deserve as much of a right to education and job openings as each one of us. We have the capabilities to educate our community as well as the upcoming generations to treat these individuals as regular citizens and not outcasts.
These individuals have voices that are not heard by anyone. We need to be the voice that speaks on their behalf, fights for their rights and makes living for them less painful.