Mirror mirror, what do you see?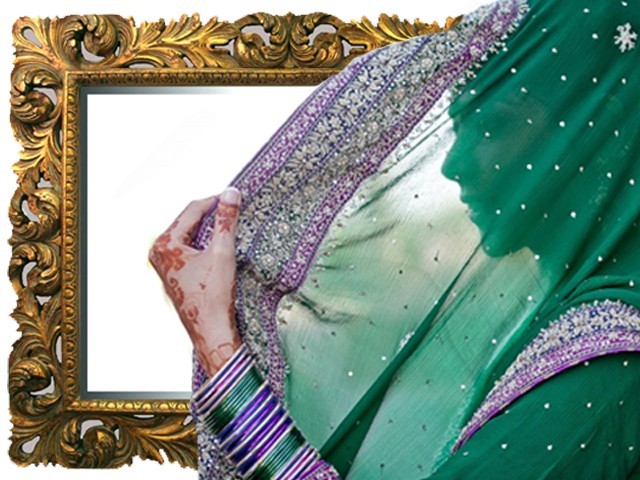 I have a mirror in my hands.
Mirror mirror, what do you see?
"I see a girl, a black girl, with beautiful eyes… beautiful eyes over gaunt cheeks. Cheeks caved in over thin, crisp lips and a levee against the pointed chin. I see a face festooned by gold; hard earned 18 carats of flimsy artwork.

A ritual slaughter of a loved one."
Say more my mirror. Say more.
"I see a void in the girl. I see uncertain gestures hiding in her smile. I see an ominous pout and a stoic sarcasm in her gentle nods. She knows what to appreciate. She has a keen eye for beauty. And today is a day when she has to be sublime… over every other face and every other shine.

But her shine has dimmed, she has concerns.

She searches in her image, a hope, a salve. Something trivial, something only she has, something to be proud of. She twists her neck and spins her head. But under the arches of gold and the opulent enfolds of her bridal dress, she finds nothing."
Show me something that my keen eye cannot see. Show me my worth, show me myself!
"While man inherits the earth, you inherit the fear.

Fear of man.

Fear of love.

Fear of hate.

Fear of lust.

You have fears of every sort. And you have fought with each one. Some battles you have won and some lost. Your valour has grown in stature and form. Your strength has no face and your courage follows no norm. Your battle-cry has no sound. With your head down, you carry injustice upon your wrists and you bring it down like a pampered child. And you feed the black hole of prejudice with pardon."
Make more sense. I am lost. Anytime now, a new life will start.
"Remember the scars now buried under a white cosmos?

Just beside your nose ring? Whose knuckle was it?

Look beyond the gloss of your lips at the bitten ruptures of affection. Whose love was it?

Over your right eye, a little mound now healed, left by someone's disappointment. Whose trust was it?

Behind the curtains of gold, under the glitter of your prized possession, someone's cold hand had left some warm marks. Whose passion was it?

Under your skin, under your bones, suspended in your blood, ornaments of life, broken, re-broken, healed and then broken again. Such cruel masonry and yet, you forget.

Don't cry now… be still.

You have lived through hatred with your head held high. Now vie for love from the fickle fate. Marry, you must. You once had a life of your own when you dreamt. Dreams, selfish dreams, severed from the world.

Time knocks at the door, arms full with social roles. Don't lose heart.

Soon you will forget this day. This pain shall find a way, to be far away. And you will have hopes to relive this life with more power and control. A bit older, a bit wiser and a little bit surprised with children in your wings and a braced heart, you will fly off.

But now, turn around and see that door. Behind the door, your mother is waiting. Your brother is waiting. Your father is waiting. Your groom is waiting.

Don't ask me more questions. You are beautiful. You will be loved. Even if it be for a day, you will be loved."