Asia Cup 2014: 12 years of Pakistan and India mêlée, who will win tomorrow?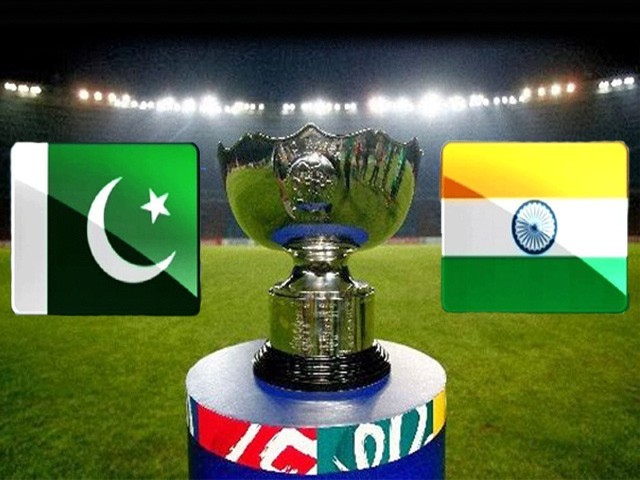 They don't come bigger than this. No. When you talk of sporting rivalries what comes to mind? Australia Wallabies and New Zealand All Blacks in rugby? Ashes? Brazil and Argentina in football? None of them compare to this one.
The India-Pakistan cricket rivalry puts them all in the shade with its background of four wars, numerous skirmishes, disputed borders and nuclear weapons.
From 1951 when the first India-Pakistan Test match took place to their last match in the ICC Champions trophy, every series, every tournament, every moment of every match has been a saga of raw emotion and unbridled passion.
The India-Pakistan match on Sunday, March 2, may not be a do-or-die but it would be facile to assume that they will not come hard at each other.
Today, we will look at some of the memorable matches played between these two countries in cricket World Cups.
March 4, 1992
The '92 World Cup (WC) had many firsts. Coloured clothing made an immediate impression and Duck-Worth Lewis showed how administrators can make a disgusting hash of even the most flavoursome ingredients. The WC was also the first one to feature an India-Pakistan match which, oddly enough, had not been played in the '77, '79, '83, and '87 editions. The format meant that every team would play the other in the round robin stage and the two reignited the rivalry at the Sydney Cricket Ground.
India won the toss and batted first to post 216 for the loss of six wickets. Man of the Match, Sachin Tendulkar, still in his teens, made a fighting half century against a bowling attack that included Wasim Akram, Aaqib Javed, Mushtaq Ahmed and an aging but effective Imran Khan. The match was reduced to 49 overs due to a rain delay and Pakistan, still not in their 'cornered tiger' mode slumped to 173 all out in spite of a fighting 64 by Aamir Sohail.
The match had no bearings on the end result and is remembered more for the kangaroo jumping incident featuring India's wicketkeeper Kiran More and the ever-irascible antagonist, Javed Miandad. More appealed for a run out against Miandad (who was well in) and in his enthusiasm started jumping like a jack rabbit. Safely in, Miandad made a mockery of the appeal and did his own high jumps which would have made LeBron James proud.
Pakistan recovered from the loss to win the World Cup while India crashed out before the semis, which may have prompted more than one person to ask More to try for India's Olympic high jump team.
March 9, 1996
Just over four years later, the two teams met again in a World Cup match in the 1996 Quarter-final. It was a knock out and the stakes could not have been higher.
Pakistan had played well in the group stage with the only loss against hot favourites, South Africa. The M Chinnaswamy Stadium, in Bangalore, was packed to the rafters with 40,000 screaming fans. India won the toss and keeping in mind Pakistan's poor record in chasing batted first.
Not for the first time against Pakistan, Navjot Sidhu played an exceptional innings and fell just seven shy from an outstanding century against what many described as the best bowling attack in the world.  Captain Wasim Akram controversially sat out but the attack was still potent with Waqar Younis, Aaqib and Mushtaq going strong and aided by Aamir's spin. Pakistan, in spite of Sidhu's inning, seemed to be on course to restrict India to a manageable score.
At the crucial stage, Ajay Jadeja decided to play the innings of his life and took the bowling by the scruff. He made 45 off 25 balls. India scored 57 runs in the final four overs, including 22 off a Waqar over. In fact, Waqar and Javed both gave 67 in their ten overs, an abysmal bowling performance that enabled India to post a difficult 287.
Pakistan started in style, with Saeed Anwar smack in the middle of a purple patch with Aamir at their belligerent best, Pakistan at the ten over mark were steaming along at 84 for no loss. Then disaster struck. Venkatesh Prasad was being hammered by Aamir who, infamously, gestured to the bowler that he can bowl anywhere and the ball will still get to the boundary. Prasad came back with a comeback that has gone in the annals of history, a riposte so good that it did away with the gesturing for good. Aamir clean bowled the very next bowl.
Chastened and under pressure, Pakistan wilted away and 113 for two soon became 248 all out. The match was Javed's last and Pakistan had lost their second successive match to India in a World Cup.
June 8, 1999
Pakistan played India in a Super Six match at Old Trafford in the '99 World Cup. Was third time going to be lucky? It certainly seemed so.
Pakistan was in unfamiliar territory of being the tournament favourites. A star studded batting line and a bowling attack that boasted Wasim, Waqar and Saqlain Mushtaq gave hopes to getting their hands on the World Cup silver. The latter was counted among the most dangerous ODI bowlers in the world, his doosra, and the then called 'mystery delivery' was almost unplayable by batsmen unused to the change in spin.
Leading to the World Cup, Pakistan had beaten India in the Asian Test Championship and the Coca Cola cup in Sharjah, UAE. They had also swept Australia in the round robin stage and seemed to be peaking at the right time.
India was a dour side, their bowling, led by medium pacers and batting featuring Sachin, M Azhrauddin and a still-developing Rahul Dravid, was hardly the unstoppable run making machine it is now. India won the toss and batted first. They struggled against the formidable attack, floundering to a seemingly sub-par 227. Pakistan batted deep with Wasim at number nine and with Saeed Anwar, Shahid Afridi, Ijaz Ahmed, Saleem Malik and Inzamamul Haq in the team, it should have been over with minimal fuss. It was.
Pakistan sunk to 180, with none of the star batsmen crossing 50, the highest being Inzi's 41. Venkatesh bowling medium pacers on a good length took five for 27 and with it ensured that Pakistan would have to wait another four years to get the chance to improve their World Cup record against India.
March 1, 2003
SuperSport Park in Centurion, South Africa was the venue for the third encounter in a World Cup. Post the Kargil skirmish, the two teams had not played for a long time and the match was billed as the one to watch for. Tickets were sold out hours after being posted and the capacity crowd was a sea of blue and green.
Pakistan won the toss and, faster than you can say 'collapse', opted to bat first. Saeed held the innings together with a century but no one really stood out. Inzi was having a torrid tournament and was run-out while the others got starts only to lose their head and wicket. Pakistan made 273, a competitive score in most cases, but India was in dominant form and there was an ominous feeling that their phalanx of stroke makers would romp to the target easily.
Still, Pakistan had Wasim, Waqar and the world's fastest bowler, one Shoaib Akhtar. Shoaib was in his pomp and the Pakistan fans half hoped he would derail the blue train. Sachin had other ideas and murdered the bowling attack and any thoughts of a Pakistan win were swiftly dashed. His 98 for 75 balls was a savage assault that had the men in green cringing and awestruck, and Shoaib was put firmly in his place.
Sachin fell short of the winning target, his wicket celebrated across the land but it was far too late and Rahul and Yuvraj Singh guided the team to victory in the most unflustered manner.
Pakistan did not clear the first round, a performance that ended Wasim's career and left the country now wondering when the World Cup bogey would end.
March 30, 2011
Pakistan and India did not play each other in the 2007 World Cup, both exiting in the early stages. The 2011 edition was being held in the sub-continent and much had changed. Pakistan was a cricket pariah, ostracised in the spot fixing scandal and shorn of their right to host international matches because of the attack on the Sri Lankan cricket team in Lahore in 2009.
The dynamics of the sport had changed. India was a powerhouse, flushed from the success of the IPL and their dominant power in the cricket world. The Indian cricket team, led by the unflappable MS Dhoni, was strong and billed as tournament favourites. Pakistan, on the other hand, was seen as the dark horse, the underdogs who may just pull it off and Captain Shahid Afridi was reining high as the leading leg spinner in the world. Shahid promised a tough fight and Pakistan's demolition of the Windies in the quarters gave life to hitherto dead expectations.
The match at the Punjab Cricket Association Stadium in Mohali, Chandigarh was the most celebrated sporting event of 2011. Tickets were not to be had for love or money. Prime Minister Yousuf Raza Gilani was invited by the Indian Prime Minister Manmohan Singh to watch the proceedings. The Government of Pakistan declared a national holiday and almost one and a half billion people sat glued to their televisions to watch the drama unfold.
India won the toss and batted first, reaching 260, courtesy of an 84 by Sachin who was given more lives than a cat by the Pakistani fielders. Pakistan started in what has become their usual style, slow, cumbersome and devoid of a plan. They made heavy work of a gettable target and when Shahid was caught by Virender Sehwag off Harbhajan Singh, it snuffed any lingering hopes.
The match is also remembered for Misbah's stonewalling which gave him the derogatory epithet of 'tuk tuk' and to this day, leaves some Pakistan cricket fans foaming with rage. To rub salt into deep wounds, India went on to crush Sri Lanka in the final and claim their second World Cup.
India once again look strong, their batting line-up capable of chasing just about anything.
Pakistan is typically Pakistan, fine bowling, poor batting.
Jury's out on this one.
Loading ...