Asia Cup 2014: Is Kohli the ideal replacement for Dhoni?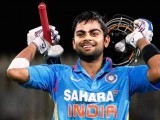 Many might not know this but the upcoming Asia Cup series is not the first time that Virat Kohli's skills as a captain will be tested. Kohli led the Indian Under-19 (U-19) team in a series in Malaysia in 2008 and it was there that he earned his merit as a leader for the first time.
Similarly, he led the Indian team in a series against Zimbabwe in 2013 and was also captain for a few matches against West Indies in the same year. On both occasions, he further reiterated his value as a skipper.
India is one country which makes the best use of its young U-19 talent and Kohli and Mahendra Singh Dhoni are prime examples of this. However, with Dhoni's consistency as a captain and his relentless performance, Kohli has not been able to showcase his talent and ability.
Until now.
There is no doubt that Kohli has established himself as an internationally renowned batsman. But the question on everyone's mind now is can Kohli prove himself to be Indian cricket's next leader?
As captain, Kohli cannot afford to make any mistakes, even minor ones, because this tour's results will have long-term effects. It will decide whether Kohli is the right man to become Dhoni's permanent replacement. So, if Kohli doesn't play his cards right, he may not be able to impress the selectors.
Kohli was the best available option to lead the Indian side during the Asia Cup, after Dhoni was ruled out from the series due to his side-strain injury.
The Board of Control for Cricket in India (BCCI) has been grooming Kohli to be the next captain and it has tested him in eight matches so far, during 2013, out of which he won seven – all the while maintaining an exceptional batting performance himself.
Although five of the said matches were against the relatively weak Zimbabwe team, clean sweeping any team is not easy and it was evident during these matches that Kohli has gotten the hang of captaincy.
Kohli's biggest challenge will come from his own fans. At a time when India is a world champion and a Champions Trophy winner, the anticipation to win the third biggest One Day International (ODI) tournament is in itself a huge expectation and the burden will of course, fall on Kohli's shoulders.
Any result other than victory will be unacceptable to the Indians. And so Kohli has his game cut out for him.
Moreover, although the Indian team is quite young, this young blood could be an advantage for Kohli. His tactic to change the bowling line-up while he was captaining the U-19 side impressed everyone. This is the most important strength of any captain since a mediocre bowling line-up, which lacks lethal potential, is a recipe for disaster. Kohli will have to make bowling changes sensibly, especially with the current team of novice bowlers.
Dhoni's widely appreciated tactic was that he used his part-time bowlers and got wickets from them. Part-timers like Yuvraj Singh, Suresh Raina and occasionally even Kohli, proved to be Dhoni's strengths.
But only time will tell how Kohli will adjust his bowling to the need of the hour.
Another concern is that sometimes a player's own performance is hampered due to the pressure of being a captain. However, Kohli's batting performance during the eight matches he captained was unaffected. In fact, he managed to make runs at an average of 66 and made a couple of centuries as well. Evidently, he can handle the pressure while being a high-performing player.
In a nutshell, Kohli appears to be the best possible replacement for Dhoni. His positive attitude and his hunger for victory will help India win the series and mark itself as a world champion, yet again.
Pakistan, along with Sri Lanka, is one of the favourite teams for this tournament. But Pakistan will face extra pressure as the defending champions and the security tensions in Bangladesh will not make it any easier. However, the team has managed to play a fairly good opening match.
The current captains of India and Pakistan are on opposite ends of their captaincy careers – one is beginning his career as captain while the other is among the most experienced players in the game.
Misbahul Haq is a master of pressure-packed matches and is the ultimate choice for leading the national side, whereas Kohli still has to prove himself and his captaincy abilities.
Even after all the debates and speculations, the Pakistan-India match will be a thrilling one to watch, especially, with the young blood on both sides. Fans from both countries have already made plans to enjoy this edge-of-the-seat match on the weekend.
Here's to hoping that Kohli will rise to the occasion and impress everyone with the talent he has been gifted with.