Mix&Match: 8 celebrity couples I would love to see together this Valentine's Day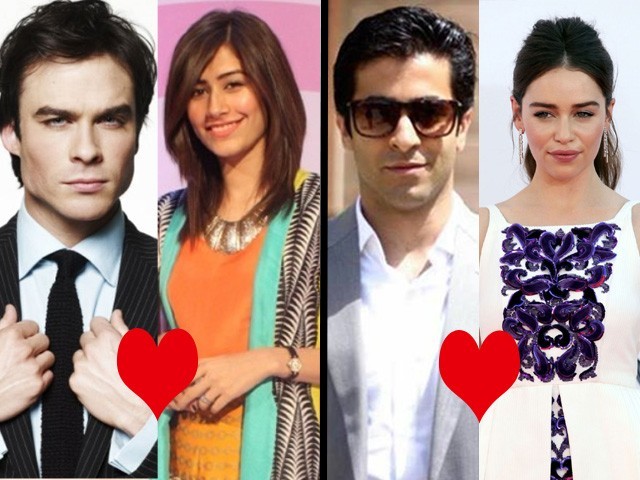 Remember that time you were sitting at a restaurant, having a conversation with a friend and you felt your mind drifting away? You start taking things around you in; the environment, the people.
You start wondering what the woman next to you was thinking when she decided to wear that particular outfit or how the couple on your left must think they look great together, when they just don't.
There now, there is no need to pretend to be 'holier than thou', we've all done it.
After years of careful observation, I decided to come up with a list of my own; a list of people I would like to see together this Valentine's Day, a day when the air is filled with love (and hearts) and nothing can bring your spirits down because you know it's all about love today – just you and that special someone. (Cheesy, I know)
Since 'I don't want no drama from your mama', I have picked a safe-bet and chosen celebrities from Hollywood, Bollywood and Lollywood to mix and match together.
Here are eight of my favourite heartthrobs I would pair with gorgeous females that aren't me:
1) Leonardo DiCaprio and Mahira Khan
I don't really think I need to elaborate on this one. They're both great actors and from what I've been told by people who've met them (yes I know people who've met Leo) and from what I've read, they are ridiculously charming, modest and friendly. If Mahira can give Leo the chance, this couple is sure to melt the silver screen.
2) Ranbir Kapoor and Blake Lively
Good looks galore! Even though I'm not really a big fan of Ranbir, unlike creepy stalkers who camp outside his house just so they can watch him enter and exit… for hours, I appreciate good looking men when the need calls for it. Blake with her fun, yet sultry presence and Ranbir with his charm and boy-next-door appeal, would definitely make quite an interesting couple. Let Kat go Ranbir, Lively is the way to go for you!
3) Sheheryar Munawar Siddiqui and Emilia Clarke
Now now, don't go grabbing your pitchforks yet. Emilia Clarke or commonly known as The Great Khaleesi from Game of Thrones (GOT), has been a fantasy for many men who are avid followers of the GOT.
Hey, if I was a guy, I would totally go for her!
With Sheheryar's good looks, charm and fun personality coupled with her sex-appeal and desirability factor, this celebrity couple would make the boys and girls go loco. Both possess a real fire and passion for what they do, and I have no doubt that they would make a striking couple.
4) Ranvir Singh and Lady Gaga
My masterpiece (sarcasm intended)!
I will admit that Ranvir looked quite 'hot' in his recent movie Ram Leela and worked extremely hard to get that body but I'm sorry, when you're going to cover it up with your atrocious dressing sense and commit fashion faux pas every now and then, it's just unfair to our eyes. Making a statement is one thing but wearing 'jazzy' camouflage suits and chequered trousers with caramel hair is another. But I will say one thing, the guy has confidence to think he can pull it off and sometimes he does.
Lady Gaga, on the other hand, has been known for her 'edgy' sense of style. From the cow meat dress to the Hannibal Lecter face cage, she has been on a roll when it comes to taking risks and making fashion disasters.
Therefore, the commonality between these two is the absolute nonsense they wear ever so confidently, they might as well go out. I would advise audiences to guard their eyes this V-Day.
5) Ian Somerhalder and Syra Yousuf
Syra can easily be one of the prettiest girls on TV screens right now. And well, Ian Somerhalder, need I say more? Those eyes, his deadly looks paired with her piping good looks and bubbly personality- this is one celebrity couple I myself would be happy to watch. I do admit though, the thought of this couple transpired purely because they would have some superbly good looking kids!
6) Fawad Khan and Deepika Padukone
These are one of my favourites from Lollywood and Bollywood. Being a fan of Fawad from his EP days, I personally think he's quite a looker. And Deepika with those legs and her envious dress sense has caught the eyes of many. It's about time Deepika cuts loose her secret 'edgy' Ram Leela and goes for someone more her type. Your Ram awaits you in Pakistan, Leela!
7) Hamza Abbasi and Ainy Jafri
Come on, it's totally possible! Regardless of Hamza's tad bit over-acting in Waar, one cannot deny that he is very cute and a good actor occasionally. Ainy has caught the eye of many with her recent appearances in serials and advertisements. Don't be biased, just look at them; they definitely make a very pretty couple.
8) Ali Zafar and Nargis Fakhri
I know many probably thought I would pair him with Katrina, but after the Mobilink commercial, featuring the two stars, I thought 'hey, why not?'
He has the voice, good looks and charm, and Nargis, well she definitely has… umm… the lips.
So there you have it, my list of celebrities I would have loved to see together this Valentine's Day, dining away amidst candle light and floating lanterns.
PS: Ryan Gosling has not been added to this list because I could not bear doing that to myself.