Humiliation, detention and beatings do NOT help children at school!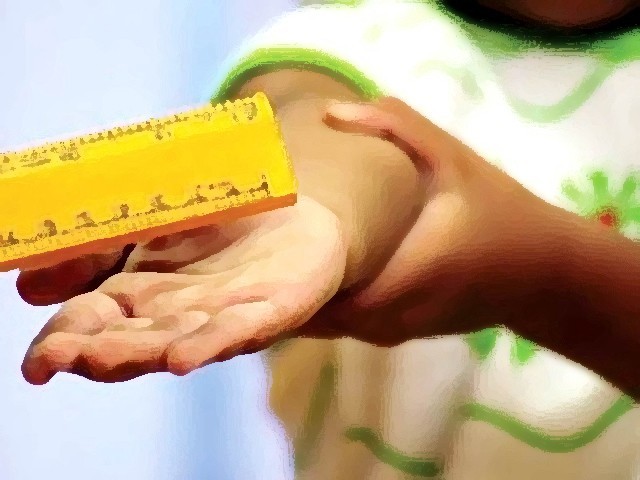 The environment in some Pakistani schools, particularly, government schools, is uncivilised at best and tyrannical at worst. While studying Psychology, I was compelled to look back at events from my childhood and school days.
There were times in school when a few of my fellow students were mistreated by their teachers and class mates. Every class has a few students who are slightly slow at learning or grasping certain subjects or concepts. In my class, Zara was one such girl. She was mistreated by each and every teacher along with all the students in the class only because she was unable to grasp concepts quickly and could barely pass the exams.
As a result, she often found it difficult to get along with her class mates, perhaps, due to a lack of confidence and a shattered self image. There were countless times when teachers would lecture her, pick on her simply out of habit, scold her for no apparent reason or throw her notebook on the floor. They would even hit her with the notebook sometimes.
In essence, these 'guides, mentors and role models' humiliated her in any and every way possible.
I don't know why they did it; maybe it was an outlet for their personal frustrations. But whatever it was, I couldn't understand how they could be so harsh, especially when it was their job to provide support and encouragement to their students.
And when the humiliation in class was over (for the time being), the teachers would send a note to Zara's parents, requesting them to come to school for a meeting. In these meetings, they would tell her parents about her falling grades and her lack of attention and participation in class. All these meetings would invariably end with the teachers telling her parents to hire a tutor for her. I remember an incident when one teacher went so far as to call Zara's younger sister and complained to her about Zara's poor performance in a test. Imagine how ashamed and embarrassed this poor girl must have felt in front of her younger siblings at home.
What bothered me the most was that apart from Zara and a few other students, the teachers were not as strict with the rest of the class. They treated other students quite well and this, to me was quite ironic, because teachers are supposed to provide support and a pleasant atmosphere – an atmosphere which is conducive to learning – for all students.
I feel that it was this biased treatment of teachers which made Zara increasingly indifferent until there came a point in her life when she would not talk to anyone in the class. She stopped trying to explain herself or 'give excuses' as teachers would say. Eventually, she even resorted to simply smirking when teachers yelled at her or asked her a question. She had probably become immune to the treatment meted out to her.
As things went from bad to worse, I could not believe that these teachers who had been given the responsibility of nurturing the nation's future could act in such a callous manner. Neither the teachers nor the school's administration stepped up to take some sort of a productive step to help Zara in her failings. Finally her parents stepped in and made a decision. They decided to move her to a renowned private school in the city because the school that she had been studying in had made her feel like such a failure. When I heard the news, I prayed that this would be the start of a new and better chapter of her life.
After she left, the environment in school became somewhat better. We were spared the merciless screaming of the teachers and no notebooks were thrown on the floor.
And then, two years later, as I was stepping into my school bus, I spotted an empty seat and sat down. There was a girl next to me and she smiled confidently at me as I made myself comfortable. After a few minutes I realised that this self-assured, young girl was none other than our very own unsure and fearful old classmate, Zara.
I was amazed to see the transformation in her. No longer was there a dull, listless expression on her face. Instead, she looked back at me with a fresh, beaming face. As I spoke to her, I found out that her new school had a healthy, supportive environment which had literally made her a new person.
She had obtained 80% marks in her board exams. I was both, speechless and happy to hear this I could hug her! All I wanted to do, after seeing her again, was to take her before the shameful administration and faculty members of my school, and show off this bright, confident girl as a proverbial slap in their face for the way they had slighted her.
I couldn't even begin to imagine what would have happened to her had she stayed in the same school. It would have been such a waste considering what a little support and a positive environment had done for her.
Now as a student of Behavioural Sciences, I realise that each and every child is special. And I urge you not to ever degrade an innocent, aspiring mind by being insensitive and heartless. If you come across children – your own or those around you – who lack the ability to learn fast, try to help them by giving them some extra time instead of insulting them and making them feel even worse. And if that's not possible, suggest professional help to the parents.
Whatever you do, please refrain from indulging in behaviour that can destroy a young person's confidence for life. Don't ever use your superior age and position to undermine a child. If nothing else, try putting your own child in a similar situation so that you can feel the pain that such children are made to go through. Perhaps, then you would think twice before demeaning someone else's confidence.