Muhammad Ali, the greatest boxer of all time… now on Twitter!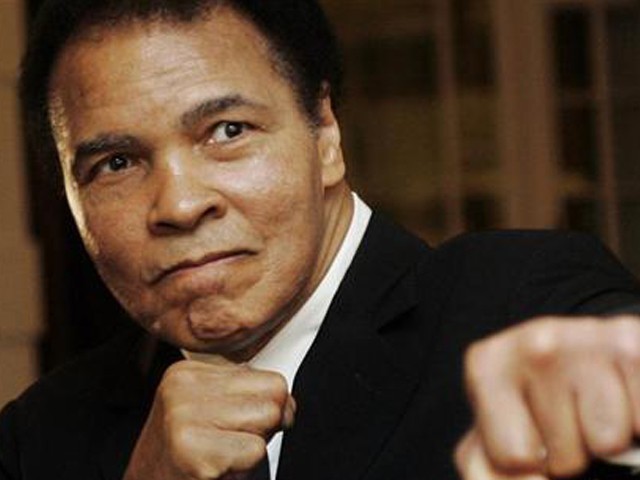 There has been debate over who is the greatest in the world of boxing. Yes, Joe Louis and Sugar Ray Robinson are among the list, but it is Muhammad Ali who raised the bar of boxing to a whole new level. As he himself said,
"Float likke a butterfly, sting like a bee. His hands can't hit what his eyes can't see."
Born as Cassius Clay, Jr in 1942 in Louisville, Kentucky, USA it all started when Clay's bike got stolen when he was 12-years-old. When he went to report his stolen bike to the police, the police officer introduced him to Joe E Martin who owned a boxing gym. Joe told Clay,
"If you want to take up the bullies who stole your bike, you must learn to fight."
And that is exactly what he did. Joe recognised the potential in this young kid and thought that he had an 'un-orthodox style'.
The reason that inspired me to write about him is his uniqueness, charisma and style. Muhammad Ali became famous not just for his boxing ability but also for the way he would taunt his opponents every chance he got and his hands-down approach to boxing rather than a defensive stance against incoming punches. Intuitively sensing his opponent's next punch, he used to dodge them with his lightning fast moves in the ring.
Such moves were never seen in the ring before him and I don't think anyone will be able to ever match his dexterity and style.
Ali knew what he was capable of and that is where his attitude and arrogance came from. Such confidence and pride, backed by ability and expertise is what sportsmen like him are remembered for. His sheer determination in and out of the ring is what made him the 'The Louisville Lip' and 'The People's Champion'.
His bout with Sonny Liston embarked him on a great journey for which Ali will be remembered forever. He mocked Liston saying,
"I will whoop Liston like his daddy did. He is too slow to be a champion."
And in 1964, Muhammad Ali defeated Sonny Liston in the seventh round with a Technical Knock-Out (TKO) and became the World Heavyweight Champion.
About his agility and boxing moves, commentators would say,
"He is dancing in the ring."
Floyd Patterson said,
"It's very hard to hit a moving target, and (Ali) moved all the time with such grace; three minutes of every round for fifteen rounds. He never stopped. It was extraordinary."
In 1964, Ali refused his drafting in the war when asked to report saying,
"War is against the teachings of the Holy Quran. I'm not trying to dodge the draft. We are not supposed to take part in wars unless declared by Allah or the Messenger. I ain't got a quarrel with them Vietcong…"
These famous words became the reason used by many to oppose the war.
Ali's refusal caused him to be wrongfully stripped from the championships and his boxing license was revoked in 1967. In 1971 the Supreme Court overturned this court order by a unanimous decision, allowing Ali to box again but without any titles to his name. But of course, Ali was hungry for a title match with Joe Frazier.
All he had to do was earn it and so he did by defeating Jerry Quarry as a result of a TKO.
And then came the fight of the century.
On March 8, 1971 it was Ali against Frazier. Prior to the match, Ali had been doing what he did best – criticising and mocking his opponents.
In an interview with Howard Cosell, he said,
"Joe Frazier is an Uncle Tom. He works for the enemy. That fool thinks he's gonna defeat me, you should ask smoking Joe what he's been smoking."
That fight was like death for Ali. He was knocked out for the first time in his career and he said in an interview,
"All I remember is getting back up, I don't remember getting knocked down."
Ali was defeated by a unanimous decision. Of course, Frazier remembers it differently,
"I remember when I heard the bell, I looked at Ali and said, 'Yeah, I kicked your ass'.
According to doctors, that fight was the main cause behind Ali developing Parkinson's disease due to multiple blows to the head.
After this defeat, Ali was looking for revenge and he got it in 1974 in Ali versus Frazier Two, winning a 12-round unanimous decision. About the fight, he said,
"Joe Frazier's a nice fella. He's just doing his job. The bad talk wasn't serious; just part of the build-up to the fight. The fight was serious, though. Joe spoke to me once or twice in the middle. He told me I was burned out, that I'd have to quit 'dancing' now. And I told him I was gonna dance all night."
Prior to this match, there was another champion in town – George Forman – who defeated Joe Frazier by a Knock-Out (KO). Ali had his chance to win the World Boxing Association (WBA) title again on October 30, 1974 in Zaire.
I loved the match known as 'The Rumble in the Jungle'. It was Ali against George Forman and in this fight Ali was not dancing at all. Instead he was leaning on the ropes defending himself for seven rounds.
And then, came the famous eight round.
Ali, still doing the rope-a-dope he had been doing for the last seven rounds, knocked Forman out with two straight hard rights and an uppercut and re-gained the title which had been wrongfully taken away from him seven years earlier.
Gloating after his victory he said,
"I told you suckers I am the best. I am the greatest. He is a mummy. That fool even dreams of defeating me, he better wake up and apologise."
However, all this fame came with a price; Ali now suffers from Parkinson's disease which has hampered his motor and speaking skills. He retired at the young age of 39.
Ali will not only be remembered for his work in the ring but his efforts outside also. The way he represented the black community and black Muslims at that time is un-parallel. He gained a cult-like following in the black community all over the world. More than just a boxer, Ali was also a humanitarian and his speeches would inspire people to stand as one and fight oppression.
Although almost all athletes do their part to make this world a better place, no one can be compared to what Ali did for the black community at that time. Such style and grace comes only once in a life time and hence, Ali holds an extra special place in the hearts of many and will always be remembered as the greatest boxer who ever lived in the history of boxing.
50 years after he won his first-ever heavyweight title against Sonny Liston, the boxing legend joined Twitter on February 25, 2014. In true Muhammad Ali style, his first tweet said,
In spite of the arrogance and swagger he presented to the world, Ali always had a soft spot, especially for the downtrodden. When David Frost asked him in an interview how he would like people to think about him when he is gone, he replied,
 "I'd like for them to say,

He took a few cups of love.
He took one table spoon of patience,
One table spoon of generosity,
One pint of kindness.
He took one quart of laughter,
One pinch of concern,
And then he mixed willingness with happiness.
He added lots of faith,
And he stirred it up well.
Then he spread it over a span of a lifetime.
And he served it to each and every deserving person he met."