'The Fault in Our Stars': I died a few times while reading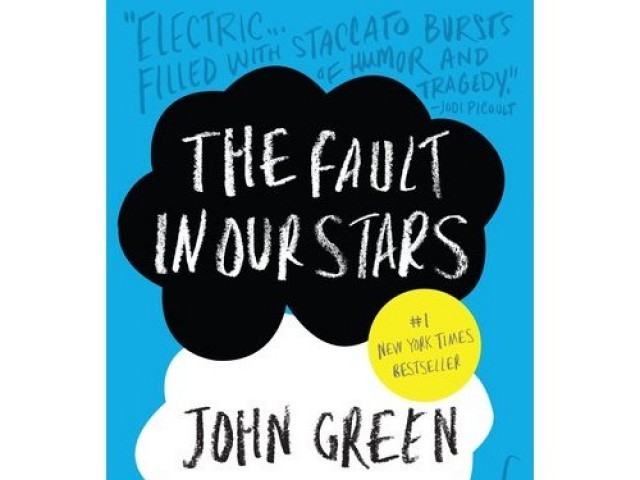 We all have that one book we come across once in a while and wouldn't mind reading again. I've had a similar experience with John Green's 'The Fault in Our Stars', which is one of the bestselling fictions of 2012 – 2013.
I think I died a few times while reading the book.
This book is TIME Magazine's number one 'fiction book of 2012' and Goodreads 'Choice of 2012' winner; a 4.5 out of five stars rating. The book is also currently in line for being produced as a movie to be released in June this year. It is anticipated to be one of '2014's best movies'.
What's purely magical about this book is its representation of life, truth and inevitability. You just can't put it down no matter how intensely it affects you because that's the reality of life – you have to move on no matter what.
I, like every other reader, usually end up pin-pointing the faults and flaws present in books. This book, however, is almost perfect. It might not be your most important book, but it'll definitely be the book you value the most.
To make you even remotely understand, let me tell you some facts about this life-valuing and life-changing book.
1) It captures its targeted audience's attention, young adults, but it's not exclusively for them only. People of all ages can read and, relate to it and its message; nothing is permanent in this world.
"That's part of what I like about the book in some ways. It portrays death truthfully. You die in the middle of your life, in the middle of a sentence." (A quote from the book)
2) It has the right amount of scenic description, which many books cannot achieve. I can distinctly remember the design of Van Houten's house, Augustus' basement, Hazel's patio and pretty much all the other places and scenes described, all because of the author's need for specific details.
3) The wit and the dialogues were exceptional; especially the ones coming from the people who were nearing death were heart-piercing. The words reflected not only the minds of teenagers but also the minds of people suffering at the hands of life.
The characters' intellect shone through out and the philosophical language was impressive. For me, it was their bravery more than their intelligence, not because they were cancer patients but because they didn't make a big deal out of life treating them badly and unfairly. It's because they knew their worth in the universe and how much the people in their lives valued them.
"My thoughts are stars I cannot fathom into constellations."

"Without pain, how could we know joy?' This is an old argument in the field of thinking about suffering and its stupidity and lack of sophistication could be plumbed for centuries but suffice it to say that the existence of broccoli does not, in any way, affect the taste of chocolate." (Quotes from the book)
4) The intensity of emotions portrayed was beautiful. It's one of those books which you know is beautifully written not by its fancy words but by how simple words can hit you and make you cry. Many of us can't relate to what teenagers with chronic illnesses are going through but this book makes us relate to them in unexpected ways. Even if you don't have a lover, you'll be made to feel the pain of losing your own or someone else's loved ones.
"Grief does not change you, Hazel. It reveals you." (A quote from the book)
One thing this book definitely did for me was make me realise how much parents love their children and how much they would do for their children. The story might be a love story but that's what makes it noticeable, it's not ordinary despite being typical. I don't want to ruin an experience of your lives by giving spoilers but trust me when I tell you it will change your life.
5) Even though it seems like you've been reading it for a while, since you get so involved in the stories of their lives, it's a short book nonetheless for something so beautifully written and life altering. I read it on adobe reader and it hardly had 77 pages. Trust me putting so much in something so small is called real skill, considering the intricate details included. It won't take more than two days for even the slowest reader to finish it.
So far I've only come across a few people who weren't taken aback by this book and had some negative things to say about it. Though they do point out some things that needed perspective in the book but those things didn't hold much importance when comparing it to the book as a whole.
I can only tell you my experience and how it made me feel, and though I'd appear biased, I can't ignore the impact it had on me.
In the end, just to prove to you all that I'm a teenager myself, I'll tell you how I went completely head over heels for Augustus Waters, the most imperfect hero with the perfection for living his life. I value people who shed light on matters that I don't fully understand or realise yet, and Augustus made me realise something too.
Here is what Augustus had to say about the love of his life,
"Hazel is different. She walks lightly, old man. She walks lightly upon the earth. Hazel knows the truth: We're as likely to hurt the universe as we are to help it, and we're not likely to do either….

People will say it's sad that she leaves a lesser scar, that fewer remember her, that she was loved deeply but not widely. But it's not sad, Van Houten. It's triumphant. It's heroic. Isn't that the real heroism? Like the doctors say: First, do no harm."
This is what he gave me!
I'm thankful to Mr John Green for writing such a heart-breaking book which left me with the realisation that death is a side effect of life and to prove that, pain demands to be felt.
"Sometimes, you read a book and it fills you with this weird evangelical zeal, and you become convinced that the shattered world will never be put back together unless and until all living humans read the book. And then there are books like 'An Imperial Affliction', which you can't tell people about, books so special and rare and yours that advertising your affection feels like betrayal" -John Green (The Fault in Our Stars)