My favourite movies of 2013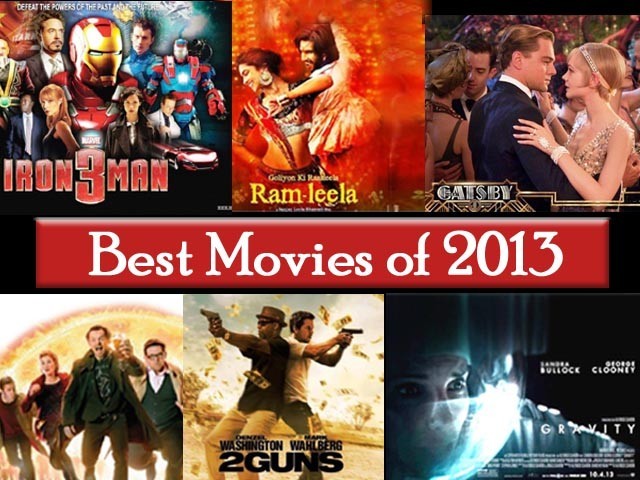 Having seen this world up close and personal, I decided to reject it and build my own reality – a reality that was filled with movies, funny pictures of cats and a pinch of tobacco. These have been my friends and have given me much-needed hours of pleasure and escape from the insanity of this world.
Although some of these movies gave me only temporary respite, others lingered long after I had watched them. Some made it necessary for me to look back at life from a different perspective and so, movies have been, for lack of a better word, good teachers.
Some movies that made it to my personal Top-10 list in 2013 are:
10. The Way Way Back
This is Sam Rockwell's movie through and through. Well it really is not, but it is his performance that carries it. We find Duncan (Liam James), a lonely boy, on the receiving end of his mother's idiotic boyfriend's verbal abuse.
The family goes on a vacation where Duncan is his usual awkward, lonely self. But he finds an unexpected friend in Owen (Sam Rockwell) who is the manager of the Water Wizz water park. Owen takes Duncan under his wing and shows him the ways of the world.
Further into the movie, the boy falls in love, gets into a fight and before we know it the boy is a man. Although not a regular summer blockbuster, we see characters who are each flawed but real and recognisable. And perhaps, this is why this movie has a somewhat calming effect on the viewer.
And believe me, we Pakistanis, need some 'calming effects' in our lives.
9. 2 Guns
In 2 Guns you see Robert Trench (Denzel Washington) – an undercover DEA agent – and Michael Stigman (Mark Wahlberg) – a naval officer – in the middle of a robbery gone wrong. The duo find themselves hunted by both sides of the law – the CIA, Mexican cartels, FBI, naval intelligence and even the police, for good measure.
The story moved fast and the action was visible and thrilling, not to mention the old-school charm of cop movies from the 80s. Although not really liked by the critics, it had a decent box office showing.
8. Iron Man 3
I think that Robert Downey Junior who plays Tony Stark aka Iron Man is the Salman Khan of Hollywood. Like Salman, RDJ can make a bad movie and it will still be a hit. Also like Salman, he has served time in jail.
But Iron man 3 is a good movie about a broken superhero who cannot fathom the events of The Avengers. Nevertheless, he gets up, dusts himself and as usual saves the day. And Gwyneth Paltrow…well, she is a lovely actress, isn't she?
At the end of the day, superhero movies do not really care what the critics say and Iron Man 3 is similar. Some critics did enjoy it and it made $372 million at the box office.
7. The Great Gatsby
Please just give Leonardo DiCaprio an Oscar already. The guy will not stop doing good movies. And that's great for movie-lovers like me.
The Great Gatsby revolves around the 'great American dream' with all its grandeur, beauty, power and ultimate loss. And it is not just the storyline and DiCaprio's acting. The cinematography and the sets of this movie are simply breath taking.
Critics did not really like it but what do they know? The box office was not too impressed either but hey, I liked it.
My recommendation – watch it on an HDTV screen because this movie requires a mighty canvass.
6. Drug War
This is a Chinese government propaganda movie about the ill effects of meth and how good the Chinese police is at catching the bad guys. But I enjoyed it because it had a strong storyline, good acting and realism. Similar to South Korean cinema, Johnnie To – the director – made a beautiful movie after his underrated Triad Election in 2006.
Drug War was well received by the critics and made good money in China.
5. Ram-Leela
And Sanjay Leela Bhansali did it again! The cinematic experience was just brilliant. And who would mind looking at beautiful people cracking silly jokes? I know I did not.
Although it was simply a re-telling of Romeo and Juliet in the desert of Rajastan, Deepika Padukone's expressions, Ranvir Singh's transformation from 'bad boy' to emotional lover and a strong leader and of course, the absolutely breath taking cinematography and sets made Ram-Leela a treat to watch.
A word of advice – do not watch it on cable. Go to the cinema, sit back, relax and enter the world of Bollywood fairy tale song-and-dance.
The critics gave Ram-Leela mixed reviews but the audience absolutely loved it and it was a box office champion. Indian film critic, Taran Adarsh, even went so far as to say,
"Sanjay Leela's best work so far."
4. Warm Bodies
Another zombie movie…but wait, this is a Zombie movie with a twist. In fact, it is a zombie love story.  They had me at the movie's tagline,
"He is still dead but he is getting warmer."
Warm Bodies revolves around R (Nicholas Hoult) who is a zombie hungry for brains, but his heart just wants to love. And that is exactly what he does – he falls in love with Julie (Teresa Palmer) who is a human. As it turns out love was all that was needed and the movie shows that the human spirit is alive, even in zombies.
It is a heart-warming tale of love, loss and hope as they struggle with their differences and their respective 'people'. But who am I to argue with love, in whatever form it may be?
Although the box office response was lukewarm, the critics loved the movie.
3. The World's End
Any movie is bound to score some major points in humour with the dialogue,
 "To err is human, so err."
The duo of Simon Pegg and Nick Frost has churned out another gem after Hot Fuzz in 2007. The plot revolves around Simon Pegg trying to relive the greatest day of his life. His plan is to drink in all the pubs of an idyllic town in rural England in one night with his friends. Although his friends hate him for being well, him, they have the time of their life.
And the funny dialogue – I thought I was seeing a Monty Python sketch. Yes, there were aliens in the movie too and the last dialogue between Simon Pegg and the alien mind was just too funny.
Watch The World's End for the laughs. Although the box office response was not great, the critics rated it highly. But well, Americans don't really get British humour, do they?
1. Gravity / Prisoners
I just could not choose between Gravity and Prisoners so I have nominated both movies for numero uno.
Gravity
No, this movie was not about space. It was about a mother who lost her daughter and has lost the will to live. The spaceship, the space mission gone wrong, the fall – all of these were just tools to carry the story. The computer generated earth shots from space were spectacular and this is the closest to being a space tourist that you will get to without having a million dollars, so enjoy. And of course, there is George Clooney. Clooney is like cheese – he makes everything better.
A word of advice – watch it in 3D to enjoy the graphics and imagery to the fullest.
Not only was Gravity highly-rated by the critics, it was also a box office blockbuster and served as a come-back for the ageing Sandra Bullock.
Prisoners
German philosopher, Friedrich Nietzsche, once said,
"He who fights with monsters might take care lest he thereby become a monster. "
Again, a movie about a parent, the story revolves around a father looking for his daughter. Keller Dover (Hugh Jackman) and Franklin Birch (Terrence Howards) are neighbours whose daughters go missing. Detective Loki (Jake Gyllenhaal) is in charge of the case and also starts his personal search for the missing girls.
In the process, he treads the path of evil for good – similar to our country's policies of doing evil for good. But what of the victims of the good man's evil? Here comes in Alex Jones (Paul Dano) – a mentally-challenged boy whom the fathers' suspect is the kidnapper.
An absolutely haunting movie, Prisoners will not leave you even after you watch it.
Highly rated by the critics and loved by the audience, the movie even did well at the box office in spite of its dark theme.
These may be just 10 movies but they were 10 pieces of good art. And it is good art that makes a man want to be a better person. It is good art that necessitates introspection – makes us look into ourselves.
I wish we had more self-awareness and less hatred in the real world too but it seems like that is not how it is to be.
So, while the jester jests, I will keep on watching movies.