13 'Do-Nots' housewives can wave goodbye to in 2014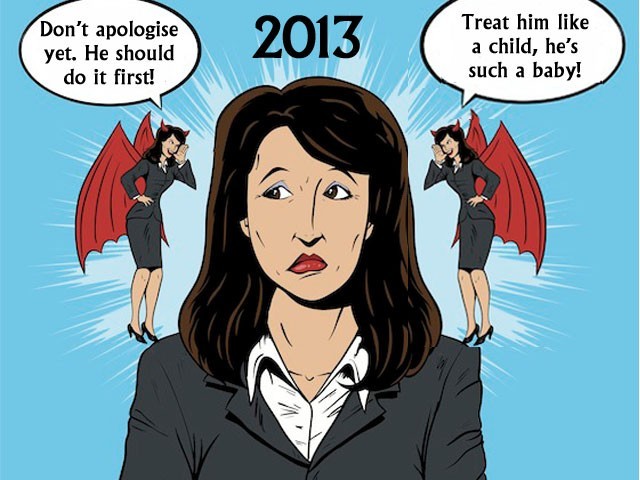 After having devised my list of housewife 'Dos' for 2014 (keep an eye out for it on ET), I realised that just as we devise what to do during the coming year, we should similarly devise what NOT to do as well.
This year, in order to make sure I have my goals crystal clear for a sparkling 2014, I have not only devised '14 Dos for 2014' but also '13 'Don'ts' in remembrance of 2013'.
Personally, I find that the best way to make and keep resolutions for a new year or in remembrance of a year past is to admit that we aren't getting any younger and hence have to behave like adults whether we like the idea or not!
Just like the 'Dos', I hope the 'Don'ts' are not only resolutions for this coming year but for the rest of my marital life.
The 'don'ts' are a eulogy to mistakes that I hope not to repeat again and here they are.
1. I am not the headmistress of the house
I will not treat my husband like a small child no matter how much his behaviour might make me want to do so. My kids might have awoken the 'headmistress' inside of me but I should not be one with my husband.
2. Be nice to the in-laws (no matter what)
Do not speak negatively to him about his family. Make an added effort to ignore more in the coming year. Yes, certain people have the innate art of getting on my nerves, but I will shut my ears with greater determination this year.
3. Misery loves company
Do not complain about him to family and friends. I will remember more firmly this year how these stories circulate and hurt us in the process. People like to listen to how miserable we are and many are happy at our unhappiness. I will not give them reason to gain this pleasure out of my relationship.
4. Keep the kids out of it
Do not argue and fight in front of the kids. This is perhaps among the resolutions on which my resolve starts to dwindle around mid-January! However, this year, I shall make the supreme effort to stick to this no matter what.
5. Dirty laundry stays home, not outside!
Do not take our fights out of the house. All couples fight and we fight pretty badly. Eventually, things do get sorted out so I will not whine and cry to others after fights.
6. Ego problems, he should say sorry first
Do not be mulish and keep waiting for him to say sorry first. Start initiating the road back to getting together, no matter how tough. I will not feel it beneath myself to admit my faults or ask him to explain his.
7. It's a give and take world
I will not expect him to be nice to my family if I am not reciprocating with his. A very golden resolution that I keep overlooking but will resolutely keep this year.
8. Presents galore (for him too!)
Do not forget to buy gifts on his birthday and anniversary. I know he is the main breadwinner but I will remember that he has a heart too that would love being indulged on special occasions.
9. Don't put daddy down
Regardless of differences, make sure the children respect their father. Life is short and creating a bad impression of him with the kids will hurt us all down the road.
10. Dress up time!
Do not forget him when planning the attire for upcoming special occasions. Make sure he is just as well dressed as yourself and the kids. I will remember more diligently that when he looks good, the whole family looks good.
11. Boy's night out
Do not belittle his desire to have time off with his friends on weekends. I will give him room. He works hard all week and I will not get him stuck with house chores and running around on his whole two days off.
12. It's not personal, you just don't cook well
Do not take all criticism from the hubby personally. If I can't view them objectively, I will just let them go. I will remember that there are other things to do in life rather than fret and worry over a specific combination of words he has used.
13. Let him gym it!
Don't grumble at his going to the gym regularly. A healthy guy is a happy guy. A happy guy will be a happy husband and a happy dad.
As I reviewed my Do and Don't lists, I felt that a lot of things on them could easily be applied to people in general. However, the reason why I need to stick to them with added diligence as a housewife is because unlike a lot of other relationships, I need to strengthen my marriage continually.
I may be able to 'afford' losing friends or distancing myself from relatives but I can't do that with my marriage. And improvement never happens without effort. If making 'Dos' and 'Don'ts' lists can make this improvement less toilsome, then so be it.
Good luck with your own list of resolutions for 2014!