PTI walay, 'kon log o tusi?'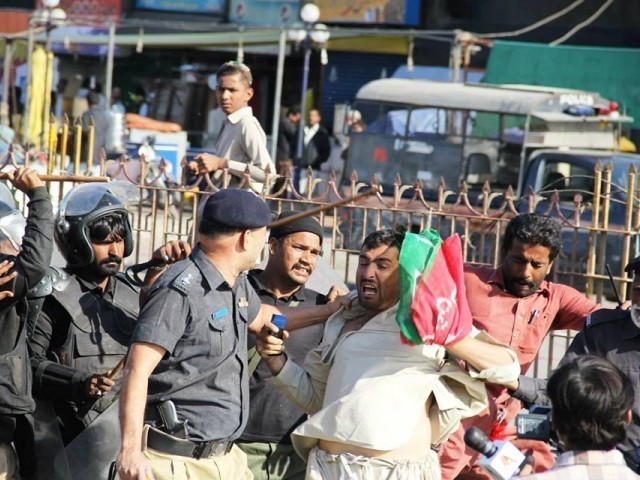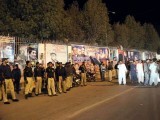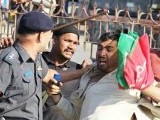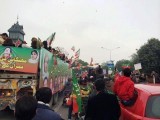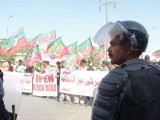 After being beaten in the May 11, 2013 general elections in Punjab, the Pakistan Tehreek-e-Insaaf (PTI) came back to the heart of Lahore in their attempt to portray a 'real opposition'. They carried out a protest rally on Mall Road against rising inflation in the country.
Their action left curious political minds wondering why they chose Lahore.
Why couldn't they give a tough time to the government by raising their concerns within the walls of parliament?
Or why couldn't they stage a hunger strike in front of the Parliament?
After all, inflation is a federal issue and can be addressed in a legal manner.
So, why did the PTI feel the need to bring out the people on the streets?
You may remember that prior to the general elections, PTI Chairman Imran Khan was all over the Sharif brothers, targeting them from all corners. He tried his luck back then and he is trying it once again before the local government elections under the façade of inflation. However, Imran should understand that if you cannot win the throne of Punjab as a political power, you really cannot have a major influence in Pakistan's politics.
More recently, the PTI resorted to its favourite option of carrying out dharnas (protests) outside the Bilawal House in Karachi. Their new mission is to tear down the bothersome wall guarding the Bilawal House.
In Punjab, if someone says or does something strange or inappropriate, we usually look at them in utter amazement and ask,
"Kon log o tusi?"

(Who are you people?)
The appropriate action would be for the PTI to protest in front of the inspector general of police (IGP) Sindh's office or the Karachi Press Club if they think that court orders are not being followed, or perhaps, file a complaint of contempt with the Sindh High Court (SHC).
If that does not work, they should go to the Supreme Court (SC), but at no point should they encourage people to pick up shovels and pursue vigilante action.
I fail to understand why the PTI does not seem to hold different institutions in prestige. The party's politics seems to be an epidemic outbreak of immaturity and illicit activities.
Another concept dominated by the PTI vigilantes is social media abuse.
If someone speaks out against Imran Khan's approach and politics on social media, they are berated. Since Bilawal Bhutto Zardari is also active on Twitter, it seems that while one fight commences on the road, another is fought on Twitter.
When PTI made an announcement of their protest outside the Bilawal House, Bilawal's first public reaction was on Twitter:
If Buzdil Khan, Nawaz Sharif and JI find the courage to say 1/2 of wht I said vs. TTP yesterday I will tear down Bilawal House wall myself.

— BilawalBhuttoZardari (@BBhuttoZardari) December 28, 2013
PTI's General Secretary Information Shireen Mazari also tweeted:
PPP running scared of PTI across Sindh. In Khi they target PTI peaceful protest; in Umerkot,Tharparkar PPP goons snatch PTI nommination pprs

— Shireen Mazari (@ShireenMazari1) December 29, 2013
If one is to listen to the PPP's leadership, they are addressing issues currently faced by Pakistan such as terrorism. They have extended their full support in this regard to the federal government. They talk about guarding Pakistan against extremism and making sure that democracy is not derailed in the country. The PPP is also in opposition just like the PTI, but it seems that the latter has ideas other than simply playing the role of an opposition party.
When a party is elected by the public, all they want is for them to deliver on their promises and impact their lives in a positive way.
Yes, in a positive way.
People want to be able to go to their jobs and businesses in a peaceful manner without any road blockages, dharnas, agitation and most importantly, without any anarchy or chaos. They want to carry out their business as usual and expect politicians to do the work that they have been elected for –work for the betterment of the common man.
Unfortunately, Imran Khan has failed to deliver on his promises in Khyber Pakhtunkhwa (KPK) and his 90 days deadline now sounds like mere words. Had he come to Lahore to stage a protest while having fulfilled his promises, it would have put him on a much higher moral high ground.
He could have confidently rattled the government by saying,
"Look this is what I have done in KPK. What have you done?"
Sadly, that is not the case and shallow political shouts are all that we are getting from the PTI at this time.
Even in developed democracies, agitation on the road is an extreme step. And personally, I do not consider it to be a normal democratic practice, especially if it is organised by an elected political party.
People choose their representatives to fight their cases in parliament or any other forum available before they come out on the street. When such protests are carried out by elected political parties, it gives the impression of a cover-up to their assorted promises and failures, fearing an outcry among the common public.
The situation turns into a blame game – a common tactic used in Pakistan's politics.
I fear that if the ruling party, Pakistan Muslim League-N (PML-N) decides to go after the PTI's government in Khyber Pakhtunkhwa (KPK), their protests and dharnas against the deteriorating law-and-order situation, price control and promises made by Imran Khan before the general elections which have not been met, things could get really ugly.
None of this will be good for a still young democracy in Pakistan. After all, it is not just the PTI who has the right to take up the role of 'real opposition'. If other opposition parties decide to follow their lead, how would that pan out for the people of Pakistan and democracy?
One thing will lead to another and before we realise it, it will be too late to get out of the mess we will find ourselves in.
We have had a nasty political rivalry between the PPP and the PML-N in the past, which greatly damaged democracy in Pakistan. Our political history is regrettable and shameful, and such party-based rivalries not only damage the interests of the common man, but put peace and economic stability at stake in the country.
Both these parties showed some maturity during the previous PPP government when the opposition was labelled as friendly. This was also the first time in the history of Pakistan that a democratically elected government completed its term.
However, if the PTI keep on pushing PML-N against the wall in their effort to gain political mileage, the PML-N will hit back. Same applies for the PPP. And if that happens, we, the people of this country will be at a loss. Competition is good for politics but it should be healthy and based on performance.
We have to feed our people and we have to move forward. And this cannot happen with agitation and instability in the country. Such actions affect our economy and foreign investment, and an already tarnished image of Pakistan in the world could certainly improve if we had some political stability and unity.
Can we afford to go back to the politics of the 90s?
No, we cannot. The PTI must wake up to this fact.