If Indian diplomat Devyani Khobragade was Pakistani, she would be doomed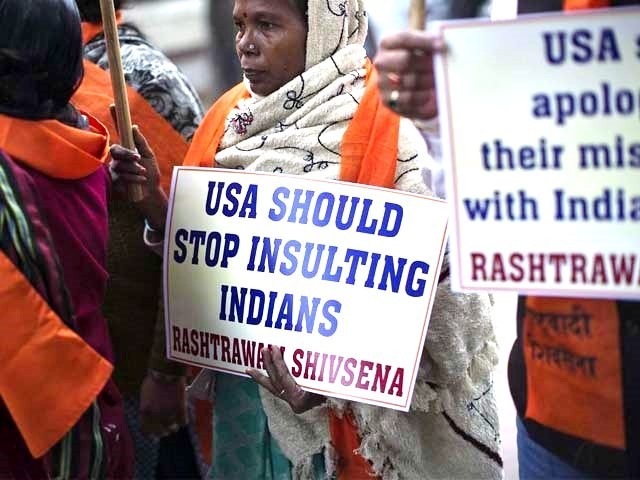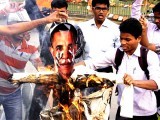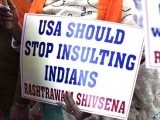 Devyani Khobragade is one lucky, lucky lady. 
To say that about someone who is possibly facing 10 years in prison and was arrested publicly in front of her daughter's school over visa fraud, is a bit of a stretch, but hear me out. 
Khobragade, 39, is an Indian diplomat living in the United States. She is the deputy consul general in New York and currently out on bail.
She is someone Pakistani diplomats should be jealous of.
Not because she allegedly made USD100, 000 per year. Not because she gets to live in New York. But because as soon as she was publicly humiliated by Uncle Sam, the entire Indian bureaucratic community stood by her and showed an impressive amount of defiance to the most powerful country in the world.
Last week, Khobragade was handcuffed and charged with visa fraud. She has also been accused to have underpaid her housemaid. She was stripped and cavity searched and was set in detention with drug addicts.
Somewhere in the distance I can hear Amir Khan frantically scribbling down a script.
Post the Khobragade arrest, the Indian diplomatic community went on a garish lock-down. They were firm and their reactions were pointedly retaliatory to the misconduct.
You cannot treat our diplomats like crap and get away with it, the Indian reaction stated.
The statement was heard loud and clear.
The home minister, vice president, speaker of the parliament, leader of the opposition and national security advisor – all refused to meet the US congressional delegation as a reaction. The concrete barriers in front of the US Embassy in Delhi were removed.
On the other hand, the US State Department issued its statement that diplomatic security had followed standard procedures during the arrest.
The Indian government insisted that it had diplomatic immunity and was publicly humiliated by law enforcement agencies.
The American government heard the message and responded as nicely as it could, given the circumstances. They stated that they would 'review the arrest' and understand that it is a 'sensitive issue for many in India'.
Whether or not Khobragade's housemaid was employed well under the US minimum wage, whether or not the documents were false, one thing is for sure, India knows that it is next in line to become a global superpower and it will not let anyone forget it.
With an impressive economic growth chart over the last 10 years and a powerful population of 1.2 billion, India is not going to take a leaf out of Pakistan's book and let America do as it pleases with citizens of a weaker country.
If Devyani Khobargade was a Pakistani, she would either have had to sit in jail and face the sentence or Pakistan would have attempted back-door deals with the US or a compromise brokered by Saudi Arabia. Or worse, if Devyani was stepping on the wrong toes back home, Pakistan would have abandoned their diplomat to her fate and called her a 'bad seed'.
Unlike the defiance shown by India, our stance would be:
"Please let her go. We promise we will not do it again. Here, want a new area for drone strikes? Come, we have plenty."
The narrative between India and the United States and Pakistan and the United States is as different as it can possibly be. While India acknowledges and engages in the power that America has, Pakistan fears and serves the American system.
Just like we Pakistanis are gradually losing the ability to think for ourselves, we are also losing the ability to fend for ourselves. Whether it is drone strikes or Osama bin Laden, we have only sputtered half-hearted cries in protest when Americans cross our lines. Our diplomats know and act from the position of subordination. So do our politicians.
And thus, the frustration that steams the 'Die America Die!' chant becomes nothing but wall chalking that stray dogs urinate on.
With such fear at hand, Pakistan is in no place to fight, protest or even take intense and credible actions against American blights. In a frighteningly literal sense, the Americans are getting away with murder in Pakistan.
It seems that the international rule book of foreign policy and conventions in pretty Swiss backgrounds have no meaning in real life. Laws and reasons behind protecting a country's sovereignty, providing humane treatment to international criminals, not invading a country's airspace – all fail to materialise in a relationship that is precariously harboured between Pakistan and the United States.
Today (irrespective of who is right or wrong in the Devyani Khobragade case) India showed that the relationship between India and the United States is not one of craven submission or fear. But if Pak-US relations were to be defined, the only name that could possibly be given is…