What it means to be a 'Pakistani'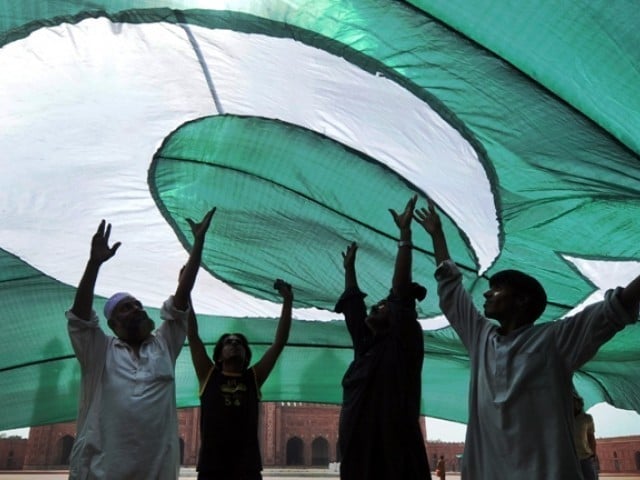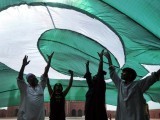 A few days ago a good friend of mine, living abroad, asked me a question:
"What do you think 'Pakistani' means?"
The question threw me aback, partly because it was unexpected and partly because I couldn't think of an immediate answer. A myriad of images flew around in my head in an instant; from the hustle and bustle of Karachi's Empress Market, to the textures of the Anarkali bazaar in Lahore. But my friend's question went deeper than just images and feelings. I found myself trying to truly explore what the concept of being 'Pakistani' entails.
Looking at it purely from a logical standpoint, 'Pakistani' can be defined ideologically, culturally or emotionally.
Ideologically, 'Pakistanis' belong to a nation that was borne of sacrifice, to the tune of the emancipation of a way of life. It was to be a haven for the Muslim minority in the larger Indian Subcontinent, a place where they could discover their own identity and make a life for themselves and their children.
The country did not simply begin its existence for one religion's freedom.
On the contrary, it was a result of years and years of suffering and a culmination of hope that one group of people could build a nation based on unity, faith and discipline, on tolerance and acceptance of religious, regional and ethnical differences, far removed from the persecution that led to the revolution itself.
It was to be the country that would create a fine example of prosperity through unity of diversity, of the sum of its people being bigger than the individuals themselves. The Pakistan flag itself is perhaps the greatest symbol of what this country was supposed to be – a progressive nation based on the ideals of Islam and committed to the importance of all within, the minorities and the majority.
From a cultural standpoint, Pakistan is blessed with an amazingly intricate diversity stemming from the differing origins of its people. Different parts of the country are populated by the region's indigenous people, mixed with immigrants from other parts of the country as well as India.
Perhaps the greatest illustration of this diversity is the coastal metropolis of Karachi, home to more than 12 million 'Pakistanis' hailing from everywhere and anywhere, having different religious beliefs and differing viewpoints. The wonder of such diversity is the richly layered set of traditions, customs and culture that they can call their own.
The concept of being 'Pakistani' is what should ideally sum together the individual groups within the country, with the constitution and the government creating an environment where people belonging to any religion or ethnicity would have an equal chance to make a prosperous life for themselves and collectively for the country. Such a system would celebrate the concept of one nation inhabited by 'Pakistanis', where individual differences on language, region, religion and ethnicity would be overridden.
Digressing for an instance, a good analogy to the above is the stance of most successful corporations in the world with respect to diversity (in terms of sex, age, experience and background). Companies largely look for diversity in the workplace, for they believe it fosters new ideas and new ways of looking at things, creativity, mutually beneficial competition, entrepreneurship and adaptability, all intended to achieve company objectives and profitability. Managers tie in diverse groups of people by fostering collaboration under the company's banner and obtain mutually beneficial goals.
Similarly, all the individuals within the country should be 'Pakistani', excited by the potential that their diversity can prosper the future of the country. At a very basic level, even a frank exchange of ideas across differing groups of people can lead to better understanding, acceptance and exposure.
In terms of emotionality, being 'Pakistani' is all about what connects us to our home and how we are tied to our roots. During the conversation, which I mentioned in the beginning, my friend pointed out that being 'Pakistani' was all about the strength of our bonds with our family, and how that keeps our feet grounded firmly on the ground. Our families provide us a sane tether and support structure in various forms. This is one major way in which we connect with our roots.
It can also be said that every generation of 'Pakistanis' has, perhaps implicitly, tried to look for things in common with each other on which to build a concept of patriotism and nationalism over. Across the years, these  moments have perhaps been about sports victories, wars or more recently, about having an Oscar winner to name a few. The commonality within all these is the fact that for periods of time, in celebration of such moments (fine or otherwise), individuals considered themselves proud of their 'Pakistani' identity rather than their individual identity. The media narrative is a massive factor in this regards.
At the very basic core, the emotionality is all about the feelings and imagery associated with being 'Pakistani'. The colourful busses and trucks, listening to Noor Jehan in a rickshaw in Multan, crabbing eating at Burns Road in Karachi, the Badshahi Mosque and Butt's karhai in Lahore, the greenery of Punjab, the Fawara chowk in Bahawalpur, the horse and cattle show, the barrages in Sukkur, Makli, Ziarat, Keenjhar Lake, and so many more.
These are but some of the images that come to mind when defining 'Pakistani'. There are countless others, and for each individual within this country, those moments and feelings will be unique and different.
Perhaps the most important thing to remember is that great nations are not born, but made, and made they are on the strength of their people. The question is whether the individuals within this country can truly be who they were meant to be, a diverse group of people working for their prosperity and the country's prosperity, rather than fighting with each other for petty individuality.
The only way to achieve that is to transform our way of thinking and not to forget why we came to be and that we are Pakistanis first and foremost.